Asheboro Car Accident Lawyer
If you live in the beautiful city of Asheboro, North Carolina and you need an Asheboro car accident lawyer, the NC accident lawyers at Riddle & Brantley would like to help.
With nearly 200 years of combined legal experience, we will guide you through the process. 
Please call us at 1-800-525-7111 or fill out the short form below to speak with a car accident lawyer serving Asheboro, North Carolina.
The consultation is always free, and we don't get paid unless we recover compensation for you.
For a FREE consultation with a car accident lawyer serving clients in Asheboro NC, please call 1-800-525-7111.
Fighting for Car Accident Injury Victims in Asheboro
Asheboro is the center point of North Carolina and is the largest city in Randolph County. Located in the Piedmont plateau region far to the east of the Appalachian Mountains, it is part of the Piedmont Triad including Greensboro, High Point and Winston-Salem.
Asheboro is home to rich economic, natural and cultural resources. The North Carolina Zoo, one of the world's largest habitat zoos, with over one thousand animals representing the continents of North America and Africa, is located in Asheboro.
Our car accident lawyers have experience serving the Asheboro area and many of our attorneys and staff have close ties to the Piedmont Triad.
Managing partner Gene Riddle earned his Juris Doctorate degree from Wake Forest University School of Law in nearby Winston-Salem in 1985.
"We have close ties to the Piedmont Triad and are proud to fight for car accident injury victims in Asheboro."
-Gene Riddle
If you have been injured in a car, truck or motorcycle accident because of someone else's negligence, you may be entitled to financial compensation.
For a FREE consultation with a car, truck and motor vehicle accident lawyer familiar with Asheboro, please call 1-800-525-7111.
There is no obligation and there are no attorney fees unless we recover financial compensation for you.
Are you looking for an Asheboro car accident attorney?
Riddle & Brantley's car accident attorneys have been helping clients in Asheboro and throughout North Carolina since 1985.
We know North Carolina law and are familiar with the Asheboro area. We are always persistent in our pursuit of justice for injured victims.
How can a car accident lawyer serving Asheboro help with your case?
First, we will review your case and determine if we are able to help. If for any reason we are unable to assist you, we will do our best to connect you with a lawyer or other resource who can.
If you decide to hire us, Riddle & Brantley will begin our investigation into your accident immediately, so we can obtain witness testimony, collect and preserve evidence and hire accident experts if needed.
We handle all types of motor vehicle injury cases in the Asheboro area and statewide, including:
Car accidents
Tractor-trailer and tanker truck accidents
Motorcycle accidents
Pedestrian accidents
Bicycle accidents
Uber and Lyft accidents
Scooter accidents
Moped accidents
School bus accidents
Construction zone accidents
and more…
We have handled many accidents involving wrongful death, paralysis and loss of limbs, including many cases in the Asheboro area and throughout the Piedmont Triad.
Our Case Results
There are no guarantees in any car accident injury claim or lawsuit, but we are proud of the results we've won on behalf of our deserving clients:
$9.45 Million | Tractor-Trailer Accident & Wrongful Death — Attorneys Kurt Dixon and Gene Riddle represented surviving family of a family of four who was tragically killed in an 18-wheeler crash on a busy NC highway. We brought in experts to reconstruct the accident and even subpoenaed Google Maps for traffic data to prove liability. Ultimately, we secured justice for the family, with Dixon negotiating more than $9 million in total compensation from multiple parties.
$2.75 Million | Car Accident — Attorney Donald Dunn fought for justice for a man who was severely injured in a head-on auto accident, resulting in several fractures in his neck, leg and arms. Through extensive arbitration proceedings, Dunn secured $2.75 million in compensation, which was followed by a $1 million declarative judgment against an involved insurance company.
$2.25 Million | Car Accident & Wrongful Death — Attorney Gene Riddle secured $2.25 million in total compensation for the surviving family of our client, who was killed in a head-on crash with a heavy truck. Attorney Riddle oversaw a comprehensive accident investigation and advised defense counsel of his intention to file suit. Mediation was scheduled shortly afterward, in which we won justice for the victims' loved ones.
***Disclaimer: The results mentioned are intended to illustrate the type of cases handled by the firm. These results do not guarantee a similar outcome, and they should not be construed to constitute a promise or guarantee of a particular result in any particular case. Every case is different, and the outcome of any case depends upon a variety of factors unique to that case.
"Riddle & Brantley found me all the available money from the insurance companies."
-David Howard
We understand the significant amount of physical and emotional pain suffered and endured daily after a serious accident.
The attorneys at Riddle & Brantley can help handle negotiations with Medicare, Medicaid, and health insurance companies for reimbursement of payments made on your medical bills.
We can help take the burden off your shoulders. You don't need to go through this alone.
Please call 1-800-525-7111 for a FREE consultation with a car accident lawyer serving Asheboro, North Carolina.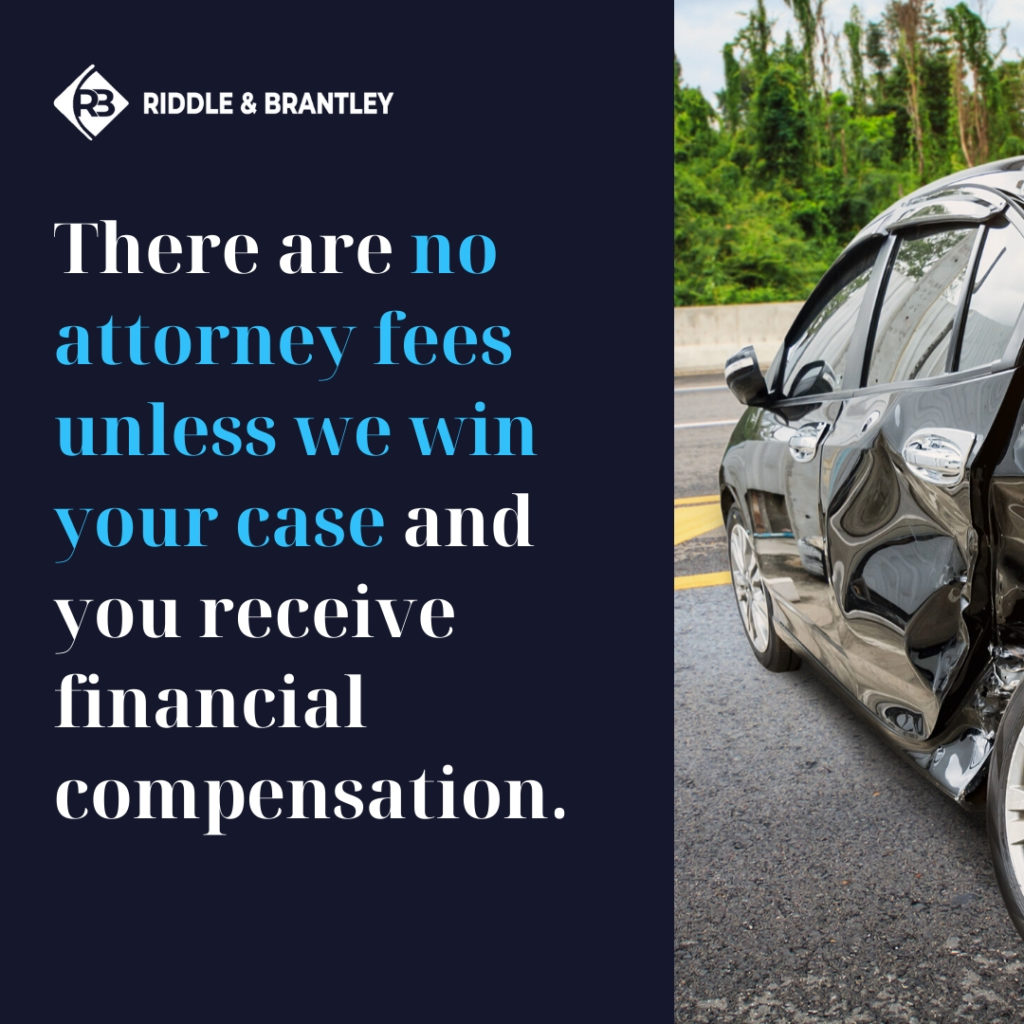 There are no upfront costs or attorney fees unless we win your case and you receive financial compensation.
Call 1-800-525-7111 or complete the short form below and let's talk.
Our staff of attorneys, case managers, paralegals and investigators know the Asheboro area and strive to do everything possible to make your car accident injury claim or lawsuit as easy and stress-free as possible for you.
We can manage your case from start to finish, paying careful attention to every detail so that you know we are in your corner fighting for your rights.
What to Do After a Car Accident
Getting into an accident is very stressful. However, there are some common mistakes you should avoid to protect your rights in the aftermath of an accident. If you neglect certain responsibilities it could prove costly.
Here are seven things to do if you are involved in a car accident:
Stay calm.  After a crash, stay calm and proceed in a business-like manner.  Do not get in an argument with the other drivers or make accusations. Cooperate with law enforcement and any other emergency responders who show up at the accident scene.  Answer any questions from police honestly, but do not speculate or offer more information than what they ask you.
Don't ignore crash evidence. If possible, act quickly after a car accident to gather evidence about what happened.  Take photos of the crash scene, including damages to vehicles and their positions relative to each other. Photograph skid marks and debris, as well as anything that you feel contributed to the accident. Take pictures of any injuries.  Gather the names and contact information from witnesses and anyone involved in the crash. Remember, evidence fades so it is important to gather as much information as you can.
Don't decline medical care. Make sure to call 911 immediately after an accident.  Cooperate with all medical personnel who respond, regardless of who called them.  Should they feel you need to go to the hospital, go. You may think you don't need medical attention right away, but you should get a full medical examination as soon as possible. Some serious injuries are not immediately apparent but could start to cause problems a day or so after the crash. Furthermore, seeing a doctor means they can document your injuries, which may be important if you file a claim later.
Notify your insurance carrier right away. Contact your insurance company within 24 hours after a car accident.  Do not admit fault or accept responsibility for the accident when talking to the company representatives.  Do not give a written or recorded statement without talking to a car accident lawyer first. Never downplay your injuries or the damage to your vehicle. Follow all your insurance carrier's instructions.
Don't forget the police report. If a law enforcement officer responds to the accident a report will be filed. Ask how you can get a copy and how long it will take. Be sure to obtain a police report as soon as you can. This official report of the accident could be useful to get the compensation you deserve for your injuries or other losses. However, keep in mind that police do not determine civil liability for a car accident.
Don't accept a quick settlement. Shortly after the accident, you may hear from the other driver's insurance company. The adjuster may offer you a check for your losses. You can be certain it will be less than what you deserve. If an offer is made quickly, it cannot be based on the costs of the accident that are not even realized yet. Do not accept a quick, low-ball settlement offer and do not sign anything an insurance company representative presents to you. You may sign away your right to the compensation you need and deserve.
Don't proceed without a lawyer. If you have been injured in a car accident, you could likely benefit from the assistance of an experienced car accident lawyer serving clients in Asheboro or surrounding North Carolina.  At the very least, a car accident attorney can review your case and advise you about what to expect and how to protect yourself.  Should you have a significant claim due to injuries or other losses, an attorney can negotiate with the insurance company on your behalf. Remember, each case is unique, but in most cases, an experienced attorney can help you get a better settlement than you could on your own.
If you have been in a car accident in the Asheboro area, the lawyers at Riddle & Brantley can work to help you put the pieces back together.
Please contact us for a free consultation. Call 1-800-525-7111 or complete the short form below and let's talk.
We will be glad to talk to you and determine if you have a case. There is no obligation and there are no upfront costs or attorney fees unless we win compensation for you.
Please call 1-800-525-7111 to speak with a car accident attorney serving Asheboro NC today.
Justice Counts for you and your family.