What Can Be Done to Help Protect Cyclists from Hit-and-Run Accidents?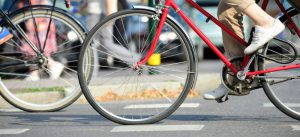 A Raleigh cyclist who suffered catastrophic injuries in a hit-and-run wreck at the end of October is thankful to be alive and was recently able to take his first steps following the crash. He is hoping the incident serves as a catalyst to make improvements to protect cyclists from similar bicycle accidents in the future.
The 39-year-old cyclist was riding his bike on Glenwood Avenue at the time of the crash. He was rear-ended by an unknown vehicle, which reportedly fled the scene following the collision. The cyclist broke his back in six places as well as his sternum and scapula as a result of the wreck. Still, he was able to reach into his backpack, grab his phone and call 911, even as he lay on the ground in pain. He said that the hit-and-run was accidental and maybe just the result of distracted driving.
The cyclist's father wishes the driver had stayed, but said he understands that people sometimes panic in such situations and make the wrong decision. He would still like to see the driver come forward and make amends for what he or she did. He and his son believe that if they learned what happened from the driver's perspective, maybe it can lead to bike safety improvements to prevent it from happening again.
How Do Other Communities Try to Protect Cyclists?
In October, the Chicago Tribune published an article about how to make bicycling safer in the Windy City. The story included bicycle safety methods from cities worldwide, including:
Finding ways to provide bicyclists with routes that enable cyclists to avoid busy roads
Ticketing cyclists when they disobey traffic laws
Physically separating bike lanes from vehicle traffic by putting them on the sidewalk side of parked cars
Keep the surfaces of bicycle lanes properly maintained
Only allow bikes and vehicles to share the road if they're going the same speed and bicycles always have the right-of-way
Require drivers to receive training about how to safely share the road with cyclists
Have separate vehicle and bicycle traffic lights to provide cyclists with a protected moment to cross intersections
Eliminate curb cuts and make bike lanes and sidewalks continuous
Reverse the flow of traffic so bicyclists face traffic and can see what's coming at them
Require cyclists to have bicycle driving licenses to ride a bike on city streets
Designate bicycle only streets
Tell us how you would improve bike safety in Raleigh. You can share your thoughts on this issue below in our blog's comment section or on our Facebook, Twitter or Google+ pages.