Do I Need a Car Accident Police Report in North Carolina?
Riddle & Brantley's North Carolina car accident attorneys are often asked about car accident police reports.
"Do I need a car accident police report if I've been injured?"
The short answer is yes.
Calling the police and obtaining a police report are two extremely important steps to take if you've been involved in a car accident resulting in injury.
The law in North Carolina
Before we discuss the importance of getting a police report specifically, there are a few things you need to know.
First and most importantly:
North Carolina law requires you to call the police immediately if you are involved in a car accident that causes personal injury, death or property damage.  There are clear steps you must take after an accident because of North Carolina state law and because of how auto insurance companies operate.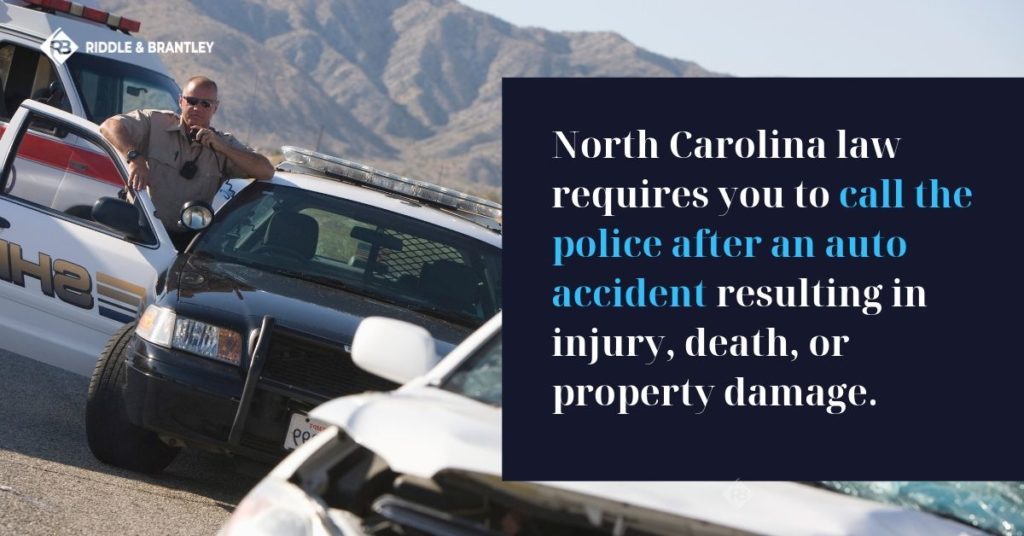 As soon as a car crash occurs in North Carolina, you should determine whether you or anyone else involved has been injured.  Should you or someone else need medical attention it is important to call for help immediately — even before you contact the police.
If you or someone else is injured, be sure to cooperate with emergency medical responders and go to the hospital if they think it is in your best interest.  You can contact the police as soon as possible after calling for emergency help.
After an accident, if you are able and the crash caused injury, death or property damage, it is imperative to call the local police or right away.
It is also ok to call the N.C. Highway Patrol or county sheriff's department if you are not within city limits.
Always cooperate with police. Answer their questions with basic facts and do not exaggerate. Never say or agree to anything that is a guess as to what happened.
Remember, anything you say to the police can and will be used against you.
"What happens if I don't call the police after a car accident?"
A failure to call the authorities could result in court costs and a fine up to $100.
In most of North Carolina you can dial 911 locally or *HP (*47) if you are outside of a city.
Do you need a car accident police report?
Police reports are vitally important because they indicate what happened and who is at fault in an accident, especially in an auto accident.  While it is unlikely a police report itself will be enough to prove negligence if your case goes to court, it does contain useful information regarding the accident and other parties involved.
Furthermore, your car accident police report may include useful information about witness statements from people who were present at the time of the accident.  These witnesses may be able to testify about what caused the accident and may strengthen your personal injury claim or lawsuit.
Do I need a police report if I haven't been injured?
In North Carolina, you are not required to call the police after an accident if there is no injury, death or property damage. However, it is always a good idea to involve the police so that you will have a police report detailing what happened, especially if the other driver is at fault and you may file a claim for damages.
On the other hand, North Carolina law does require that all drivers involved in an accident exchange names, phone numbers, addresses, driver's license numbers and vehicle registration numbers.
Although not mandatory, it is always a good practice to exchange insurance information too.
What happens if the other driver flees the scene and you can't get information about the other driver or car?
You should still call law enforcement to come investigate the accident.  There may be witnesses or other evidence that can help locate the identity of the other driver.
If the other driver cannot be identified, then you may have an uninsured claim that will pay for your property damage and injury claim but you will need the police report to document what happened.
Car accident police reports and personal injury claims
To make a personal injury claim related to your car accident, you will need to get a copy of the accident report (otherwise known as a police report).
How to get a police report after an auto accident
To obtain a copy of the police report you will need to know which police department or law enforcement agency dealt with your accident.  If you were injured and did not get this information at the scene of the accident, you may be able to look the agency up on the internet or in the phone book.
Once you contact the proper agency, you can request a copy of the accident report.  Keep in mind that you may have to show up in person with proper identification and some law enforcement agencies require you to pay a nominal fee for the police report.
The police report filed by law enforcement can be used as evidence should a personal injury lawsuit result from the auto accident.
There is no substitute for a police report in filing a personal injury claim or lawsuit: North Carolina law (G.S. 20-166.1((i)) states that any report of an accident made by a person other than law enforcement cannot be used as evidence, or for any other purpose in any trial, civil or criminal, arising out of the accident.
What to do with a police report if you've been injured in an auto accident
If you've been injured in a car, truck, motorcycle, moped or pedestrian accident, you may want to hire an experienced car accident lawyer to help you get justice and recover the compensation that you need and deserve.
A car accident lawyer can review your police report, investigate the accident, and help you determine your best options for pursuing a personal injury claim or lawsuit.
Have you been injured in an auto accident?
If you've been injured in a car, truck, motorcycle, moped, or pedestrian accident in North Carolina, our NC personal injury attorneys may be able to help.
With convenient offices located in Raleigh, Goldsboro, Kinston, and Jacksonville, Riddle & Brantley serves accident victims statewide, and will even come to you. Our attorneys have been practicing in North Carolina since 1985 and have nearly 200 years of collective legal experience.
Our motto is Justice Counts and we are ready to help.
For a FREE, no-obligation consultation, please call us at 1-800-525-7111. We work on a contingency basis so there is no upfront cost and no attorney fee unless we win your case and recover financial compensation for you.
Contact us today. You deserve justice and we would love to help.