What Should I Do If My Child Is Involved in a Wreck While in a School Vehicle?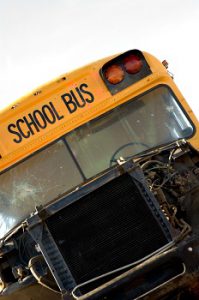 Recently, a portion of Lynn Road in Raleigh had to be closed after four students were injured in a school vehicle accident, according to WRAL-TV. The report did not specify what type of vehicle the students, who attend Lynn Road Elementary School, were traveling in at the time of the wreck. The crash happened a little after 3 pm near the intersection of Valley Drive and Lynn Road. The vehicle the school was using to transport the students belongs to Reese Transportation.
Each of the four students hurt in the wreck only suffered minor injuries. All the injured kids were taken to WakeMed for treatment. However, three were taken to the hospital by EMS, while one was taken there by a parent. Two other students traveling in the vehicle were not injured and were taken home after the crash. The driver of the school vehicle was injured in the wreck. She was taken to WakeMed to be treated as well. Both the 85-year-old driver and 83-year-old passenger in the other vehicle involved in the wreck suffered life-threatening injuries. As of this writing, there had been no updates regarding their condition or the police's investigation into the crash.
Who's at Fault If My Child Is Injured in a School Vehicle?
There are several factors that can determine whether a school is liable if a student is injured on their property. A school's property can include the school itself as well as playgrounds, sports facilities and school vehicles. Certainly, the student is not at fault for the accident if it involves a school bus or other vehicle and the student was a passenger.
Examples of student injuries that schools could be held responsible for include:
Lack of proper supervision leading to a playground accident
A slip and fall injury that results from the school failing to clear sidewalks of ice
School bus crashes that happen due to a bus driver being improperly trained
One often overlooked factor in student injury cases is whether the school is public or private. If the school is private, you can generally file a personal injury claim against the school. However, if the school is public, then it is considered a government institution and there are extremely strict procedures that must be followed to file an injury claim against a government entity. In such cases, an experienced personal injury attorney may be able to successfully guide the family of an injured student through the process of holding a negligent public school accountable.