Durham Moped Accident Leaves One Dead After SUV Allegedly Runs Stop Sign
WRAL reports that a Durham moped driver was killed in an accident early Monday. The moped crash, which reportedly occurred near the intersection of North Guthrie Ave. and Juniper Street in Durham, was allegedly due to another driver's negligence.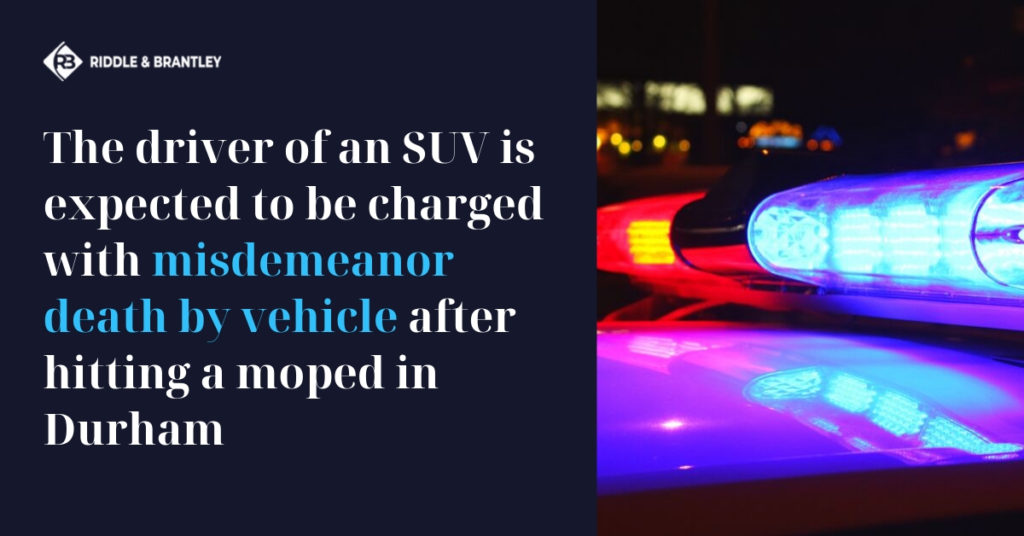 Police say the driver of a black SUV failed to yield at the intersection and hit the moped. The moped driver died at the scene of the accident.
According to Durham police, the allegedly negligent driver of the SUV will be charged with misdemeanor death by vehicle and failure to stop at a stop sign.
Moped Accidents in Durham and Raleigh
With heavy traffic choking city streets, mopeds are increasingly common in Durham and Raleigh, North Carolina. At Riddle & Brantley, our injury attorneys have seen an increase in moped accidents, many of which result in significant and potentially life-threatening injuries.
Riddle & Brantley law firm recently represented a client who was hit twice while driving a moped. Prior to suit being filed, Riddle & Brantley negotiated a $100,000 settlement, representing the maximum limit of the three insurance policies involved (see disclaimer below).
Moped Laws in North Carolina
While mopeds are convenient mode of transportation for urban commuters, their small size, limited speed, and open-air design present considerable risk to the driver.
Riddle & Brantley urges all moped drivers — and drivers of other vehicles — to be aware of safety risks and legal requirements concerning mopeds in Durham, Raleigh, and elsewhere in North Carolina. Learn more about moped laws in North Carolina on our website.
Have you or a loved one been injured in a moped accident?
If you or a loved one has been injured due to someone else's negligence while driving a moped, you deserve justice — and you may be entitled to significant financial compensation.
Our personal injury lawyers have experience fighting for justice for victims of moped accidents in the Triangle area and would love to help you if we can. In the most serious cases, our wrongful death attorneys can help families recover compensation for the tragic loss of their loves ones.
For a FREE consultation, call 1-800-525-7111. 
The consultation is free, and there are no upfront costs or attorney fees unless we win your case and you receive financial compensation.
Moped accidents happen in a second and the consequences can be life-changing. But you don't have to go through this alone.
Please call 1-800-525-7111 or complete the short form below today.
Our North Carolina moped accident lawyers will review your case and advise on your potential legal options. If you have a case and you decide to hire us, we will do our best to fight for the justice and compensation that you and your loved ones deserve.
Justice Counts.
*** Disclaimer: The results mentioned are intended to illustrate the type of cases handled by the firm. These results do not guarantee a similar outcome, and they should not be construed to constitute a promise or guarantee of a particular result in any particular case. Every case is different, and the outcome of any case depends upon a variety of factors unique to that case.