How to File a Car Accident Claim
If you've been involved in a car accident — especially if you are injured — what you do in the minutes, hours and days immediately following the accident can make a big difference in determining what kind of settlement you receive.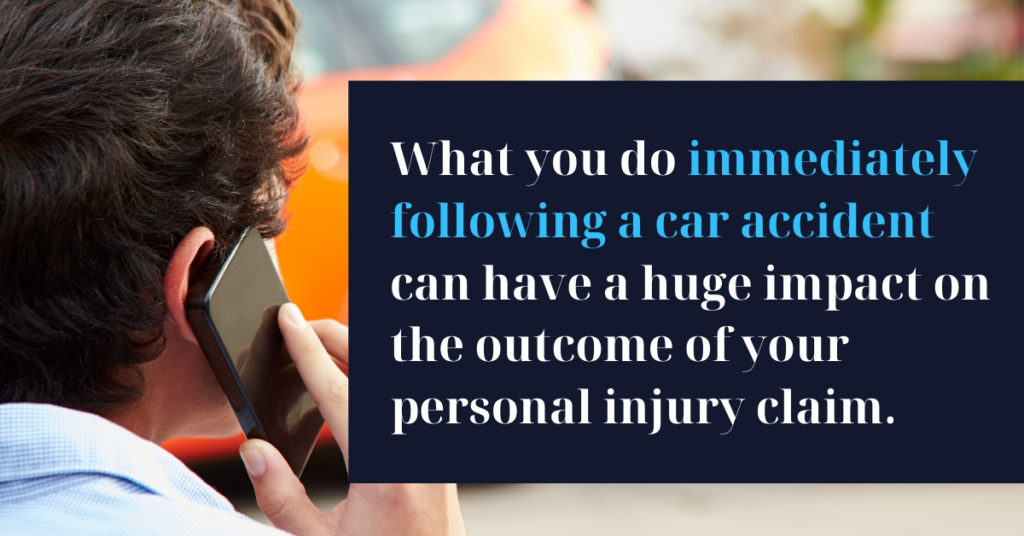 Ultimately, for the best help on how to file a car accident claim, you should consider consulting with an experienced car accident lawyer.
An experienced car accident lawyer can help determine your best legal path forward for seeking justice and compensation for any injuries.  Even if you ultimately don't need an attorney, the consultation is free, and the attorney can offer you advice on how to best handle your claim.
In the meantime, here's a helpful step-by-step guide to follow when you're wondering how to file a car accident claim.
How to File a Car Accident Claim:
Call 911 — In the immediate aftermath of a car or other motor vehicle accident, it is important to call 911. If you or anyone else has been injured, be sure to report that to the dispatcher.
Seek medical attention for any injuries — If you have been injured in the accident, seek immediate medical attention for your injuries. Follow the recommendation of the first responders on the scene. Even if you don't feel pain immediately, you may later, and it is important that you get the medical attention you need. Getting your injuries documented by a medical provider will also be important later when you file your claim.
File an accident report — If the police respond to the accident (and they should after you call 911), they will complete an official accident report. The accident report will be critical in determining liability and supporting your case for compensation if you have a valid injury claim. Cooperate with the law enforcement officer, be truthful and polite, and remember that anything you say can and will be used against you.
Document any evidence — When filing a car accident injury claim, the insurance company will want to review any evidence from the crash scene. After the accident, be sure to take photos of the scene, documenting any damage to the vehicles, skid marks, debris, etc. You should also take photos of any injuries you or others in your vehicle have suffered.
Call your insurance company and file a claim — After you have sought medical attention for any injuries and cooperated with law enforcement, call your car insurance company. Tell the truth. Do not admit fault and do not give a recorded statement to the insurance company until after you have spoken with a car accident lawyer. You can initiate the process of filing a claim while on the phone with the insurance company. Later on, a car accident attorney can help you move forward with the process.
Hire an experienced car accident injury attorney — Car accident injury claims can be complicated, stressful and time-consuming. An experienced car accident lawyer can help manage the entire process from beginning to end. He or she will review your case, advise you on your best legal options for pursuing compensation, and help protect your legal rights. We have never been hired too early, but we have seen many cases where we could have made a bigger difference, especially in the investigation, if we had been hired early after the accident.
The list above is not intended to be comprehensive. Car accident claims can be complex, and every case is unique. In order to ensure the best possible outcome, it is recommended that you speak with a car accident attorney.
Keep in mind that after you've filed a car insurance claim, it can take weeks, months or even years to work its way through the insurance system and, if necessary, the courts. In some cases, hiring an injury attorney can help expedite the process.
Why should I hire a car accident lawyer?
You are not required to hire a car accident attorney to file a claim or lawsuit for your injuries, but research shows that those who do ultimately recover more compensation on average.
A car accident lawyer can help manage the entire claim process from beginning to end, including:
Investigating the accident scene
Hiring accident reconstructionists if necessary to prove liability
Collecting important evidence
Referring you to appropriate medical providers for care when necessary
Identifying and interviewing witnesses
Preparing you for statements to the insurance company
Helping communicate with law enforcement
Obtaining the accident report
Negotiating with the insurance company
Negotiating with defense counsel
Filing a lawsuit
Conducting depositions
Representing you before a judge or jury
Representing you in mediation and/or arbitration proceedings
Setting up trusts or guardianships for long-term care
And much, much more
A car accident can happen in seconds, but the effects can last a lifetime. Don't gamble with your potential compensation. Consult a car accident lawyer before filing a claim.
"What you do in the minutes and hours immediately following a car accident can have a huge impact on the outcome of your injury claim."
-Gene Riddle, managing partner and attorney at Riddle & Brantley
Need a car accident lawyer in North Carolina?
If you've been injured in a car, truck or other auto accident in North Carolina, the experienced car accident lawyers at Riddle & Brantley would love to help.
Our North Carolina car accident lawyers have more than 220+ years in combined legal experience fighting for justice for injured North Carolinians.
With offices in Raleigh, Durham, Goldsboro, Greenville, Kinston and Jacksonville* our car accident attorneys and truck accident lawyers are ready to help at a moment's notice. We frequently respond to emails and phone calls after hours and on weekends and we have Spanish-speaking interpreters on staff to assist if necessary.
We can even come to you if it's more convenient.
There is no obligation and there are no upfront costs or attorney fees unless we win your case and you receive financial compensation.
"I would recommend them to anyone. They fought hard for me."
-Christine W.
Complete the fast and easy form below for a FREE consultation.
If you've been injured due to someone else's negligence, Justice Counts and you may be entitled to compensation.
We would love to help you pursue justice if we can.
---
*Please be aware that in-office meetings at our Durham, Greenville and Kinston locations are by appointment only.