What Led to a Deadly Head-On Car Crash in Raleigh?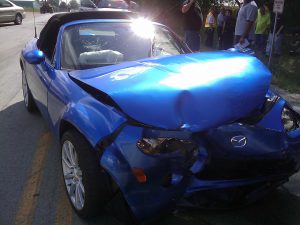 WTVD-TV reported earlier this year on a Raleigh head-on car accident that claimed a life. The two-vehicle wreck happened on New Hope Road a little after 8 pm on a Tuesday. Reportedly, leading up to the deadly crash, a 44-year-old driver drove his car over the centerline into oncoming traffic, where he collided head-on with a 35-year-old woman driving a Nissan. The 44-year-old driver died in the wreck. The 35-year-old woman suffered serious injuries in the wrong-way crash.
As of this writing, police were investigating the incident, but authorities do not believe drunk driving was the cause of the fatal wreck.
What Reasons Besides Drunk Driving Can Lead to Wrong-Way Crashes?
Drunk drivers are often the cause of head-on car crashes. When a driver gets behind the wheel after drinking alcohol, their ability to think clearly, react quickly, as well as their coordination, are usually much poorer than when they are sober. This leads to them failing to recognize they are driving the wrong way on a road or have crossed the centerline into oncoming traffic until it is too late. However, drunk driving is not the only cause of wrong-way crashes.
In addition to drunk drivers, drugged drivers, including those on illegal, prescription and even over-the-counter drugs can cause head-on car accidents. Drugged driving accidents happen for many of the same reasons as drunk driving crashes. Drowsy driving accidents, which involve drivers getting behind the wheel without enough rest and falling asleep while driving, also share many similarities with drunk driving crashes.
Distracted driving can also be a cause for wrong-way car accidents. When drivers are texting and driving, they can easily fail to realize they have crossed the centerline into oncoming traffic or entered a highway heading in the wrong direction.
Elderly drivers are another culprit behind many head-on car accidents. Due to their age, older drivers often have failing eyesight, suffer confusion and have slow reaction times. This can result in elderly drivers driving the wrong way on one way streets, drifting out of their lane of traffic into the opposite lane, and even getting on the highway heading in the incorrect direction.
At Riddle & Brantley, our car accident lawyers take pride in helping the injured people of North Carolina.
What do you think North Carolina can do to help prevent wrong-way car accidents? Let us know in our North Carolina personal injury law firm blog's comment section.