"Do I Need a Police Report After a Car Accident?"
When involved in a car accident, many people wonder if they should file a police report. "Do I need a police report after a car accident?" Is a police report even necessary?
The simplest answer is this:
If you are planning to seek compensation for the accident, filing a police report will help support your case.
In this blog post, we'll break down exactly why you need a police report after a car accident, especially if you are planning to file an injury claim or lawsuit.
Injuries and damage after an accident
If you are involved in vehicle accident, it is important to realize that not all injuries will present symptoms immediately. You may feel fine immediately after the accident, but find you are experiencing pain and other symptoms days later.  If you have a police report on file and your condition was documented, it will be much easier when seeking compensation.
This is also true pertaining to any damage to your vehicle. Your car or truck may appear ok at first, but you may discover damage after you leave the accident scene. Filing a police report after any car accident, large or small, will help protect you in the long run.
How important are police reports after a car accident?
"Do I really need a police report after a car accident?"
The answer is yes.
Police reports may include vital information and lead to evidence that will be important in helping you prove the cause of the wreck, injuries and damages to the vehicle. This will be necessary in obtaining the compensation you deserve. A police report is an unbiased third-party report about the accident that can be effective evidence in your case.
It is also important to file a police report because insurance companies require them if a personal injury lawsuit is filed.
An experienced car accident lawyer can help obtain a police report after your car accident, and advise you on your best legal options for pursuing compensation.
 What information is provided in a police report?
At the scene of a car accident, the investigating police officer has many responsibilities. The officer will inspect the vehicles involved in the crash, talk to all parties involved, take notes, measure distances, and take photographs. The officer completes these tasks in order to gather necessary information to draft the police report.
The police report is the summary of the officer's investigation of the accident. The police report will usually contain some or all of the following information:
Approximate date, time, and location of the accident
Information for all parties involved in the accident, including names, addresses, phone numbers, and insurance information
Witness contact information
Location of any damage to the vehicles involved in the collision
All weather, roadway, and lighting conditions at the scene
All statements from the parties and witnesses involved
Diagram of the accident
Any citations and/or violations of law
Opinions as to the cause of the accident or a fault determination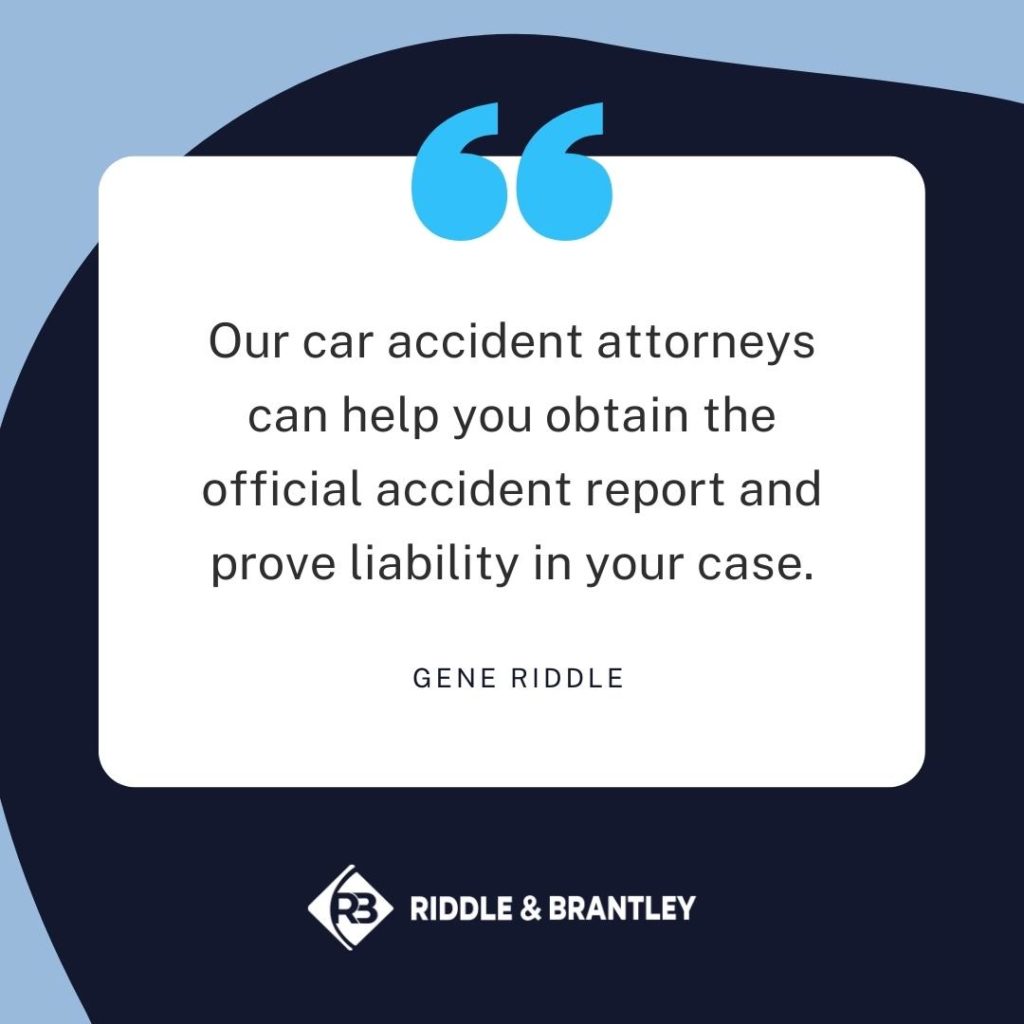 All evidence provided in a police report will help support any injury or vehicle damage claims and make it more likely that you will receive compensation.
The car accident attorneys at Riddle & Brantley are here to help. Please call 1-800-525-7111 or fill out the short form below for a FREE consultation with an experienced North Carolina car accident lawyer today.
The consultation is always free, and we don't get paid unless you are compensated.
What to do after a car accident
Getting into a car accident is very stressful. However, there are some common mistakes you should avoid in order to protect your rights in the aftermath of an accident. If you neglect certain responsibilities it could prove costly.
Listed below are seven things to remember if you are a car accident victim:
Stay calm. After a crash, stay calm and proceed in a business-like manner. Do not get in an argument with the other drivers or make accusations. Cooperate with law enforcement and any other emergency responders who show up at the accident scene. Answer any questions from police honestly, but do not speculate or offer more information than what they ask you. Remember, the police report will be important evidence in any injury claim.
Don't ignore crash evidence. If possible, act quickly after a car accident to gather evidence about what happened. Take photos of the crash scene, including damages to vehicles and their positions relative to each other. Photograph skid marks and debris, as well as anything that you feel contributed to the accident. Take pictures of any injuries. Gather names and contact information from witnesses and anyone involved in the crash. Remember, evidence fades so it is important to gather as much information as you can.
Don't decline medical care. Make sure to call 911 immediately after an accident. Cooperate with all medical personnel who respond, regardless of who called them. Should they feel you need to go to the hospital, go. You may think you don't need medical attention right away, but you should get a full medical examination as soon as possible. Some serious injuries are not immediately apparent but could start to cause problems a day or so after the crash. Moreover, seeing a doctor documents the accident and your injuries, which may be important if you file a claim later.
Notify your insurance carrier right away. Contact your insurance company within 24 hours after a car accident. Do not admit fault or accept responsibility for the accident when talking to the company representatives. Do not give a written or recorded statement without talking to a lawyer first. Do not downplay your injuries or the damage to your vehicle. Follow your insurance carrier's instructions.
Don't forget the police report. If a law enforcement officer responds to the accident a report will be filed. Ask how you can get a copy and how long it will take. Be sure to obtain the police report as soon as you can. This official report of the accident could be useful to get the compensation you deserve for your injuries or other losses. However, police do not determine civil liability for a car accident.
Don't accept a quick settlement. Shortly after the accident, you may hear from the other driver's insurance company. The adjuster may offer you a check for your losses. You can be pretty certain it is less than what you deserve. If an offer is made quickly, it will not be based on costs of the accident that are not even realized yet. Do not accept a quick, lowball settlement offer and do not sign anything.
In conclusion:
"Do I really need a police report after a car accident?"
Obtaining a police report after any type of accident is a good idea.
The main reason for this is because it provides evidence for the individual and the insurance company should any compensation for injuries or damages to the vehicle become an issue.
If you have been in an auto accident, the attorneys at Riddle & Brantley will work to help you put the pieces back together. Please contact us for a FREE, no-obligation consultation by calling 1-800-525-7111.
As always, there are no attorney fees unless we win compensation for you.
We will be glad to talk with you and determine if you have a case. Justice Counts for you and your family. Our history of favorable outcomes and our many years of experience speak for themselves.
Let us be your voice. Justice Counts.