How to Collect Car Accident Evidence With Your Smartphone
Smartphones are known to distract drivers and cause accidents but what they're not known for is how they have changed the way evidence is collected after car accidents. In fact if you're driving without a smartphone it can potentially be a liability if an accident were to happen and you had no way of collecting evidence.
Digital evidence can really help you have a strong case and a higher chance of receiving the compensation you deserve after a car accident. Since it is important we thought we would take a moment and present some ideas to you on how you can best use your smartphone after a car accident.
Tips for Collecting Evidence With Your Smartphone After a Car Accident
Take a Photo of the Other Drivers Insurance and Contact Information – Don't have a pen in the car? No worries just snap a photo of the insurance information. Be sure to get his full name, and contact information. This can be for the smallest fender-bender, or even those tough wrecks. Chances are if you're in a big enough wreck where you're severely hurt and can't move enough to take a photo the police will be on scene to do it for you. If the driver refuses to show that information be sure to video his refusal and take a good picture of the license plate, then get the authorities involved.
Find and Record Testimonies From Witnesses – If a nearby stranger witnessed your accident don't just get their information, record it on video along with their story of what they witnessed. Our phones are so advanced now that they can create good quality videos. Ask them to do a quick video recording or sound recording, and if the agree do the following; have them state their name and number, where they were when the accident took place, and what exactly they witnessed. If its not used in court it will still help your witness remember the story if they have to come testify. It will also help you car accident lawyer get in touch with the witness.
Take Photos of Your Car – Damage to your vehicle can give hints to a story. The biggest rule with taking photos after a car accident is you can never take too many photos.  Before your auto body shop cleans up the evidence the car offers you'll want to get really good photos of the damage. Be sure the photos are clear and from short and long distances. You don't have to be a professional photographer but if you take photos that aren't understandable to the human eye it can be hard to prove. With some older phones the digital evidence from the photos can be hard to view which can make it weak evidence.
Take Photos of the Accident Scene – Are there skid marks on the road? Maybe possibly damages to signs, poles or rails along the roadway? Get photo evidence of it before it's fixed. It will compliment the story that you're telling and will help educate the court on how big this accident was.  If you were rushed off to the hospital consider going back to collect that evidence but remember as time passes evidence is more than likely going to diminish, get it quick. Good photos to take of the car accident scene will be right after if you can show where the cars are positioned before they're taken off the road. The moment the cars  are moved and taken off the road you lose evidence if you don't have a photo of it.
Take Photos of Any Injuries – Common injuries that come from car accidents are difficult to see on the outside of the body. Whiplash, which can create some neck and spinal injuries are not as visible. However some injuries are very visible. Although this is not as important if you go to the doctor immediately after – it is visible evidence to prove that what was on your medical reports were not a lie. Medical reports are still the most ideal form of evidence for injuries after a car accident, don't think photos can replace reports.
Record your Story – And record all of the details that you experienced from the car accident. We're human so we easily forget little details over time. And as your memory of the details fade so will the important details.
 Store Your Evidence in a Secure Space – It's great to know you did your job on getting the best possible digital evidence for your car accident case. Many things can happen to your phone between your car accident and your first meeting with your car accident lawyer. To protect your case you'll want to store the evidence. Imagine if your phone got lost or stolen, you just lost your evidence. It's easy for phones to break as well and not function correctly.  Most smartphones have a way for you to store the photos, make sure you can recover that storage if you had to get a new phone. Email yourself the evidence if you have too. This way you don't have to stress bullets if something happened to your phone.
Contact a Car Accident Lawyer Quickly After Your Accident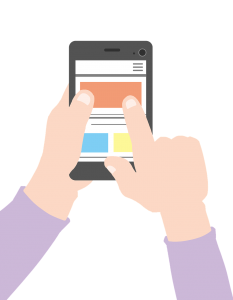 Waiting too long to contact a car accident lawyer can diminish the value of your digital evidence. We know how to best use your evidence for your advantage. We have the experience with car accident evidence to help show you your options after your car accident.  Don't ever be afraid to simply call our law firm. We're only here to help, even if you don't believe you have the best evidence, we can possibly show you evidence you didn't know you had.  We have four offices located all around central to east North Carolina, but we work with car accident victims from any part of the state of North Carolina. Chat us, or call us, we're ready!