Is There a Way to Prevent Drivers from Running School Bus Stop Signs?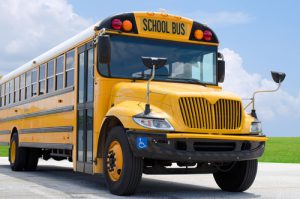 How can drivers be prevented from running school bus stop signs? You know, the stop sign that the bus driver puts out just before it stops to let kids get on or off the bus. How anyone could miss this is a huge mystery because lights are flashing all over the bus. That's a question some are asking after a 5-year-old girl in Cumberland County was hit by a truck as she was getting off a school bus. Per WRAL-TV, the school bus accident happened in Roseboro on Highway 210 and the student involved attends Beaver Dam Elementary School.
Reportedly, as the 5-year-old girl was exiting the stopped school bus, a passing truck failed to stop for the bus, which led to it hitting the girl. She was injured in the collision and had to be taken to the hospital for treatment. As of this writing, there had been no updates regarding the severity of her injuries or whether the truck's driver will be facing charges.
What Is the North Carolina School Bus Stop Law?
In North Carolina, we have a school bus stop law that is meant to prevent drivers from running school bus stop signs:
On two-lane roads, all traffic traveling in both directions must stop if a school bus stops to pick up or drop off passengers.
On two-lane roads with a turn lane in the center, when the school bus stops to pick up or drop off passengers, traffic is both directions is required to stop.
On four-lane roads that do not have a median, when school buses stop for passengers, vehicles traveling in both directions must stop.
On a divided highway that has four or more lanes and does have a median, if a school bus stops to drop off or pick up passengers, only vehicles following the school bus have to stop.
On roadways with four or more lanes that have a center turn lane, when a school bus stops for passengers, only the vehicles following the bus are required to stop.
When approaching a rail road crossing, all buses are required to stop before crossing the tracks so be prepared to stop too if you are behind a school bus.
The best practice to follow is, when in doubt, just stop if you are behind or approaching a school bus.
Our firm represented a 16-year-old girl who suffered leg, neck, shoulder and leg injuries in a school bus accident. We were able to resolve the case through negotiations.
At Riddle & Brantley, our bus and car accident lawyers take pride in helping the injured people of North Carolina.