Who is the Best Car Accident Lawyer for Your Case? It Depends.
People often Google:
"best car accident lawyer in Raleigh"
"best car accident attorney in Greensboro"
You get the idea.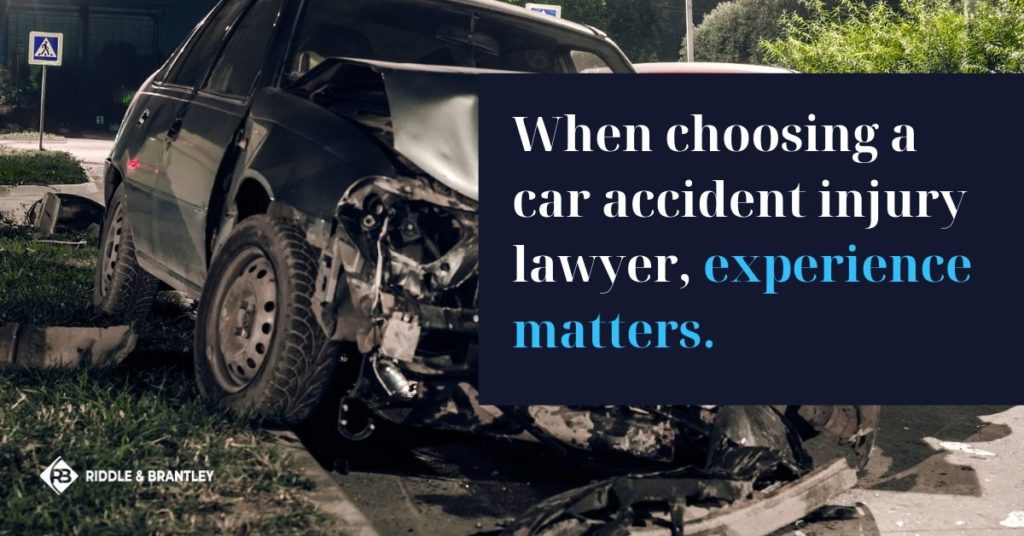 Auto accidents and truck accidents happen. If you have a car accident you may need the help of a car accident lawyer who handles personal injury claims. This would be especially true if you were not at fault in the accident.
You may even do a Google search like the ones above.
But if you live in North Carolina, chances are there are hundreds of car accident attorneys in your surrounding area.
Deciding which car accident attorney to hire can be overwhelming…
How do you pick a car accident lawyer? Which one is best for your case?
In this guide we'll walk through some of the important questions and considerations you should take into account in order to find an attorney for your case.
Questions to Ask When Looking for a Car Accident Lawyer for Your Case
Experience matters.
First, you want to consult with an attorney that has plenty of experience handling your specific type of accident.
Consider asking your potential car accident lawyer the following questions:
How long have you been in actual practice?
How many personal injury or car accident cases does your firm handle each year?
Do you have experience representing injured parties?
Are you and your firm comfortable going to trial?
What is the firm's success rate of cases that go to trial?
What sorts of settlements and results have you delivered for clients?
Keep in mind that some lawyers will have some or all of this information posted on their website. That may be a good place to start.
Consult the State Bar Association
When you're looking for the best car accident lawyer to handle your case, you can learn a lot about potential attorneys by examining their state bar association membership and Bar history.
In North Carolina, you can learn about a lawyer's disciplinary history by searching the North Carolina Bar Association discipline order records.
Look at Car Accident Lawyer Reviews
Restaurants aren't the only businesses that people are reviewing online. If you're looking for a car accident lawyer for your case, be sure to look at past client reviews. Be alert to what others say about the attorney you are considering hiring. Make sure other clients have been happy.

However, don't make your decision based on one good
or "not so good" review. Some negative reviews are not completed with a fair perspective.  Be cautious of sites that only post very positive reviews as that is not realistic.  Even the best restaurants have negative reviews.
In addition to sites like Google, Yelp, and Facebook, a number of legal directories like FindLaw and Lawyers.com include client reviews.
Check out the firm's website, too. You may be able to find a number of helpful client testimonials, such as these Riddle & Brantley reviews.
Get to Know Your Potential Attorney and Legal Staff
You should feel comfortable with your attorney's staff as well as your attorney. Trust your gut.  As your case progresses you will have more and more contact with your paralegal, case manager or attorney.  If you are not getting the communication you expect, then you should call your attorney and leave him or her a message if he or she is not able to take your call immediately.  Your attorney can't fix the issue if he doesn't know about it.
It's important to make sure you will get the attention you deserve. You should never feel like your case is just being "passed around" the office even though paralegals and case managers change at times.
Be Realistic and Be Honest When Considering a Car Accident Attorney
Be realistic about your potential settlement goals.  When you have the first meeting with the auto accident attorney it is important to tell them exactly what happened before, during and after your accident.  Your attorney will only be able to realistically evaluate your case if the information is 100% reliable.
Car accident cases take time and may mean going to trial.  Outcomes and settlements are never "one size fits all" and every case is different.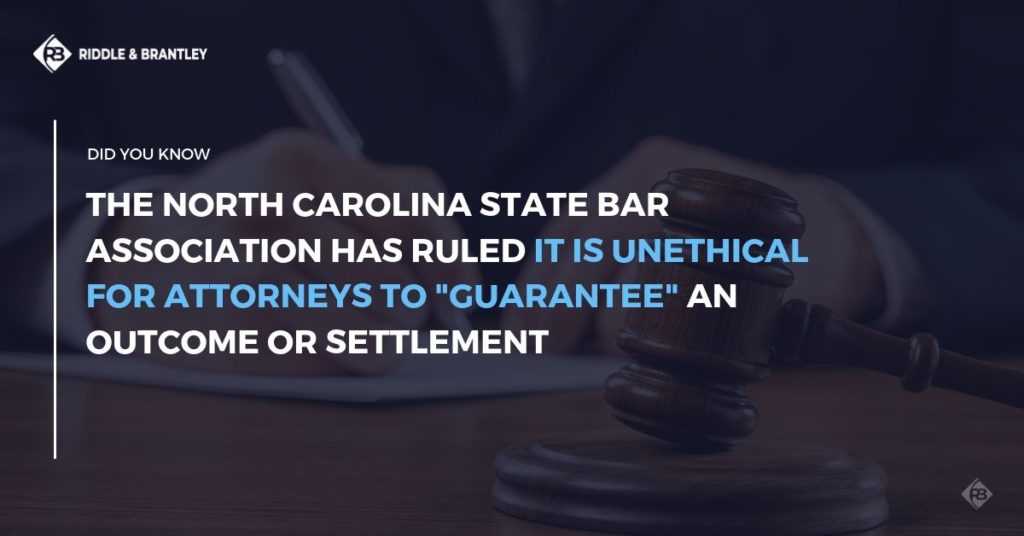 Another thing to keep in mind when searching for a car accident lawyer for your case: the North Carolina State Bar has ruled that it is unethical for an attorney to "guarantee" an outcome or settlement.
Be wary of any such claims.
Ask How the Attorney Will be Paid
Setting a contract is important.  After you have found an attorney that you feel comfortable with, talk to them about how they will be paid.  Most personal injury and car accident lawyers are paid on a contingency basis. This means they are not paid unless they win your case, they get offers for you, or your case settles.
For instance, at Riddle & Brantley, there are never any attorney fees unless we win your case or get the other side to offer compensation.
To Make a Long Story Short…
You want the best car accident lawyer for your case.
So as you meet with potential auto accident attorneys, ask the right questions and do your homework. Your case is important, and you deserve a car accident lawyer who will work hard to get the best result possible. If you do your homework, you'll be better prepared when it comes time to hire an attorney to represent you.
Is there such a thing as the "best car accident lawyer"?
Not really.
But after doing your homework, you'll be able to find the lawyer you believe is best qualified for your particular case.
Have you been injured in a car accident in North Carolina?
You deserve justice. At Riddle & Brantley, our lawyers have more than 220+ years of combined legal experience representing victims in Raleigh, Goldsboro, Kinston, Jacksonville, and greater North Carolina. Contact us for a free legal consultation. There is no obligation, no upfront cost and no attorney fee unless we win your case and recover financial compensation.
For a free consultation, please call 1-800-525-7111 or fill out the form below.
We would love to help you get the justice and compensation you need and deserve.