"How Do I Know If There is Benzene in My Sunscreen?"
Check Your Sunscreen Now for the Cancer-Causing Ingredient Benzene
Last year, consumers were shocked by the announcement that some of the most trusted sunscreen brands in the industry were being recalled after a cancer-causing ingredient was found in multiple batches. 
Benzene, a known human carcinogen, was detected in aerosol sprays and after-sun care products sold by Coppertone, Aveeno, Neutrogena, Banana Boat, Sun Bum and more calling into question the safety of these products.
Repeated exposure to benzene has been linked to an increased risk of cancer. 
If you regularly used one of the suncare products known to contain Benzene and were subsequently diagnosed with cancer, you might be entitled to compensation. Call us today at 1-800-525-7111 for a FREE, no-obligation consultation concerning a potential benzene sunscreen lawsuit.
What Sunscreens Contain Benzene?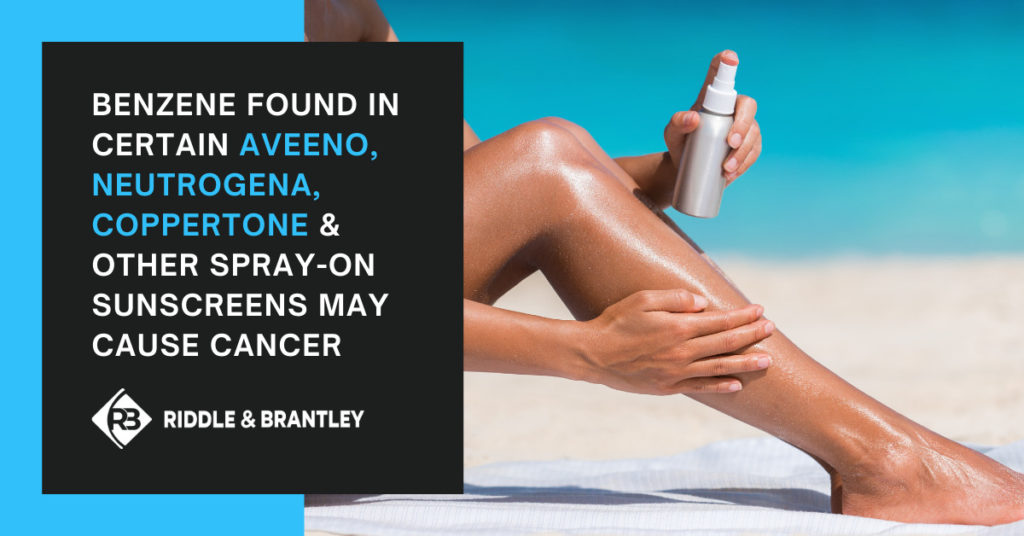 In July 2021, Johnson & Johnson voluntarily recalled four Neutrogena aerosol "spray-on" sunscreens and one Aveeno aerosol "spray-on" sunscreen. An internal investigation revealed that the products contained benzene, a known carcinogen that can potentially cause cancer. Consumers were informed that they should stop using the affected sunscreens.
In September, the makers of Coppertone followed suit, recalling 12 lots of spray sunscreen products where they identified the presence of benzene. Prior to both recalls, Valisure, an independent testing organization, called for the U.S. Food and Drug Administration to take action after studies showed that high levels of benzene were detected in 78 sunscreen and after-sun care products. 
Which Types of Sunscreens Have Been Recalled?
Determining whether your sunscreen is safe can be difficult. Benzene is not an ingredient typically found or listed in suncare products. The companies that have admitted to finding the dangerous carcinogen in their sunscreens have not released information as to how it got there. Benzene is a compound that is usually a byproduct of manufacturing. 
The majority of the sunscreen products that were included in the recalls were aerosols or spray-on sunscreen and sun-care products. Many other sunscreens on the market, both spreadable lotions and spray, have not been found to contain any detectable levels of benzene. 
Sunscreens Known to Contain Benzene
While some companies have chosen to conduct internal investigations and issue voluntary recalls of their products, others have remained on the market. 
Sunscreens that have been recalled due to benzene contamination include:
Coppertone Pure & Simple SPF 50 Spray

Coppertone Pure & Simple Kids SPF 50 Spray

Coppertone Pure & Simple Baby SPF 50

Coppertone Sport Mineral SPF 50

Travel-size Coppertone Sport Spray SPF 50

Neutrogena Beach Defense aerosol sunscreen

Neutrogena Cool Dry Sport aerosol sunscreen

Neutrogena Invisible Daily defense aerosol sunscreen

Neutrogena Ultra sheer aerosol sunscreen

Aveeno Protect + Refresh aerosol sunscreen
Other sunscreen and after-sun care products may be affected by benzene contamination.
According to laboratory testing, benzene was also detected in sunscreen and after sun-care products under the brand name of Sun Bum, CVS Health, Fruit of the Earth, Raw Elements, Banana Boat, Walgreens, and more. Contact our product liability lawyers to determine whether you qualify for a sunscreen lawsuit.
Were You Exposed to Benzene? Contact Our Office Today.
Were you or a loved one diagnosed with cancer after using a sunscreen containing benzene? You may be entitled to compensation through a sunscreen lawsuit. 
At Riddle & Brantley, we provide dedicated representation for individuals who have suffered harm due to dangerous products. Benzene is a toxic chemical that has been found in several of the most well-known sunscreen brands. Call our office today at 1-800-525-7111 to discuss your rights and determine your legal options.
IMPORTANT: As of early 2022, all defendants in benzene sunscreen lawsuits have strongly denied liability and/or wrongdoing associated with potential benzene contamination in their products.