Burlington Personal Injury Lawyer
Have you been injured in an accident? Is another person or company responsible? If so, you may be considering a Burlington personal injury lawyer.
The North Carolina personal injury lawyers and support team at Riddle & Brantley have more than 225 years of combined experience to give you the help you need when injured. We have represented many clients in the Burlington area and are committed to justice for its residents.
We are dedicated to helping our clients obtain the financial compensation they rightly deserve for their injury and losses.
If you have been injured or disabled in an accident that was not your fault or you or a family member has been seriously injured at work, you may be entitled to compensation.
We also assist people who have been denied Social Security benefits or wish to file Social Security Disability Insurance (SSDI) or Supplemental Security Income (SSI) applications in North Carolina.
You can rely on an injury attorney at Riddle & Brantley for legal guidance.
For a free consultation, please call us at 1-800-525-7111 or complete the form below. Our staff is ready to assist, and we even respond to calls and emails after hours and on weekends. 
As always, there are no attorney fees unless we win your case.
Can a Personal Injury Lawyer Help Me?
We will first investigate your accident and preserve witness testimony as well as obtain and preserve all evidence.
We may hire accident experts and reconstructionists if necessary. We have retired North Carolina state troopers and other experts on call to assist with our investigations. Let Riddle & Brantley help you with your legal concerns, so you can focus on your recovery and improving your quality of life.
An experienced Riddle & Brantley personal injury attorney can handle many types of accidents and injuries in the Burlington, NC area as well as throughout North Carolina.
Injuries and accidents that Riddle & Brantley can assist with include:
auto accidents
serious injury or death
wrongful death
workplace injury and workers' compensation claims
pedestrian accidents
motorcycle accidents
truck accidents
bicycle accidents
slip and falls
product liability cases
defective consumer product injuries
defective medical device injury
dog bites and other animal attacks (including exotic animals)
sexual assaults
dangerous drug cases
and more…
Contact our office by calling 1-800-525-7111 or complete the online form and we will set up a FREE consultation. There is never any upfront cost and there are no attorney fees unless we win your case.
Riddle & Brantley understands the physical and emotional pain suffered after a serious accident.  We have handled many cases involving wrongful death and serious injuries.
While much of our work involves litigation, depositions, and even trial, our services extend beyond the courtroom.
We are also ready to help our clients and their families plan any medical treatment they may need and help them with a plan to pay their medical bills.
We are happy to negotiate with Medicare, Medicaid, and health insurance companies for reimbursement of payments made on medical bills.
Justice for Burlington and North Carolina
Burlington is a city in Alamance and Guilford counties in North Carolina. It is the 17th largest city in the state and became known as "The Hosiery Center of the South." Its original industries were mainly agriculture and textiles.
Burlington is also located on busy I-40 which connects Greensboro and Durham and runs east-west through North Carolina. A growing population and increasing traffic and construction mean that injuries are unfortunately common.
"We've represented many clients in the Burlington area and are committed to justice for each and every one." -Gene Riddle
A personal injury lawyer should be your best advocate and we are ready to fight for justice for you.
Our commitment to our North Carolina clients is evident in their own words.
Check out what just a few of our clients have said about Riddle & Brantley:
"I never felt like just another client, but like family. They truly care and will handle your case with aggressive determination."
– D. Montague
"You guys really fought for me and lifted the pressure off my life."
– Lewis H.
"I'm very satisfied with my settlement, and if I need a law firm again, you are my 1st choice! Thank you!"
– Patricia D.
Our results also speak for themselves.
A few of the recent settlements and judgments won for our clients include:
Tractor Trailer Accident | $5.45 million — Managing partner Gene Riddle and attorney Kurt Dixon took on a high-profile case when a family of four was tragically killed in a crash with a tractor trailer. Organizing a thorough investigation including accident reconstruction, Riddle & Dixon filed suit which ultimately resulted in mediation where the insurance companies involved paid the maximum policy limits. Litigation is still pending against an involved pavement marking company.
Negligence & Wrongful Death | $3 million — Riddle & Brantley attorney Donald Dunn represented the family of a loved one who died after assisted living facility staff mishandled equipment. The case was tried in Wayne County Superior Court and ultimately resulted in a judgment for the victim's family in the amount of $3,000,000.
Auto Accident | $2.75 million — Our firm was called in after our client was seriously injured in a head-on motor vehicle collision. We carefully investigated the crash scene, sought out witnesses, and entered arbitration. Attorney Donald Dunn ultimately won a $2,750,000 award, followed by a separate $1,000,000 declaratory judgment against the insurance company for the Defendant.
*** Disclaimer: The results mentioned are intended to illustrate the type of cases handled by the firm. These results do not guarantee a similar outcome, and they should not be construed to constitute a promise or guarantee of a particular result in any particular case. Every case is different, and the outcome of any case depends upon a variety of factors unique to that case.
For more on judgments and settlements won by Riddle & Brantley on behalf of our deserving clients, please visit our Riddle & Brantley case results page.
Do you need a personal injury attorney with experience in Burlington?
We have handled many cases in and around the Burlington area.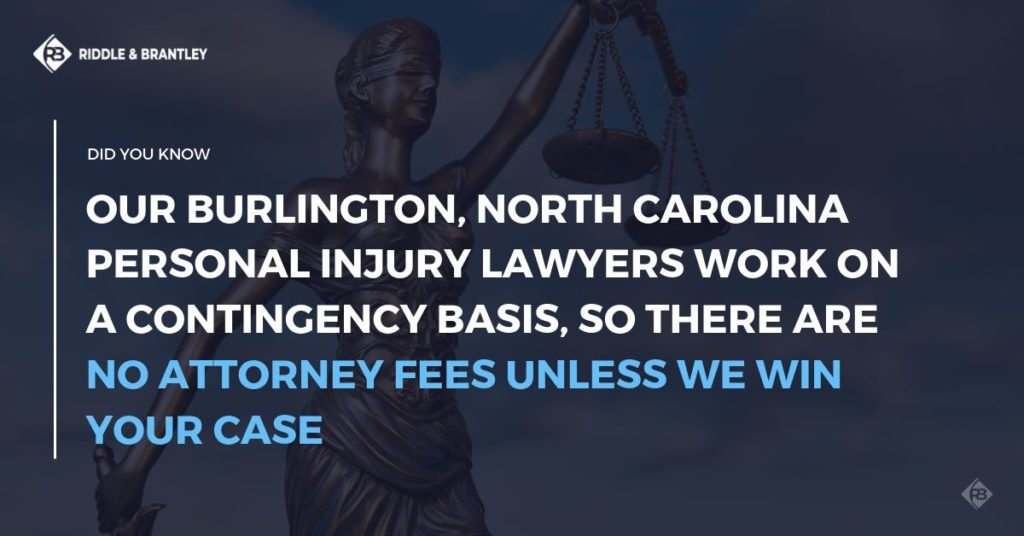 Injury cases can be complicated and very time consuming.  You will want an experienced personal injury attorney who is familiar with the Burlington area and knows personal injury law in North Carolina.
The attorneys at Riddle & Brantley will promptly investigate and handle your case leaving no stone unturned.
For a FREE consultation, call us today.
Remember the consultation is free, there are no costs upfront and you don't pay any attorney fees unless we win your case.
Simply give us a call at (800) 525-7111 for help or fill out the form below.
You deserve justice and we are ready to assist.