Camp Lejeune Epilepsy Lawsuit
Camp Lejeune Epilepsy Claims Due to Toxic Water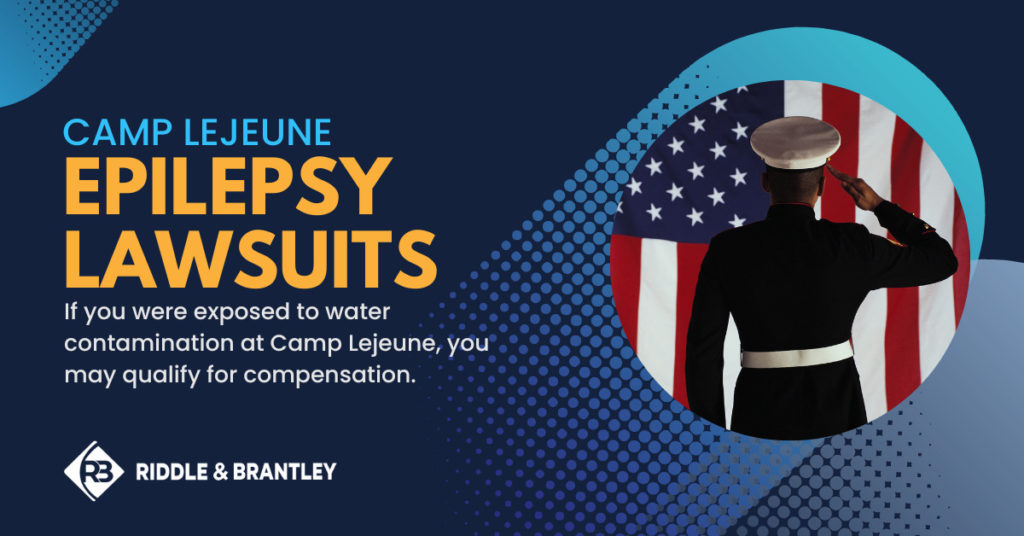 Many veterans, family members, and contractors who lived and worked at Camp Lejeune were later diagnosed with "epilepsy-like illnesses" potentially due to exposure to toxic water at the former Marine Corps Base in Jacksonville, NC. If you served at Camp Lejeune in North Carolina between 1953 and 1987 and later suffered from epilepsy, you might be eligible for a Camp Lejeune epilepsy claim or lawsuit.
We are actively investigating these claims and are dedicated to helping victims pursue Camp Lejeune lawsuits and claims to secure the compensation they need and deserve. Call Riddle & Brantley today at 1-800-525-7111 for a FREE consultation. There are no upfront costs and you won't pay any attorney fees unless we win your case and you receive compensation.
Even if you've previously filed a claim that has been denied, you may still be eligible for compensation. The Camp Lejeune Justice Act, passed as part of the PACT Act on August 2, 2022, allows toxic water victims whose claims were previously rejected to move forward with their claims and seek compensation for their injuries.
"Epilepsy is a heartbreaking condition and we are ready to help those exposed to contaminated water at Camp Lejeune."
–Gene Riddle, Camp Lejuene epilepsy attorney
Did Camp Lejeune Contaminated Water Cause Epilepsy?
In response to the claims brought against them, the VA has maintained that it cannot provide a definitive link between the toxic water and any adverse health effects, including epilepsy, experienced by veterans, family members, and civilian workers.
However, the VA has also acknowledged that it knew about the contamination of Camp Lejeune's drinking water since the early 1980s and failed to warn or test patients who were exposed from drinking contaminated water. The VA has also admitted that only a limited number of tests were available to diagnose or detect exposure to toxic chemicals at Camp Lejeune.
In 2014, scientists found that levels of hazardous chemicals in the water at Camp Lejeune had increased significantly over time. This increase suggests that water contamination may have played a role in the increased rate of epilepsy and other health issues among those who lived and worked at US Marine Corps Base Camp Lejeune. The Agency for Toxic Substances and Disease Registry (ATSDR) also found an association between contaminated water and various health issues among veterans and others.
Evidence that Camp Lejeune Toxic Water Caused Epilepsy
Studies conducted on the water at Camp Lejeune have found that it was contaminated with trichloroethylene (TCE), tetrachlorethylene (PCE), and benzene (among other toxic substances) between 1953 and 1987. While research into these chemicals is ongoing, they may be associated with an increased risk of epilepsy.
TCE and Epilepsy
Trichloroethylene (TCE) is an occupational and environmental contaminant, commonly found in dry cleaning, manufacturing, and other industries. TCE is a heavy-chain organic compound with a sweet, chloroform-like odor. TCE has been linked to developmental delays and neurobehavioral disorders, including epilepsy.
TCE exposure may lead to electroencephalogram (EEG) changes in children and may increase the risk of seizures. In adults, TCE exposure has been linked to increased risk of nonconvulsive status epilepticus.
Symptoms of TCE exposure include headache, dizziness, nausea, and vomiting. If left untreated, these symptoms may progress to seizures and permanent brain damage. Exposure to TCE can be minimized by carefully following proper decontamination procedures set forth by the Occupational Safety and Health Administration (OSHA).
PCE and Epilepsy
Tetrachloroethylene (PCE) is a highly toxic, manmade chemical that has been used in the production of other chemicals. While the chemical is not known to cause seizures itself, PCE may be associated with an increased risk of epilepsy among those who have had a previous seizure or who are at an increased risk for developing epilepsy.
In addition, PCE exposure during pregnancy may also increase the risk of having a child with a developmental disorder. Because of these concerns, pregnant women should avoid exposure to PCE as much as possible.
In addition to its connection to epilepsy, PCE can also pose some risks to humans in other ways. For instance, it can damage the central nervous system and cause headaches, dizziness, and drowsiness for those who are exposed to it regularly. It can also harm the kidneys and liver over time if it builds up in the body over time.
Benzene and Epilepsy
Benzene is a colorless, flammable liquid chemical that is produced in several ways. It is a byproduct of the production or processing of petroleum, coal, and wood, and is also produced during the process of refining crude oil. An estimated 1 million people worldwide have been diagnosed with benzene-related diseases, including acute myeloid leukemia (AML), non-Hodgkin's lymphoma (NHL), and tumors of the central nervous system (CNS). Benzene exposure has also been linked to Parkinson's disease, Alzheimer's disease, low birth weight, and other conditions.
A growing number of studies have found an association between benzene exposure and epilepsy. In animal studies, exposure to benzene was found to cause epileptic seizures. Many studies of children showed that children were found to be more likely to develop neurological complications than those who were not exposed to the fumes. In addition, children who had a family history of epilepsy were more likely to be diagnosed with the condition if they had been exposed to benzene than if they did not have this family history. These findings further support the theory that benzene exposure may increase the risk of developing epilepsy in susceptible individuals.
How to File a Camp Lejeune Epilepsy Claim or Lawsuit
If you have epilepsy or another serious condition after living or working at Camp Lejeune and meet the following criteria, you may be eligible to file a Camp Lejeune claim or lawsuit:
Were exposed to contaminated water at Camp Lejeune for 30 or more days between August 1, 1953, and December 31, 1987
Were diagnosed with one of the following conditions:
The Camp Lejeune Justice Act allows new and previously denied claims to be brought forward against the federal government to seek compensation for epilepsy and other conditions suffered as a result of water contamination on base. The Navy previously denied all claims related to water contamination at US Marine Corps Base Camp Lejeune, but the Camp Lejeune Justice Act overrides those denials.
Camp Lejeune Epilepsy Attorneys Ready to Help
If you suffered from epilepsy, seizures, or other health problems after being exposed to contaminated water at Camp Lejeune between 1953 and 1987, Riddle & Brantley can consult with you for free about your options for a Camp Lejeune epilepsy claim or lawsuit.
Our clients consistently express appreciation for our firm's lawyers and staff, and are pleased with the results that we've been able to secure for them:
"Every time I've needed them, they were there for me." –Tyronnie T.
"You'll walk in the door as a client but leave as family. They're the absolute best." –Susan S. 
Since 2000 alone, we have recovered over $665 million for our clients (see disclaimer below), and we continue to work exceptionally hard to get each and every client the maximum compensation they're entitled to.
We have offices in Jacksonville, NC just down the road from US Marine Corps Base Camp Lejeune, and have been handling claims and lawsuits in the Eastern District of North Carolina for decades. We can consult with you for free from anywhere, by phone, email, text, or video conference. For local clients in North Carolina, we can even come directly to you.
We serve clients nationwide and would love to help however we can. Call 1-800-525-7111 for a free, no-obligation consultation.
Award-Winning Trial Attorneys
We don't do it for the prizes. Still, we take great pride in the fact that our Camp Lejeune epilepsy lawyers have been recognized by many prestigious memberships and awards (see disclaimer below) within the legal community, including:
Multi-Million Dollar Advocates Forum
Super Lawyers
The National Trial Lawyers Top 100
The National Trial Lawyers Top 40 Under 40
Super Lawyers "Rising Stars"
The National Association of Distinguished Counsel
AV Preeminent Rating by Martindale-Hubbell
The Litigator Award
We're ready to pass on this award-winning legal expertise to you and help you and your loved ones however we can.
Please call 1-800-525-7111 or fill out the short and simple form below for a free, no-obligation consultation with an experienced Camp Lejeune litigation lawyer. At Riddle & Brantley, Justice Counts.
---
*** Disclaimer: The results mentioned are intended to illustrate the type of cases handled by the firm. These results do not guarantee a similar outcome, and they should not be construed to constitute a promise or guarantee of a particular result in any particular case. Every case is different, and the outcome of any case depends upon a variety of factors unique to that case.
*** Disclaimer: An attorney must meet certain requirements to join these organizations or receive these awards. For more information on Membership Criteria for Million Dollar Advocates Forum, Multi-Million Dollar Advocates Forum, Super Lawyers, Super Lawyers "Rising Star" designation, The National Trial Lawyers Top 100, The National Trial Lawyers Top 40 Under 40, The National Association of Distinguished Counsel, AV Preeminent designation by Martindale-Hubbell, the Litigator Award, and other memberships, awards, and accolades, please visit our Membership Criteria page. These awards and memberships should not be construed as a promise or guarantee of a similar result. Each case is different and must be evaluated separately.