Camp Lejeune Fatty Liver Disease Lawsuit
Camp Lejeune Fatty Liver Disease Claims Due to Toxic Water
Recently, research has shown a connection between contaminated water at Marine Corps Base Camp Lejeune and fatty liver disease. If you worked at Camp Lejeune between 1953 and 1987 and later developed the disease, you might be eligible for a Camp Lejeune fatty liver disease lawsuit or claim.
Riddle & Brantley currently represents clients who lived and worked at Camp Lejeune and later developed non-alcoholic fatty liver disease, otherwise known as NAFLD or hepatic steatosis.
For a FREE, no-obligation case evaluation, call us at 1-800-525-7111. We'll assess your situation and review your options with you. If you decide to hire our Camp Lejeune lawsuit attorneys, you won't have to pay anything unless we succeed in winning compensation for you.
Many of our Camp Lejeune NAFLD attorneys and staff have strong ties to the military and Camp Lejeune, with offices in Jacksonville, just down the road from the Marine Corps base. We can consult with you in-person, or from anywhere by phone, email, text, or video conference.
Can Water Contamination Cause Fatty Liver Disease?
A study published in Environmental International examined the relationship between environmental contaminants in water resources and the increased risk of non-alcoholic fatty liver disease (NAFLD). The researchers found that exposure to environmental pollutants in water led to a general increase in occurrence of fatty liver disease.
Researchers have now looked more closely at the impact of these chemicals on fatty liver disease and examined whether people who lived and worked at Camp Lejeune are more likely to develop the disease after its water was contaminated with chlorinated solvents and other chemicals.
What Chemicals Were Found in the Water at Camp Lejeune?
After many service members, family members, and civilian employees who lived and/or worked at Camp Lejeune displayed serious health issues, the Agency for Toxic Substances and Disease Registry (ATSDR) tested the water for PFAS chemicals. ATSDR scientists discovered trichloroethylene (TCE), tetrachloroethylene (PCE), vinyl chloride (VC), and benzene around Camp Lejeune in amounts that greatly exceeded EPA safety limits.
Did Camp Lejeune Water Contamination Cause NAFLD?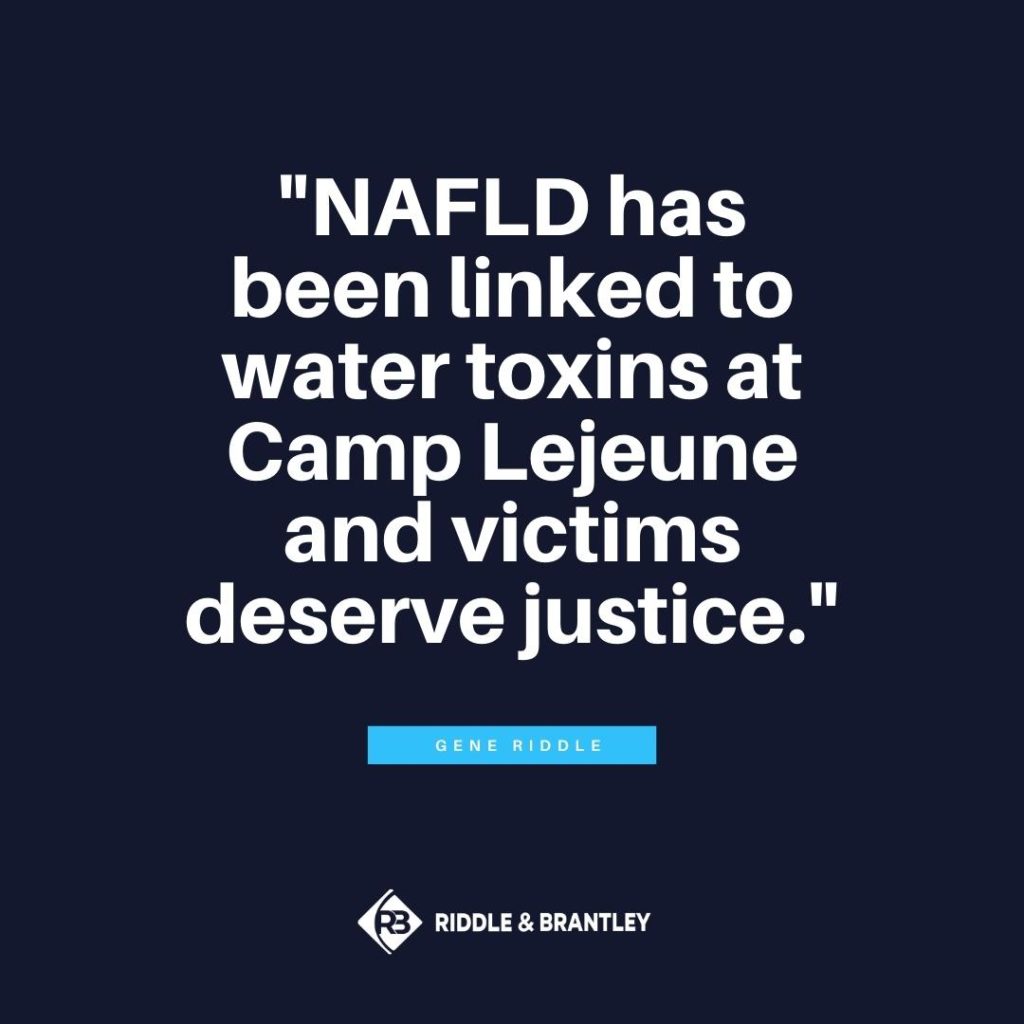 Of the chemicals found in the water at Camp Lejeune, two have been found to have strong connections to fatty liver disease (hepatic steatosis): TCE and vinyl chloride.
Vinyl Chloride
Vinyl chloride is a chemical compound frequently used in manufacturing plastic, rubber, and other products. It can be found in a wide range of products, such as food packaging, household goods, and furniture. Liver disease has been associated with Camp Lejeune's contaminated water as a result of vinyl chloride's ability to interfere with the production of proteins needed for proper bodily function.
A study of petrochemical workers found that people regularly exposed to vinyl chloride were significantly more likely to develop fatty liver disease than those who were not exposed. This kind of regular exposure is similar to workers at Camp Lejeune, who were regularly exposed to water contaminated with vinyl chloride at well above safe levels.
Trichloroethylene (TCE)
Trichloroethylene (TCE) is an industrial solvent commonly used in dry cleaning, paint removal, and printing. It is also used as a fire retardant in carpeting and building materials. TCE can be ingested or inhaled due to skin contact or breathing. TCE destroys the liver by interfering with its function, producing fatty changes and causing cirrhosis.
A relevant study examined a case of liver disease where the patient was regularly exposed to TCE at their workplace and found that this exposure to TCE was the likely cause of their condition. In combination with other studies similar to this one, research continues to support the idea that regular exposure to TCE can lead to a significantly increased risk of NAFLD (otherwise known as fatty liver disease or hepatic steatosis).
How to File a Camp Lejeune NAFLD Claim
Individuals who were exposed to chemicals at Camp Lejeune between 1953 and 1987 may be able to file a Camp Lejeune water contamination lawsuit if they or their family members suffered from fatty liver disease. Even if your lawsuit was previously dismissed, you may be able to re-file it as a result of new legislation signed on August 10, 2022 — the Camp Lejeune Justice Act — that aims to help injured veterans and their relatives get the justice they deserve.
To file a Camp Lejeune lawsuit, you must first meet the following criteria:
Were exposed to contaminated water at Camp Lejeune for 30 or more days between August 1, 1953, and December 31, 1987
Were diagnosed with one of the following conditions:

Fatty liver disease (also known as hepatic steatosis or NAFLD)
Uterine cancer
Renal toxicity
Neurobehavioral effects
Riddle & Brantley Can Help You with Your Claim
At Riddle & Brantley, we have extensive experience helping veterans and civilians get the justice they deserve when facing illness or injury due to someone else's negligence. We can help you choose the right approach to take in a Camp Lejeune fatty liver disease lawsuit or claim and do the heavy lifting, so you can focus on what's most important — your recovery and family.
Call 1-800-525-7111 or fill out the convenient form below for a FREE consultation. At Riddle & Brantley, you will never pay attorney fees unless we win money for you in your Camp Lejeune NAFLD lawsuit (or claim for another condition). We want our clients to get the best results possible, and we work hard to generate the best outcomes for our clients.
To date, we've recovered over $665 million for our clients since 2000 alone (see disclaimer below). We have also received numerous prestigious memberships and recognitions from professional organizations for our work (see disclaimer below). We think the testimonials of our valued clients speak for themselves:
"It was nice to see Riddle & Brantley put me and my needs first." –R. C.
"Every time I've needed them, they were there for me." –Tyronnie T.
"You'll walk in the door as a client but leave as family. They're the absolute best." –Susan S.
We are passionate about helping veterans, their families, and civilian contractors who lived or worked at US Marine Corps Base Camp Lejeune get the justice they deserve.
Please contact us at 1-800-525-7111  for your FREE consultation today. We are ready to help however we can.
---
*** Disclaimer: The results mentioned are intended to illustrate the type of cases handled by the firm. These results do not guarantee a similar outcome, and they should not be construed to constitute a promise or guarantee of a particular result in any particular case. Every case is different, and the outcome of any case depends upon a variety of factors unique to that case.
*** Disclaimer: An attorney must meet certain requirements to join these organizations or receive these awards. For more information on Membership Criteria for Million Dollar Advocates Forum, Multi-Million Dollar Advocates Forum, Super Lawyers, Super Lawyers "Rising Star" designation, The National Trial Lawyers Top 100, The National Trial Lawyers Top 40 Under 40, The National Association of Distinguished Counsel, AV Preeminent designation by Martindale-Hubbell, the Litigator Award, and other memberships, awards, and accolades, please visit our Membership Criteria page. These awards and memberships should not be construed as a promise or guarantee of a similar result. Each case is different and must be evaluated separately.