Camp Lejeune Heart Defect Claims and Lawsuits
Camp Lejeune Heart Defects Claims Due to Toxic Water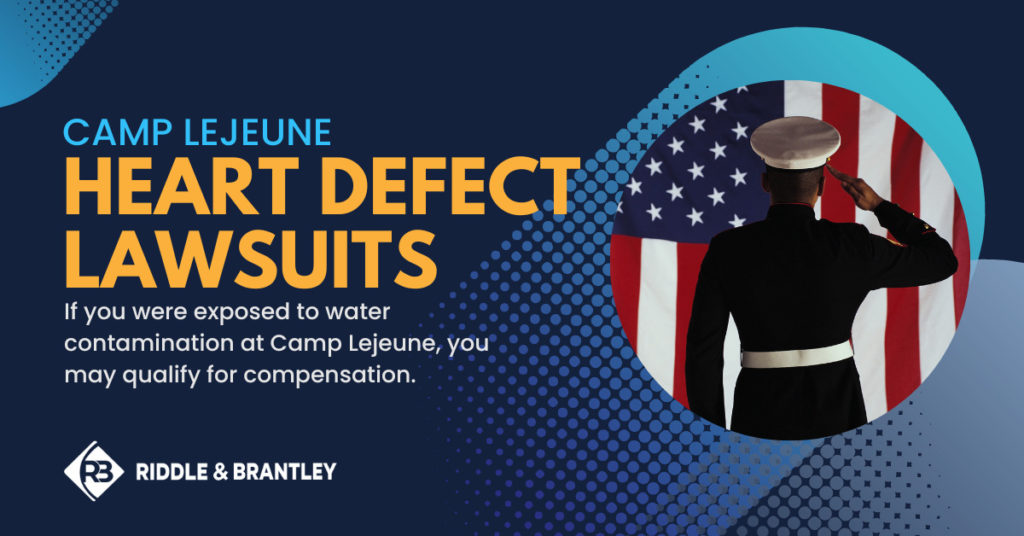 Recently, congenital heart defects such as aortic valve stenosis, pulmonary valve stenosis, septal defects, and other serious heart problems have been linked with exposure to contaminated water at US Marine Corps Base Camp Lejeune. If you lived or worked at the base between 1953 and 1987 and were later diagnosed with a congenital heart defect, you might be eligible for a Camp Lejeune heart defect lawsuit.
At Riddle & Brantley we are assisting veterans, their family members, and civilian military contractors who worked at Camp Lejeune and were born with congenital heart defects or other health issues after their mothers were exposed to contaminated water on base.
Give us a call at 1-800-525-7111 for a FREE evaluation of your case. We will help you understand your options, and you will not pay any attorney fees unless we win compensation for you.
We have offices in Jacksonville, NC, just down the road from Camp Lejeune, and have extensive experience handling cases in the Eastern District of North Carolina, where Camp Lejeune toxic water claims (and claims for other conditions) must be filed.
Can Water Contamination Cause Congenital Heart Defects?
Scientists are continuing to investigate if and how contaminated water can cause harmful effects on the hearts of unborn children. A study published in the International Journal of Environmental Research and Public Health found that congenital heart defects were higher in areas with high levels of contamination by industrial toxins.
Research is still ongoing to understand what defects may be caused by what contamination, but there is significant evidence to support the hypothesis that children whose mothers are exposed to contaminated water during pregnancy are more likely to develop congenital heart defects than those whose mothers were not.
We believe that the evidence will show that toxic water at Camp Lejeune caused heart defects.
What Chemicals Were Found in the Water at Camp Lejeune?
The Agency for Toxic Substances and Disease Registry (ATSDR) tested the water at Camp Lejeune for PFAS chemicals after many former service members and civilian employees showed signs of serious health issues. The ATSDR found:
trichloroethylene (TCE),
tetrachloroethylene (PCE),
vinyl chloride (VC),
and benzene around Camp Lejeune
Levels were far above safety thresholds set by EPA officials.
Potential Links Between Camp Lejeune Water and Congenital Heart Defects
Many common heart defects have been found in children and adults who were born at Camp Lejeune, North Carolina, including:
Aortic valve stenosis
Pulmonary valve stenosis
Septal defects
Coarctation of the aorta
Ebstein anomaly
Hypoplastic left heart syndrome
Patent ductus arteriosus (PDA)
Pulmonary atresia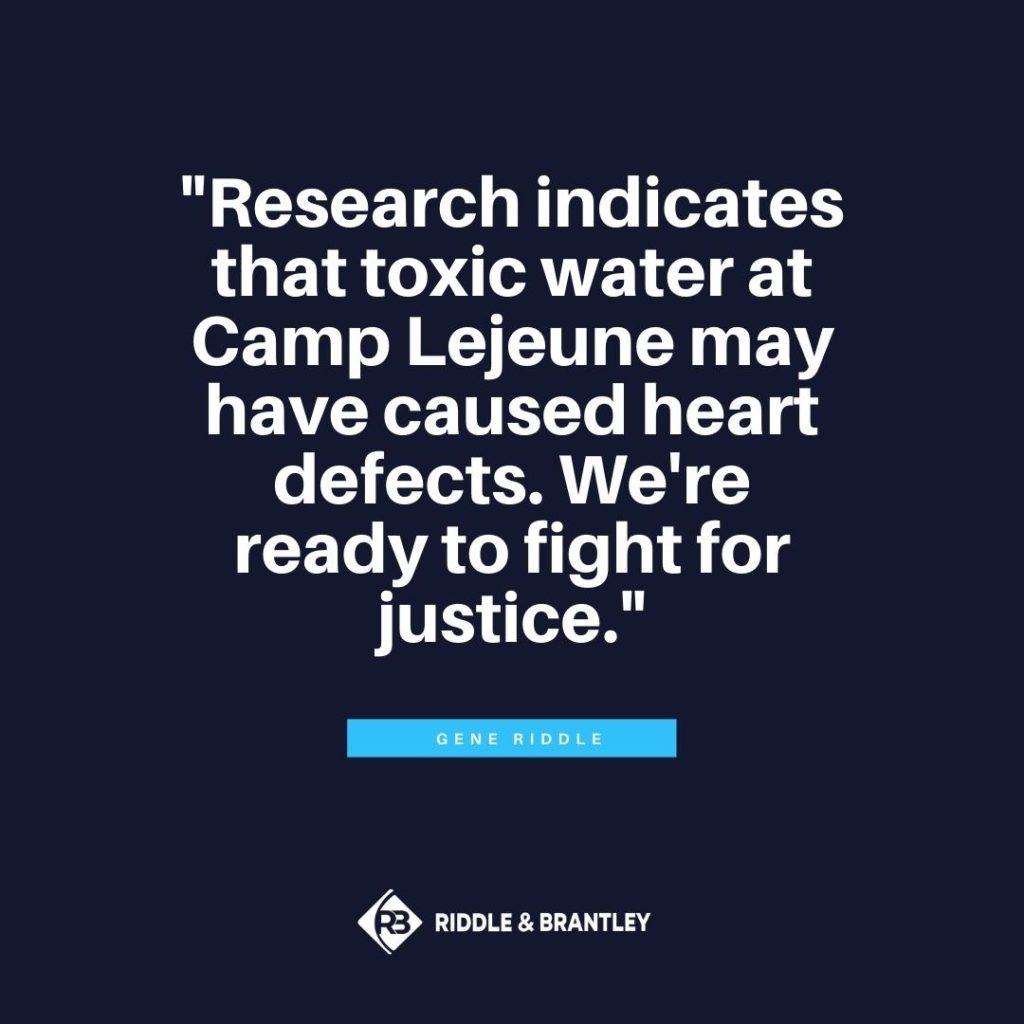 Research published in the Journal of Occupational and Environmental Medicine has found that increased risk for several of these heart defects can be linked to occupational exposure to industrial solvents like the ones found in the water at Camp Lejeune.
Trichloroethylene (TCE) is a particularly concerning risk factor, with additional research by the EPA indicating that TCE exposure in drinking water affected the fetal heart development of rats that were used in the study. While studies like this cannot be performed on humans, they can be used to inform us of the possible risks to human fetal development as well.
"Can I File a Camp Lejeune Claim or Lawsuit for Heart Defects?"
If you lived or worked around Camp Lejeune between 1953 and 1987 and you or your family members developed congenital heart defects, you may qualify for a Camp Lejeune heart defect claim or lawsuit.
Victims of the chemical exposure at Camp Lejeune can now file claims related to Camp Lejune water contamination, even if their claim was previously denied, thanks to newly-passed PACT Act and Camp Lejeune Justice Act, passed on August 2, 2022.
To file a Camp Lejeune claim, you must meet the following criteria:
Were exposed to contaminated water at Camp Lejeune for 30 or more days between August 1, 1953, and December 31, 1987
Were diagnosed with one of the following conditions:

Congenital heart defect
Uterine cancer
CNS cancer (cancer of the central nervous system)
Leukemia (various types)
Renal toxicity
Neurobehavioral effects
Hepatic steatosis
Experienced Attorneys Ready to Help
Riddle & Brantley can help you choose the right legal action in a congenital heart defect lawsuit or claim against the federal government related to Camp Lejeune water contamination. We offer free consultations, and you will not pay attorneys fees unless we win compensation for you. Please call 1-800-525-7111 today and let's see how we can help.
Since 2000 alone, we've recovered over $665 million in compensation for our valued clients (see disclaimer below), including many veterans.
"By far the best law firm that actually cares about helping veterans."
–B.F., Riddle & Brantley client
Not only have we received numerous prestigious memberships and awards, but our Camp Lejeune congenital heart defects lawyers have received praise from our valued clients for providing top-quality service (see disclaimer below).
"It was nice to see Riddle & Brantley put me and my needs first." –R. C.
"You'll walk in the door as a client but leave as family. They're the absolute best." –Susan S.
"I would recommend them to anyone. They fought hard for me." –Christine W.
We invite you to experience the care and attention we give to our clients and assist you in filing your Camp Lejeune congenital heart defects lawsuit or claim.
"They turned a heartbreaking situation completely around."
–Tonya T., Riddle & Brantley client
Please contact us at 1-800-525-7111. Justice Counts for our heroes in the military, their families, and civilian military contractors who lived and worked at Camp Lejeune.
---
*** Disclaimer: The results mentioned are intended to illustrate the type of cases handled by the firm. These results do not guarantee a similar outcome, and they should not be construed to constitute a promise or guarantee of a particular result in any particular case. Every case is different, and the outcome of any case depends upon a variety of factors unique to that case.
*** Disclaimer: An attorney must meet certain requirements to join these organizations or receive these awards. For more information on Membership Criteria for Million Dollar Advocates Forum, Multi-Million Dollar Advocates Forum, Super Lawyers, Super Lawyers "Rising Star" designation, The National Trial Lawyers Top 100, The National Trial Lawyers Top 40 Under 40, The National Association of Distinguished Counsel, AV Preeminent designation by Martindale-Hubbell, the Litigator Award, and other memberships, awards, and accolades, please visit our Membership Criteria page. These awards and memberships should not be construed as a promise or guarantee of a similar result. Each case is different and must be evaluated separately.