Camp Lejeune Scleroderma Lawsuit
Camp Lejeune Scleroderma Claims Due to Toxic Water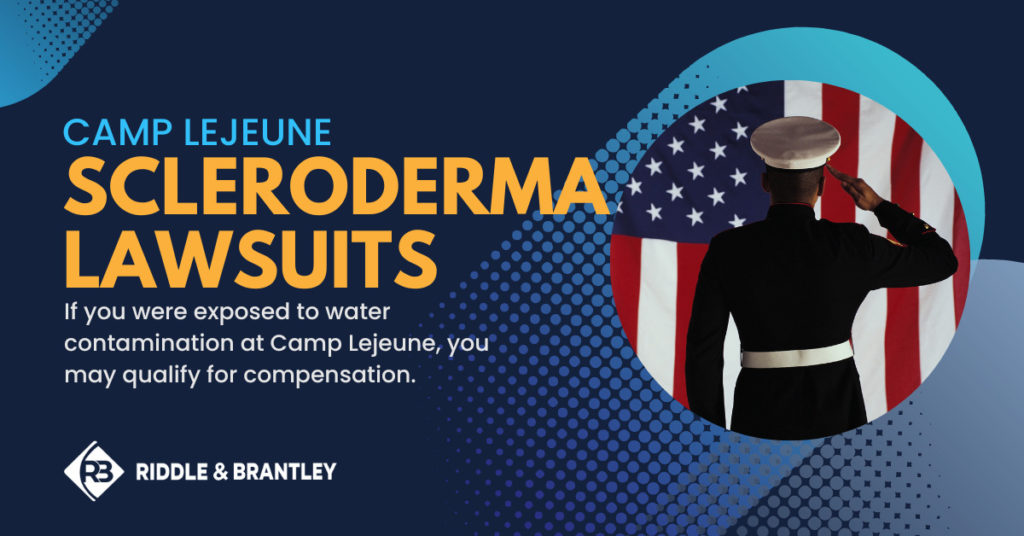 You might be eligible for a Camp Lejeune scleroderma claim or lawsuit if you or a loved one was diagnosed with scleroderma after exposure to contaminated water at the Camp Lejeune Marine Corps base in North Carolina between 1953 and 1987. To speak with an experienced Camp Lejeune scleroderma lawyer and get a FREE review of your Camp Lejeune claim, contact Riddle & Brantley at 1-800-525-7111
Thanks to the Camp Lejeune Justice Act — part of the PACT Act signed into law on August 10, 2022 — more people than ever before can file a claim and get the justice they deserve. We want to help you evaluate your options and give you the best chance of winning compensation for your Camp Lejeune scleroderma claim (or claim for another condition related to contaminated water at the Marine Corps base).
What is Scleroderma?
Scleroderma is a rare disease that causes the immune system to attack healthy skin and connective tissue, leading to painful rashes, thickening of the skin, and hardening of the joints. It is mostly seen in women between 30 and 60 years old.
Symptoms of scleroderma include:
Painful, swollen skin
Hardened or thickened skin
Clustered rashes
Swelling in the hands, feet, and face
Swelling in the throat (laryngeal edema)
Swollen eyelids that may block vision
Joint pain
Did Water Contamination at Camp Lejeune Cause Scleroderma?
Between 1953 and 1987, trichloroethylene (TCE), perchloroethylene (PCE), vinyl chloride, benzene, and other contaminants were found in the water at Marine Corps Base Camp Lejeune, North Carolina. The contamination is thought to have come from a local dry-cleaning company and improper waste disposal and is believed to have contributed to a variety of health problems experienced by soldiers stationed at Camp Lejeune, their family members, and civilian military contractors.
Several studies connect water contamination at Camp Lejeune with scleroderma, suggesting that the development of the condition may result from exposure to these chemicals.
Evidence that Camp Lejeune Water Caused Scleroderma
Several studies have explored the relationship between scleroderma and exposure to solvents like the ones found in Camp Lejeune water between 1953 and 1987. Most notably, a study published in the American Journal of Epidemiology in 2003 explored the link between women's exposure to solvents in both occupational and hobby settings and the later development of scleroderma.
What this study found is that trichloroethylene (TCE) exposure showed an increased risk for scleroderma no matter how long the person was exposed to the chemical.
Another case-control study that was conducted between 1998 and 2000 and published in the Journal of Occupational and Environmental Medicine found that "significant associations with SS were observed for crystalline silica, trichloroethylene, chlorinated solvents, toluene, aromatic solvents, ketones, white spirit, epoxy resins, and welding fumes. The risk of SS was significantly associated with a high final cumulative exposure score of occupational exposure to crystalline silica, trichloroethylene, chlorinated solvents, welding fumes, and any types of solvents."
This further suggests that the dry-cleaning solvents found in Camp Lejeune water may put people exposed to the water at greater risk of developing scleroderma later in life.
How to File a Camp Lejeune Scleroderma Lawsuit
If you served at Camp Lejeune and were later diagnosed with scleroderma or other health issues, you may qualify for a Camp Lejeune lawsuit or claim.
To file a Camp Lejeune claim, you must meet the following criteria:
Were exposed to contaminated water at Camp Lejeune for 30 or more days between August 1, 1953, and December 31, 1987
Were diagnosed with one of the following conditions:

Scleroderma
Uterine cancer
Renal toxicity
Neurobehavioral effects
Hepatic steatosis
Even previously denied claims may be eligible for re-filing, thanks to the Camp Lejeune Justice Act, which expands the ability of Camp Lejeune victims to come forward with their cases.
Why Riddle & Brantley?
Riddle & Brantley can assist you in determining the best legal course of action, reviewing your Camp Lejeune scleroderma lawsuit, and filing it on your behalf if you were injured due to the government's negligence in handling the water contamination at Camp Lejeune.
We offer free, no-obligation consultations to discuss your legal options. Please call 1-800-525-7111 to speak directly with one of our attorneys who can offer personalized guidance for your case.
Since 2000 alone, we've recovered over $665 million in compensation for our valued clients (see disclaimer below). With offices just down the road from Camp Lejeune in Jacksonville, North Carolina, we are ready to help clients in North Carolina and around the country. Free consultations are available by phone, email, text, and video conference.
What Our Clients Are Saying
Our clients' positive experiences with our skilled attorneys and staff are what make us most proud of our work in helping veterans and their families obtain justice.
"By far the best law firm that actually cares about helping veterans."
–B.F., Riddle & Brantley client
Please contact Riddle & Brantley today to find out more about our Camp Lejeune scleroderma claim and lawsuit attorneys and see how we can help. To get your FREE consultation, simply call 1-800-525-7111 or fill out the simple form below.
Justice Counts.
You won't be charged any attorney fees unless you receive compensation. Call today, and let's talk.
---
*** Disclaimer: The results mentioned are intended to illustrate the type of cases handled by the firm. These results do not guarantee a similar outcome, and they should not be construed to constitute a promise or guarantee of a particular result in any particular case. Every case is different, and the outcome of any case depends upon a variety of factors unique to that case.
*** Disclaimer: An attorney must meet certain requirements to join these organizations or receive these awards. For more information on Membership Criteria for Million Dollar Advocates Forum, Multi-Million Dollar Advocates Forum, Super Lawyers, Super Lawyers "Rising Star" designation, The National Trial Lawyers Top 100, The National Trial Lawyers Top 40 Under 40, The National Association of Distinguished Counsel, AV Preeminent designation by Martindale-Hubbell, the Litigator Award, and other memberships, awards, and accolades, please visit our Membership Criteria page. These awards and memberships should not be construed as a promise or guarantee of a similar result. Each case is different and must be evaluated separately.