Wrongful Death Lawyer Serving Cary NC
Wrongful Death Attorney Serving Cary NC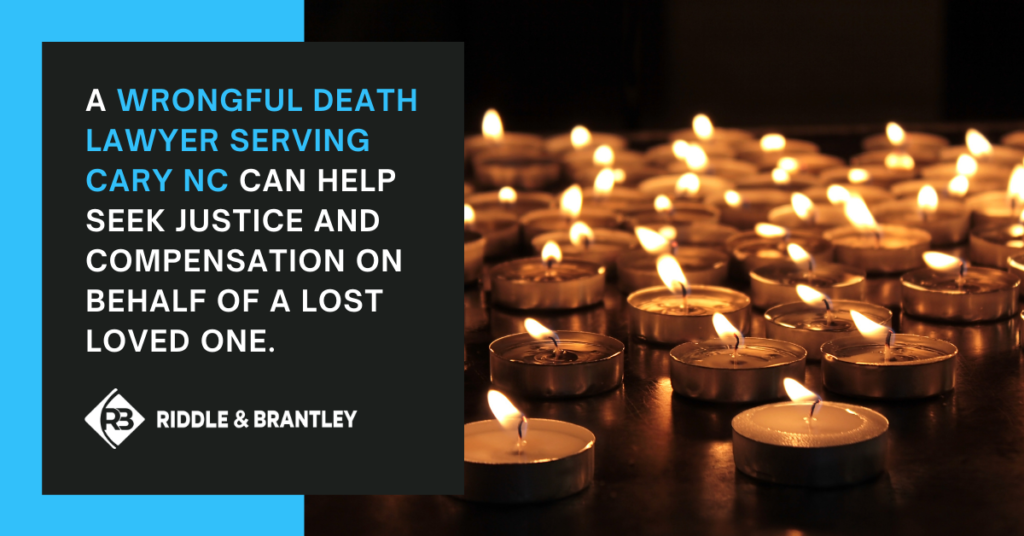 In the most heartbreaking cases, the negligence of another may result in the death of a loved one. When this happens, surviving family members may seek compensation in a wrongful death lawsuit. Nothing can ever make up for the loss of a love done, but a Cary wrongful death lawyer can help you seek the justice and compensation you deserve.
Looking for a Cary wrongful death lawyer? An experienced North Carolina wrongful death attorney at Riddle & Brantley may be able to help.
For a FREE, no-obligation consultation with a wrongful death attorney serving Cary call 1-800-525-7111. Consultations are available anytime from anywhere by phone, email, text, or video conference. We also have convenient offices in Durham and Raleigh, and can even come to you directly if it's more convenient.
Types of Wrongful Death Cases
Wrongful death cases take many forms. There are many situations in which the death of a loved one may result from another's negligence. Defendants in wrongful death cases can be individuals or companies.
In more than 35 years serving the people of this great state, our North Carolina wrongful death attorneys at Riddle & Brantley have handled all kinds of wrongful death claims and lawsuits.
Common types of wrongful death cases include:
Car accidents
Truck accidents
Motorcycle accidents
Boating accidents
Workplace accidents (workers' compensation death benefit claims)
Construction accidents
Slip and fall accidents
Premise liability accidents
Nursing home negligence and abuse
Defective consumer products
Defective medical devices
Dangerous drugs
Dangerous chemical or substance exposure
Mesothelioma and asbestos exposure
Police brutality and misconduct cases
Evidence in Wrongful Death Claims
A personal injury attorney serving Cary can help investigate the cause of death and prove liability in order to strengthen your wrongful death claim.
Evidence in wrongful death cases will depend on the type of claim and the unique facts and circumstances of the case.
Common evidence used to prove liability in wrongful death cases includes:
Medical records
Eyewitness testimony
Expert witness testimony (e.g., by accident reconstructionists or medical experts)
Accident reports from law enforcement
Photos of the accident scene
Video footage, including surveillance and/or dash cam video
Truck and tractor-trailer "black box" data
GPS and traffic data
Maintenance and repair records
At Riddle & Brantley, we have retired law enforcement officers on staff. These officers comprise our investigation team, and help lead investigations into complex wrongful death cases to gather evidence and prove fault.
Damages Available in Wrongful Death Cases
Depending on the circumstances of the case, a number of types of damages (compensation) may be available in a Cary wrongful death claim.
Damages that may be available in a wrongful death claim include:
Medical expenses — These damages cover potentially expensive medical bills resulting from the deceased's treatment and may include ER visits, doctors' visits, surgeries, home medical equipment, hospice or home care expenses, etc.
Lost wages — This compensation is intended to make up for income lost while the deceased was being treated and unable to work.
Loss of future earnings — Compensation may be available for the loss of future earning potential by the deceased.
Pain and suffering — These non-economic damages include emotional injury.
Loss of consortium — These damages compensate for loss of companionship or sexual relations resulting from the loss of a spouse.
Funeral costs — The liable party or insurer is often required to pay the costs of the victim's funeral or memorial in a wrongful death case.
Punitive damages — In cases in which a defendant is found to have engaged in "gross negligence," or "willful or wanton" behavior resulting in injury, a jury may award punitive damages intended to "punish" him or her and discourage future similar behavior.
Compassionate Attorneys Handling Wrongful Death Claims in Cary NC
If you've lost a loved one due to someone else's negligence, you may have a claim for compensation in a wrongful death case.
Nothing can ever make up for the loss of a loved one, but a personal injury attorney serving Cary can help you seek compensation and justice for the deceased.
For a FREE, no-obligation consultation with an experienced wrongful death attorney handling claims in Cary NC, please call 1-800-525-7111 or complete the form below.
The consultation is free, and as always, there are no upfront costs or attorney fees unless we win your case and you receive compensation.
Our Results
In one of the most difficult and heartbreaking cases we've ever handled, attorneys Kurt Dixon and Gene Riddle represented the surviving family members of a family of four who were killed instantly in a major tractor-trailer accident. We investigated the accident, proved liability, and filed multiple lawsuits, ultimately securing $9.45 million in total compensation for the victims' family (see disclaimer below).
When an elderly patient lost his life due to mishandling of medical equipment at a nursing home, our attorneys fought for justice for surviving family members. We proved negligence in the case and filed a lawsuit in Superior Court, winning a verdict of $3 million for the family (see disclaimer below).
Our client lost his life due to mesothelioma caused by exposure to asbestos while working as a railroad welder. We teamed up with attorneys Chip Hickey and Reid Acree and filed a lawsuit, which was ultimately settled out of court. One defendant settled for $725,000 and another settled for $125,000, totaling $850,000 in total compensation for surviving family members (see disclaimer below).
"They turned a heartbreaking situation completely around."
–Tonya T., Riddle & Brantley client
Call 1-800-525-7111 and let's discuss your claim. A compassionate injury lawyer at Riddle & Brantley will consult you at no cost, advise you on your best available legal options, and, if you decide to hire us, fight tirelessly for your right to justice.
Justice Counts and we are ready to help however we can.
---
*** Disclaimer: The results mentioned are intended to illustrate the type of cases handled by the firm. These results do not guarantee a similar outcome, and they should not be construed to constitute a promise or guarantee of a particular result in any particular case. Every case is different, and the outcome of any case depends upon a variety of factors unique to that case.