Riddle & Brantley Sponsors Campbell University Moot Court Team in National Competition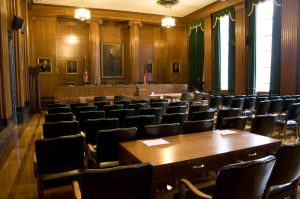 In February, the Campbell Law moot court team competed in the 2017 William E. McGee National Civil Rights Moot Court Competition in Minneapolis, Minnesota. The moot court team, which was sponsored by Riddle & Brantley, LLP, consists of two third-year law students, James Todd and Casey Peaden, who were there representing the Campbell University Norman Adrian Wiggins School of Law advocacy program.
How Did the Campbell Law Moot Court Team Do in the Competition?
James and Casey made Campbell University and Riddle & Brantley proud with their performance in the moot court competition. Casey was named best advocate on seven of nine ballots, and James was named best advocate on the other two ballots.
Although they did not bring home the top prize, the two third-year law students were 2-1 after three rounds. During the first three rounds, Casey and James took down three opponents by wide margins on oral arguments. Unfortunately, due to a minor point margin difference in a tie breaker, they fell short of advancing to the final eight.
Riddle & Brantley Gives Back to the Community
From sponsoring the Campbell Law moot court team to helping build houses with Habitat for Humanity, our personal injury law firm loves to give back to the community we love. To learn more about the work we do assisting our neighbors in Raleigh and throughout North Carolina, check out our community involvement page.