Concord North Carolina Car Accident Lawyer
Have you been injured in a car, truck or motorcycle crash in Concord, NC? If so, you may be looking for a Concord car accident lawyer and the personal injury attorneys at Riddle & Brantley may be able to help.
If you've been injured due to someone else's negligence, you deserve justice — and you may be entitled to compensation.
Our car accident lawyers have nearly 200 years of combined legal experience representing injury victims in Concord and throughout North Carolina. We believe Justice Counts and are committed to doing everything we can to win the compensation our clients need and deserve.
We can manage all aspects of claims and lawsuits involving:
Car accidents
Truck accidents
Motorcycle accidents
Bicycle accidents
Scooter accidents
Pedestrian accidents
Wrongful death cases
Distracted driving accidents
Drunken driving accidents
Accidents while on the job (workers' compensation claims)
Rideshare service accidents (Uber, Lyft, etc.)
And more…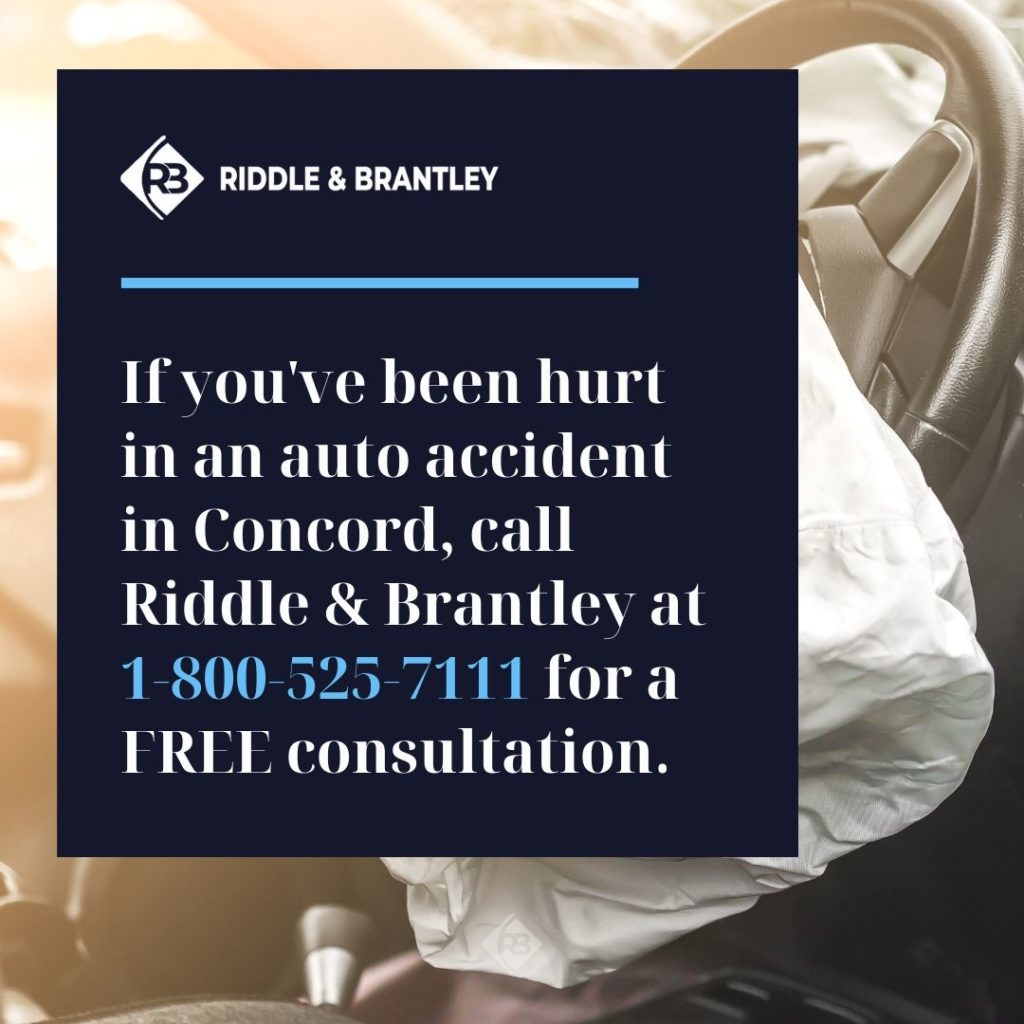 For a FREE consultation with a car accident lawyer with experience in Concord and the surrounding area, please call 1-800-525-7111. We will review your case and advise on your legal options.
If for any reason we're unable to assist, we will do our best to refer you to someone who can. That's our promise to you.
In addition to car, truck and motorcycle accidents, we also represent victims involved in pedestrian, bicycle and Uber / Lyft accidents.
What can an injury attorney do for my auto accident case?
A car accident lawyer with experience in Concord can do more than just represent you in negotiations and trial. One of Riddle & Brantley's injury attorneys can handle all aspects of your injury claim or lawsuit, including but not limited to:
Accident investigation
Hiring expert witnesses and/or reconstructionists
Collecting evidence
Preparing you for official statements
Communicating with the local police, sheriff's department, or highway patrol
Obtaining police and accident reports
Filing claims paperwork
Assisting with workers' compensation claims
Negotiating with the insurance company and defense counsel
Mediation
Arbitration
Preparing a lawsuit
Filing court documents and legal briefs
Litigation
Depositions
Trial
Setting up trusts and guardianships for ongoing care
When you work with Riddle & Brantley, you'll get an experienced injury attorney dedicated to your case. But you'll also get an entire staff of paralegals, case managers and accident investigators committed to getting you the justice you need and deserve.
That's our promise to you.
Fighting for Justice for Concord North Carolina
Our connection to Concord is personal.
Managing partner Gene Riddle's family grew up in North Carolina, and his grandparents worked at Cannon Mills in nearby Kannapolis.
"Our connection to the Charlotte area is personal. We're committed to fighting for justice for residents of Concord and the surrounding area." -Gene Riddle
Concord, North Carolina is the second-largest city in the Charlotte metropolitan area and is growing fast, with a population of more than 92,000 people. It is the 10th largest city in the entire state and in 2015, Concord was named the 16th fastest growing city in the United States.
The area is home to some of North Carolina's most popular tourist destinations, including the Concord Mills shopping mall and Charlotte Motor Speedway.
Located just northeast of Charlotte, Concord is crossed by some of North Carolina's busiest highways and interstates, including I-85, US-601 and US-29. I-485 also runs just southwest of the city. All that traffic means motor vehicle accidents are common.
In 2017 alone, 17 people were involved in fatal auto accidents in Concord.
Auto Accident Injuries
Car, truck and motorcycle accidents are traumatic and the effects can be devastating and life-changing. Our personal injury, workers' compensation and wrongful death attorneys have experience representing clients with all types of auto accident injuries in North Carolina, including:
Scrapes, cuts and contusions
Broken bones including compound fractures
Internal bleeding
Internal organ damage
Head injuries including concussions
Neck injuries
Shoulder injuries
Loss of limb(s)
Permanent disability
Paralysis
Traumatic brain injury
Burns
Emotional injury like PTSD
If you've suffered one of these or another type of injury in a motor vehicle accident and believe someone else is responsible, please contact us today. Call 1-800-525-7111 or complete the short form below for a free consultation.
Results for Injury Victims
In addition to the testimonials of our clients, the quality of our work is represented by the many successful case results we've obtained for injured North Carolinians, including:
$5,450,000 | Truck Accident & Wrongful Death — Attorneys Gene Riddle and Kurt Dixon fought hard for justice for the surviving relatives of a family of four that was tragically killed when their vehicle was rear-ended by a tractor-trailer. Riddle and Dixon organized a thorough accident investigation involving expert reconstructionists and filed a lawsuit. The case entered mediation where Riddle and Dixon obtained a total settlement of $5.45 million for the surviving family. Litigation is still pending against another involved party.
$2,250,000 | Auto Accident — When a woman was killed instantly after a truck crossed the center line and hit her head-on, attorney Gene Riddle was hired by the surviving family to seek justice. Following an extensive accident investigation, Riddle advised the defense counsel of his intention to file suit and the case entered mediation. The wrongful death claim was ultimately resolved for a settlement of $2.25 million.
$1,050,000 | Motorcycle Accident — When a motorcycle driver lost control on an S-curve, the passenger was thrown and suffered serious injuries, including brain injury, memory loss and multiple broken bones. Attorney Gene Riddle represented the client in mediation and ultimately secured a settlement of $1.05 million, the limits of the insurance policy at issue.
*** Disclaimer: The results mentioned are intended to illustrate the type of cases handled by the firm. These results do not guarantee a similar outcome, and they should not be construed to constitute a promise or guarantee of a particular result in any particular case. Every case is different, and the outcome of any case depends upon a variety of factors unique to that case.
Looking for a Concord car accident lawyer?
If you've been injured in a Concord-area motor vehicle accident, you may be entitled to compensation — and you might be looking for a Concord car accident lawyer.
Riddle & Brantley may be able to help.
Our motto is Justice Counts and our attorneys have almost 200 years of collective legal experience fighting for justice for North Carolinians, including many in Concord and greater Charlotte.
For a FREE consultation, please call 1-800-525-7111 or complete the short form below. There is no obligation and if you decide to hire us, there is no upfront cost and no attorney fee unless we win your case.
If for any reason we're unable to help, we'll do our best to help connect you with someone who can.
Justice Counts.
Please call today for a free consultation — 1-800-525-7111. We would love to help if we can.