Coronavirus Lawsuits / COVID-19 Lawsuits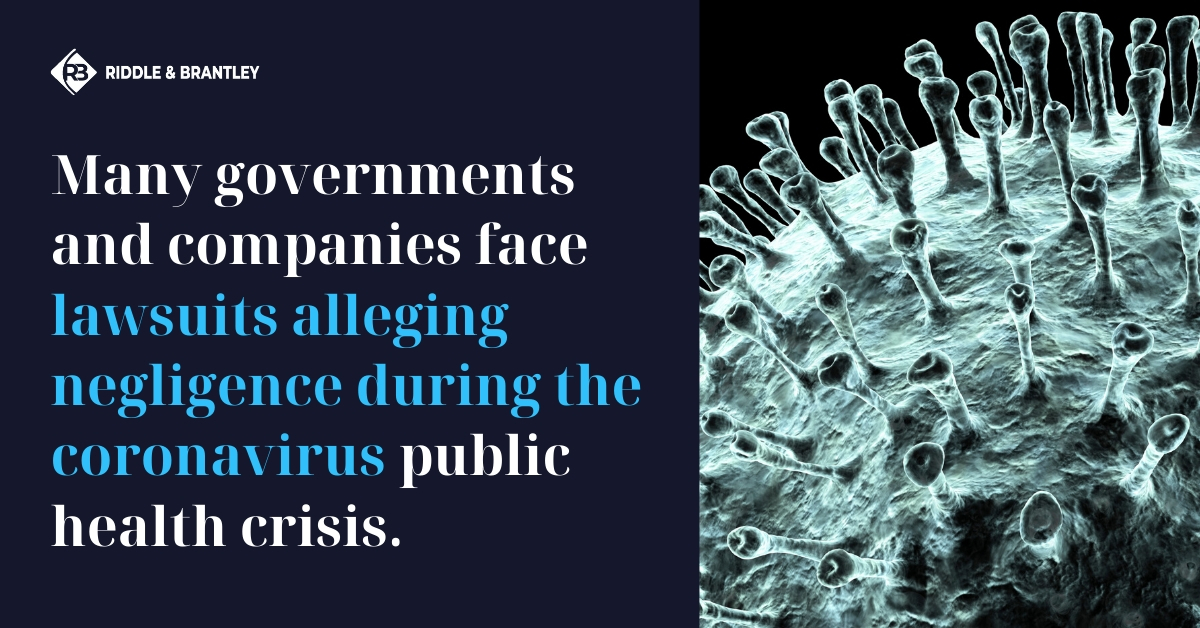 Millions of Americans have seen their lives upended by the coronavirus. The COVID-19 outbreak has resulted in "social distancing," "shelter-in-place" orders, stock market losses and unemployment on a scale unseen since the Great Recession. With so much disruption, many are seeking to file COVID-19 lawsuits or coronavirus lawsuits alleging negligence by companies, governments, employers and more.
IMPORTANT: This article is intended solely to summarize a variety of coronavirus lawsuits and COVID-19-related lawsuits that are being filed or considered by plaintiffs affected by the pandemic. It is not intended to support or oppose the legal merits of these lawsuits.
What kind of coronavirus lawsuits are being filed?
Potential Coronavirus lawsuits and claims include workers' compensation, cruise lines and airlines, healthcare companies and facilities, hotels and daycares, shareholder suits against companies affected by COVID-19, lawsuits against federal, state, and local governments, insurance companies, and even the Chinese government.
COVID-19 / coronavirus workers' compensation claims
Many coronavirus-related workers' compensation claims are being filed by workers who have contracted the disease while on the job. For more information on COVID-19 workers' comp claims and lawsuits, please visit our coronavirus workers' compensation page.
COVID-19 lawsuits against cruise lines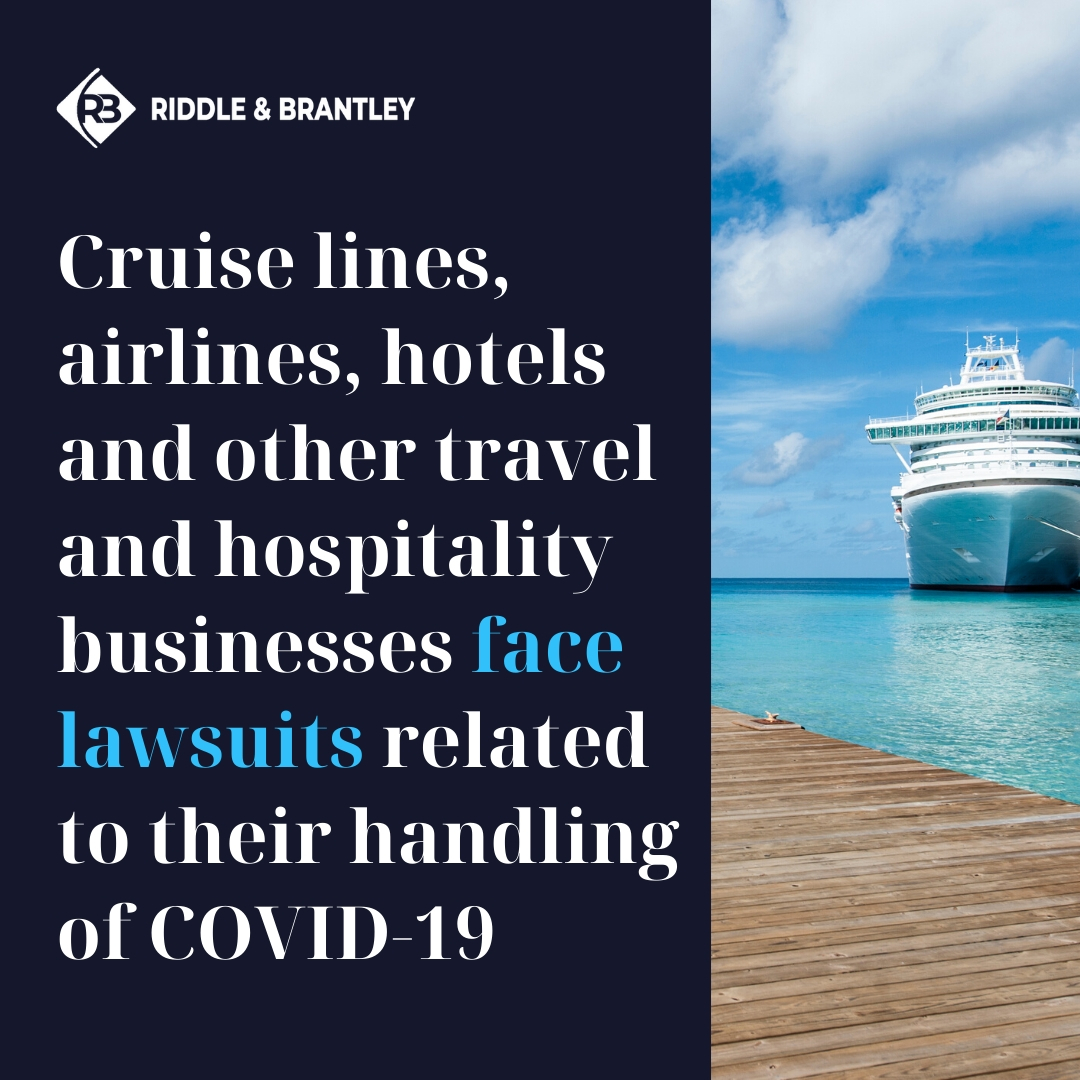 Many cruise ships have been stricken with coronavirus outbreaks and serious questions have been raised about precautions taken to protect passengers and prevent the spread of disease. A recent report in the Washington Post questioned why cruise lines continued operations as COVID-19 spread around the globe.
Lawsuits alleging mismanagement and negligence by cruise lines during the COVID-19 pandemic have already been filed on behalf of affected passengers, and it is likely that additional legal action will be taken.
Lawsuits against airlines for mishandling the coronavirus
Similar to the scrutiny faced by cruise lines, many airlines are confronting serious questions about how they responded to the coronavirus. Potential coronavirus-related lawsuits against airlines have been filed or considered by passengers, stockholders (see below) and even airline employees. A recent report describes a COVID-19 lawsuit filed by a pilots union against American Airlines after the carrier refused to cancel flights between the United States and China.
COVID-19 lawsuits against healthcare companies
Legal analysts anticipate a wave of potential COVID-19 lawsuits against healthcare companies and facilities following the coronavirus pandemic, in which plaintiffs allege that certain health organizations took inadequate measures to protect staff, patients and health care providers.
Health care companies and employers facing potential coronavirus-related lawsuits include:
Nursing homes
Assisted living facilities
Health care facilities
Certain plaintiffs allege that these organizations failed to take reasonable and necessary precautions to prevent the infection of their patients who were most at risk.
IMPORTANT: Please understand that Riddle and Brantley strongly believes that our first responders, doctors, nurses and hospital staff are heroes serving on the front lines and we thank them for all that they do for us.
Coronavirus lawsuits against hotels
In response to the COVID-19 outbreak, hotels and hospitality businesses have taken varying degrees of protective measures to reduce community spread of the contagion. Some who have stayed at hotels and contracted the coronavirus may choose to file a COVID-19 lawsuit alleging negligence in protecting travelers.
Coronavirus daycare lawsuits
Parents are understandably concerned about the health and safety of their children during the pandemic. Many legal observers expect lawsuits to be filed against daycare providers alleging that they failed to take adequate measures to protect children from potential COVID-19 infection. In many states, daycares have been ordered closed to prevent the spread of the coronavirus.
Shareholder lawsuits against companies affected by COVID-19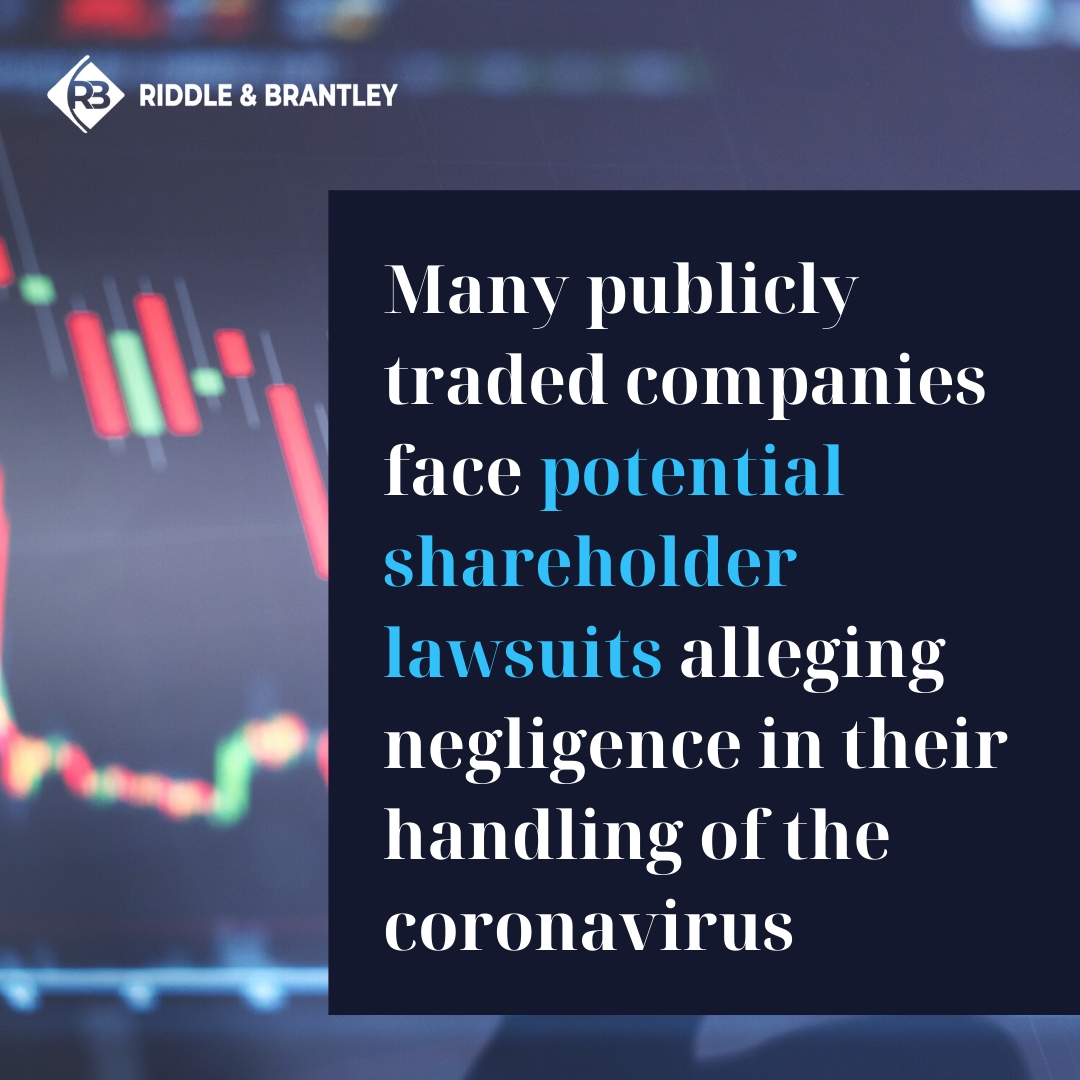 The stock market has fluctuated wildly as a result of the coronavirus pandemic and many publicly traded companies have lost billions of dollars in value. According to a report in Forbes, financial analysts expect shareholders to file coronavirus lawsuits alleging that certain companies failed to act effectively in responding to COVID-19.
Coronavirus lawsuits against federal, state and local governments
In certain situations, plaintiffs have filed lawsuits alleging the United States government was negligent in its handling of the coronavirus pandemic. These lawsuits may be filed by state and local governments as well as individuals. In one recent example, the federal government abandoned plans to quarantine coronavirus patients in a facility in Costa Mesa, California after a lawsuit was filed by the city government.
Federal, state and local governments also face potential lawsuits alleging that government-ordered quarantines, "shelter-in-place" orders and closures of non-essential businesses are illegal and/or unconstitutional. According to a report from the American Bar Association (ABA), legal analysts and scholars have generally concluded that these lawsuits are unlikely to succeed because the "government has broad power to handle a public health crisis."
Lawsuits against insurance companies due to the coronavirus
Due to serious financial losses associated with the coronavirus, many businesses are scrambling to determine if their insurance coverage may protect them. As with insurance coverage related to natural disasters such as hurricanes and floods, insurance protection against losses incurred due to COVID-19 may not be clearly defined and those with policies may find themselves disappointed.
According to a report in the New York Times, "Companies buy insurance that usually pays out when they have to halt operations. But it's usually because of physical damage, not outbreaks."
COVID-19 and force majeure
A "force majeure" clause is a portion of a contract that may free parties of their obligations in the event of an unanticipated "act of God" that may affect the agreement. Force majeure clauses are open to interpretation and are not always enforceable or upheld, but reports indicate that many businesses that have suffered due to coronavirus-influenced supply chain disruptions may attempt to invoke them.
Coronavirus lawsuits against China
Multiple class-action COVID-19 lawsuits have been filed against the Chinese government alleging that it was negligent in attempting to contain the coronavirus and therefore contributed to the outbreak in the United States. These coronavirus class action lawsuits allege that China's response to the outbreak resulted in significant financial damage to American small businesses.
It should be noted that due to international law and legal conventions, lawsuits filed against foreign governments in the United States face serious challenges and the likelihood of recovery is low.
Can workers file workers' compensation claims for coronavirus?
While it's not yet certain how the courts will handle coronavirus-related workers' compensation claims and lawsuits, our lawyers do expect some workers who contract the illness at work to qualify for benefits.
If you believe you contracted COVID-19 while on the job and are unable to work, you may qualify for workers' compensation benefits. The workers' comp attorneys at Riddle & Brantley may be able to help.
For a FREE consultation with a workers' compensation, please call 1-800-525-7111 or complete the short form below.
There is no obligation and there are never any attorney fees unless we successfully obtain workers' compensation benefits for you.
Please call 1-800-525-7111 today and let's review your case.