Does Zantac Cause Ovarian Cancer?
In the wake of recent Zantac cancer claims, many are asking, "Does Zantac cause ovarian cancer?"
Popular acid-blocking drug Zantac (brand name for the generic drug ranitidine) is now known to contain cancer-causing NDMA, and based on the most current scientific findings, Zantac may have put thousands of people at risk for dangerous cancers, such as ovarian cancer.
People who have taken Zantac or other ranitidine products and developed cancer may be entitled to financial compensation.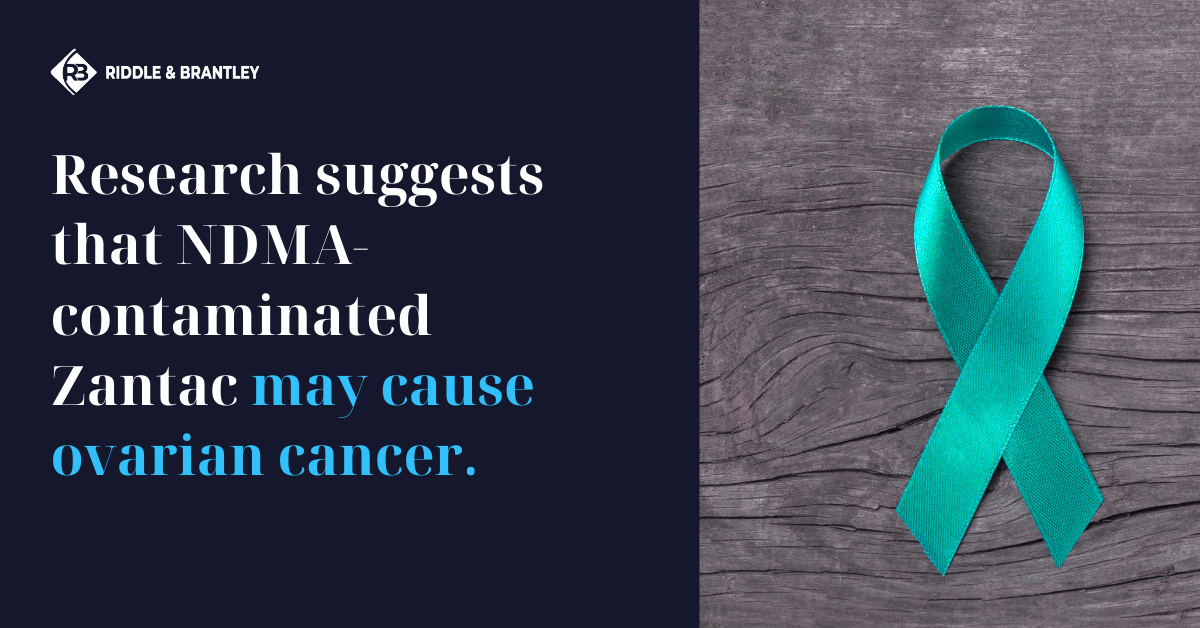 If you or a loved one has taken Zantac and suffered ovarian cancer or one of these other types of cancers, call 1-800-525-7111 for a FREE, no-obligation claim investigation.
You may be entitled to compensation. There are no upfront costs and no attorney fees unless we win your case and you receive financial compensation.
If you're wondering if Zantac caused your ovarian cancer, call 1-800-525-7111 today for a free claim investigation. We would love to help you get the justice and compensation you deserve if we can.
What is Zantac?
Zantac is the brand name for the drug ranitidine and is sold by the drug company Sanofi. It is available both over the counter (OTC) and by a prescription. It is classified as a histamine-2 (H2) blocker. OTC ranitidine is commonly used to treat heartburn. Prescription-strength versions are also used to treat and prevent more serious stomach and intestinal issues such as ulcers.
Up until 2019, Zantac was also one of the most popular medications in the United States, with an estimated 15 million Americans taking prescription ranitidine.
The Dangers of Zantac
Since April 1st, 2020, the FDA has requested that all prescription and over-the-counter ranitidine products be removed from the shelves to protect consumer health. This was due to the discovery of a nitrosamine impurity called N-nitrosodimethylamine (NDMA), a probable human carcinogen, in Zantac and generic ranitidine.
NDMA has been used to cause cancer in laboratory tests and is considered very dangerous at high levels. For example, regularly taking a drug that contains NDMA can increase the levels of the substance in the body over time and maximize the risks associated with it.
Among at least 20 other types of cancer, Zantac may cause ovarian cancer.
This means if you took or were prescribed a ranitidine product and have later developed ovarian cancer (or another type of cancer), you may qualify for a Zantac cancer claim.
Zantac Ovarian Cancer Risk
Early studies have tentatively seen a correlation between Zantac and certain cancers such as pancreatic cancer and esophageal cancer, along with up to 20 other types of cancers, including ovarian cancer.
The NDMA present in these products has been proven by lab tests to increase the probability of cancer. It is known to directly cause cancer in rats and mice during laboratory testing. Its toxic, semi-volatile properties are most likely to affect the liver and other types of internal organs.
So, does Zantac cause ovarian cancer?
Let's look at the risks associated with NDMA and the potential for developing ovarian cancer.
Ovarian Cancer Risks
Ovarian cancer is a type of cancer that forms in ovaries. If it's not treated early, ovarian cancer can spread to other parts of your body and become fatal.
According to the American Cancer Society (ACS), around 2 percent of women will develop ovarian cancer in their lives. While the exact causes of the mutations that lead to ovarian cancer are unknown, there are certain known factors that can affect your risk of developing it, including:
genetics
medical history
reproductive history
age
ethnicity
diet
body weight
presence of known carcinogens
As more is discovered about mutations that lead to ovarian cancer, researchers are looking more carefully at diet and medications that could lead to increased risk, especially when there is presence of a known or probable carcinogen in a patient's lifestyle.
Does the presence of probable carcinogen NDMA in Zantac cause ovarian cancer?
In 2019, the FDA was alerted by an independent research lab that ranitidine products contained low levels of NDMA.
Upon further testing, they also discovered that "NDMA levels increase in ranitidine even under normal storage conditions, and NDMA has been found to increase significantly in samples stored at higher temperatures, including temperatures the product may be exposed to during distribution and handling by consumers."
These tests also showed that "the older a ranitidine product is, or the longer the length of time since it was manufactured, the greater the level of NDMA. These conditions may raise the level of NDMA in the ranitidine product above the acceptable daily intake limit, thus increasing its carcinogenic potential."
Since then, ranitidine products have been recalled by the FDA for their cancer-causing potential.
In short… "Does Zantac cause ovarian cancer?"
While there is not yet research directly linking ovarian cancer and Zantac, the current research indicates that you may be at higher risk for ovarian cancer if you have taken an NDMA-contaminated ranitidine product such as Zantac.
"I've taken Zantac and developed ovarian cancer, what should I do?"
If you believe taking Zantac has contributed to your ovarian cancer diagnosis, you may be entitled to compensation. For a FREE, no-obligation consultation, please call 1-800-525-7111 to speak with one of our experienced Zantac attorneys who can guide you through your claim and find out if you may be eligible for compensation.
Our Zantac lawyers at Riddle & Brantley are working tirelessly to investigate each claim and help as many people who may be affected by these dangerous substances as possible.
There are no upfront costs or attorney fees unless you receive compensation.
Please call 1-800-525-7111 today or fill out our convenient form so we can review your eligibility for a potential Zantac cancer lawsuit.
Zantac Cancer Lawsuits
Zantac is potentially associated with a number of different cancers including:
Colorectal cancer
Uterine cancer
Ovarian cancer
Testicular cancer
Thyroid cancer
Throat/nasal cancer
In addition to ovarian cancer, if you have developed any of the cancers listed above after taking a ranitidine product such as Zantac, you may qualify for inclusion in this lawsuit.
Since even prior to the FDA Zantac recall, the attorneys at Riddle and Brantley have been fighting tirelessly on behalf of potential victims of NDMA-contaminated Zantac and ranitidine.
Our team of personal injury attorneys has more than 225 years of combined legal experience fighting for the rights of our clients against potentially negligent drug companies.
If you or someone you know has taken Zantac, please give us a call today at 1-800-525-7111. We will review your claim for free and advise you of your best available legal options for pursuing a Zantac claim or lawsuit.
We would love to talk to you about your options and help you fight for the justice you deserve.