Elmiron Eye Damage: Is Elmiron Dangerous?
There are increasing reports of Elmiron eye damage associated with use of the popular bladder medication. Elmiron-linked eye damage was recently reported as a possible, dangerous Elmiron side effect in a recent report presented to the American Academy of Opthalmology.
Elmiron (pentosan polysulfate sodium) is the only FDA-approved medication for treating interstitial cystitis — a condition resulting in bladder pain and discomfort. It is estimated that hundred of thousands of Americans take the medication.
"It's unfortunate," said Dr. Robin A. Vora, a lead researcher involved in the study presented at the AAO annual conference, as reported in U.S. Pharmacist. "You have a patient with a chronic condition like interstitial cystitis, for which there is no cure and no effective treatment. They get put on these medications because it's thought to have few side effects and few risks, and no one thinks about it again."
The possibility of eye damage caused by Elmiron, however, means patients should consider the potential risks — and consult with their prescribing doctor.
Elmiron Eye Damage: Serious Questions Posed by Recent Study
In a recent study, researchers found evidence of serious eye damage in roughly one-quarter of patients taking Elmiron.
These alarming instances of retina damage and other eye injury potentially associated with use of Elmiron include:
These conditions may result in serious injuries including but not necessarily limited to:
"I take Elmiron. What should I do about potential eye damage?" 
If you take Elmiron, be advised that research suggests this medication may be linked to serious and permanent eye damage.
If you are concerned about reported, potential retina and other eye injuries associated with the bladder medication, it is advised that you consult with your doctor immediately.
Dr. Vora and other researchers recommend that Elmiron patients be screened annually for potential eye damage — even if they don't have signs of retina damage.
Have you taken Elmiron and been diagnosed with retina or other eye damage?
Do you have an Elmiron claim? Wondering how to file an Elmiron lawsuit?
Elmiron claims were recently consolidated into multi-district litigation in federal court in New Jersey, and our firm is actively investigating these claims and representing victims.
If you've taken Elmiron and suffered serious eye injury, the prescription drug may be responsible — and you may be entitled to significant financial compensation.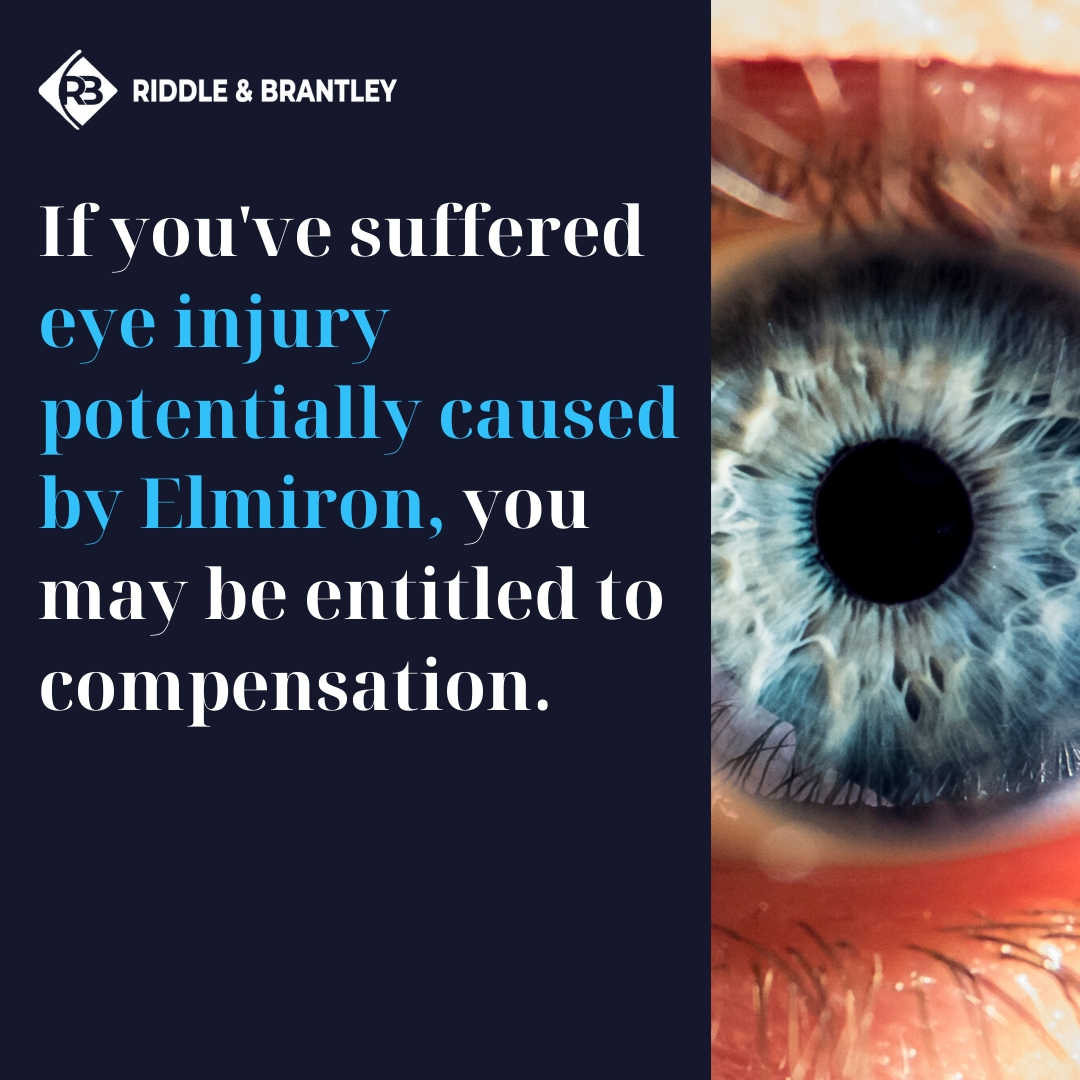 The dangerous drug attorneys at Riddle & Brantley have been holding potentially negligent pharmaceutical manufacturers accountable for more than three decades and we would love to help you seek justice.
For a FREE, no-obligation consultation with an Elmiron lawsuit lawyer, please call 1-800-525-7111 or complete the short form below.
The consultation is free, and there are no upfront costs or attorney fees unless we win your case and recover financial compensation for you.
Riddle & Brantley's injury lawyers have more than 220+ years in combined legal experience handling serious injury claims, including many against negligent manufacturers of prescription drugs. Managing partner Gene Riddle is a member of the prestigious Million and Multi-Million Dollar Advocates Forums, Super Lawyers, and the National Trial Lawyers Top 100. He has earned a Preeminent AV rating from Martindale Hubbell and is the recipient of the 2014 Litigator Award (please see disclaimer below).
Please call 1-800-525-7111 for a free, no-obligation consultation regarding a potential Elmiron eye damage lawsuit.
We believe Justice Counts for victims of injury due to dangerous drugs, and we would love to help however we can.
---
*** Disclaimer: The results mentioned are intended to illustrate the type of cases handled by the firm. These results do not guarantee a similar outcome, and they should not be construed to constitute a promise or guarantee of a particular result in any particular case. Every case is different, and the outcome of any case depends upon a variety of factors unique to that case.
*** Disclaimer: An attorney must meet certain requirements to join these organizations or receive these awards. For more information on Membership Criteria for Million Dollar Advocates Forum and Multi-Million Dollar Advocates Forum, Super Lawyers, National Trial Lawyers, Martindale Hubbell Preeminent AV, and the Litigator Awards, please visit our Membership Criteria page. These awards and memberships should not be construed as a promise or guarantee of a similar result. Each case is different and must be evaluated separately.