Allergan and Endo Settle Opioid Lawsuit for $15 million
Two major opioid manufacturers have agreed to settle an Ohio opioid lawsuit alleging that Endo International PLC and Allergan PLC helped cause the U.S. opioid epidemic. The companies agreed to pay $15 million to two Ohio counties and provide up to $1 million in two pharmaceutical drugs at no cost.
Ohio's Summit and Cuyahoga Counties had sought damages from Endo and Allergan that would help compensate for public health costs associated with the opioid crisis.
The Endo and Allergan opioid lawsuit settlement does not include any admission of wrongdoing by either company.
The case has been seen as a preview of future legal action involving opioid manufacturers related to their alleged role in fueling the opioid crisis. Manufacturers face more than 2,000 civil lawsuits nationwide, many of which have been consolidated in federal court in Cleveland.
Analysts estimate that potential opioid lawsuit settlements may collectively total billions of dollars.
Allegations Against Opioid Drug Companies
Together, thousands of plaintiffs across the country have alleged that opioid manufacturers engaged in serious wrongdoing, including but not limited to:
Deceptive marketing of opioids
Downplaying the health risks of prescription opioids
Failing to detect and halt suspicious drug orders
Approximately 400,000 people died from overdoses involving opioids in the United States between 1999 and 2017, according to the U.S. Centers for Disease Control and Prevention (CDC).
The U.S. government has signaled a willingness to take on opioid manufacturers in criminal court, as well.
In mid-2019, federal prosecutors filed a sweeping criminal indictment against Miami-Luken, an Ohio-based opioid manufacturer, two of the company's executives and two West Virginia pharmacists.
Have you been injured by prescription opioids?
If you or a loved one has suffered injury or death due to prescription opioids, depending on the circumstances you may be entitled to compensation.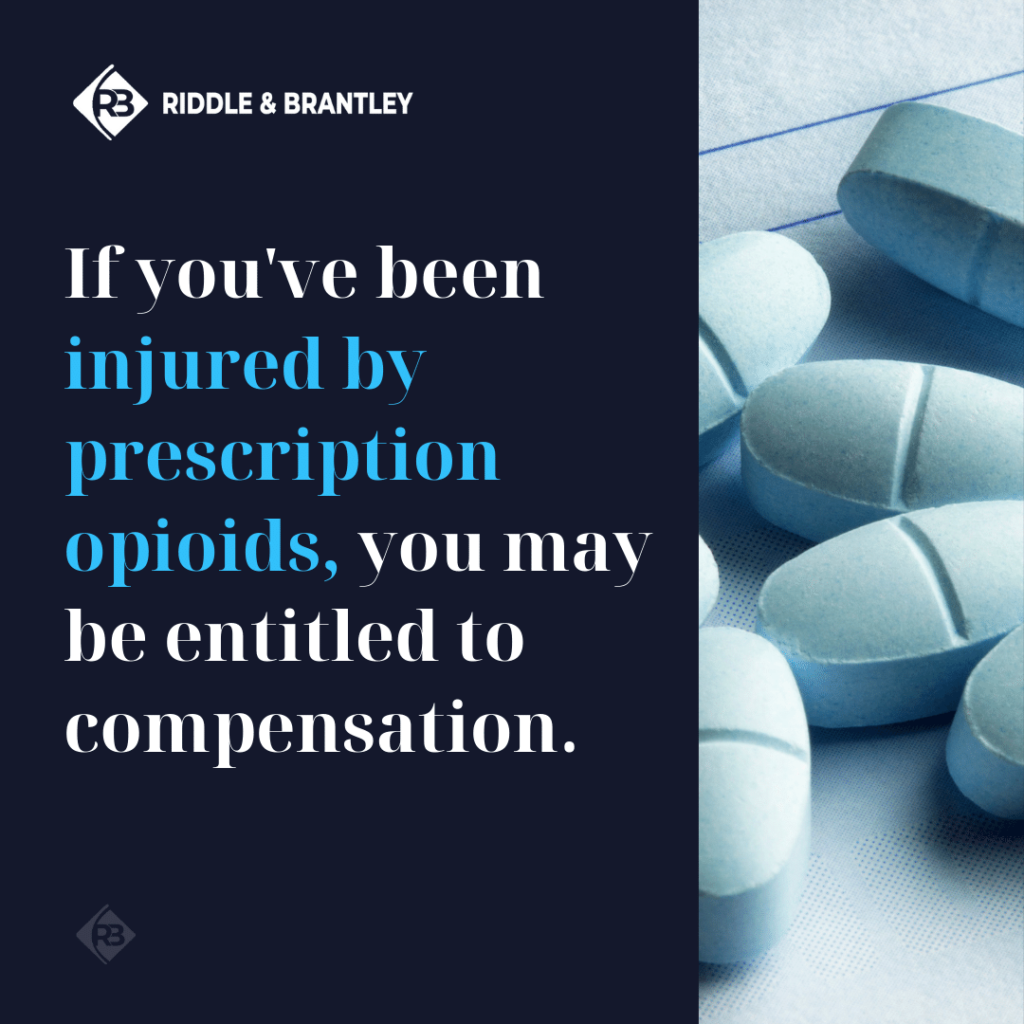 If opioid manufacturers knowingly engaged in deceptive marketing, downplayed the risks of their prescription drugs, or failed to halt suspicious drug orders, that's wrong.
Victims of this alleged wrongdoing deserve justice.
The opioid painkiller attorneys at Riddle & Brantley have been holding negligent companies accountable for decades. Our lawyers have nearly 200 years of collective legal experience and we believe that everyone is entitled to equal justice under the law.
For a FREE consultation, please call 1-800-525-7111 or complete the short form below.
The consultation is free and 100% confidential, and there is no upfront cost or attorney fee unless we win your case and you receive financial compensation.
"We've been holding negligent companies accountable for decades. No one is above the law."-Gene Riddle
Call 1-800-525-7111 for a free case review today. You deserve justice, and we would love to help you if we can.
Justice Counts.