What to Expect in the 1st Paraquat Bellwether Trial
1st Paraquat Trial to Begin in October 2023
Paraquat, a widely used commercial and consumer herbicide, has been linked to Parkinson's disease in recent years. It has been used for decades in the agricultural industry, but scientists have only started to uncover this hazardous chemical's true dangers. As a result, people exposed to paraquat are now filing Paraquat lawsuits against the manufacturers, and the first Paraquat bellwether trial is now scheduled for October 2023. This trial is an important milestone in the paraquat litigation process, as it will help determine how future paraquat cases will be handled.
What is a Bellwether Trial?
A bellwether trial is a strategic litigation technique where one lawsuit is used to predict the outcome of other similar lawsuits. In this case, the first paraquat bellwether trials will be used to indicate how other paraquat lawsuits will likely be decided. Once a pattern of outcomes emerges, it may affect whether the parties choose to settle and how much those settlement amounts may be.
What to Expect in the Bellwether Trial
The first paraquat bellwether trial is expected to begin in October 2023. These bellwether trials are being presided over by U.S. District Judge Nancy J. Rosenstengel in the Southern District of Illinois, who has expressed an interest in getting these cases before a jury as quickly as possible.
The first trial's results are likely to impact future paraquat lawsuits in several ways. The most prominent option is that, based on the outcomes, the remaining parties will try to negotiate a settlement, especially if the juries rule in favor of the plaintiffs.
Lawmakers will also likely be watching these cases closely, as the risks of paraquat and the potential for a ban have been an ongoing debate in the EPA and other branches of government.
What's Next for Paraquat Lawsuits?
Claims are still being brought against paraquat manufacturers and later consolidated into the MDL. Our Paraquat lawyers continue to accept new clients with claims against Syngenta and other paraquat manufacturers as they await the outcomes of the bellwether trials scheduled throughout 2023.
If you have been exposed to paraquat and later developed Parkinson's disease, you may qualify for a claim. Call Riddle & Brantley at 1-800-525-7111 for a FREE case review.
There are no upfront costs and no attorney fees unless we win your case.
What is Paraquat?
Paraquat is a once-widely used herbicide linked to several health issues, including Parkinson's disease. The active ingredient in paraquat is glyphosate, which is toxic to humans. Paraquat is currently banned in more than 32 countries, including Canada, Australia, and the European Union, but is still used in the United States due to the high cost of alternatives. The Environmental Protection Agency (EPA) has repeatedly refused to ban paraquat in the United States, even though it has been listed as a "chemical of concern" since 1989.
Paraquat Health Risks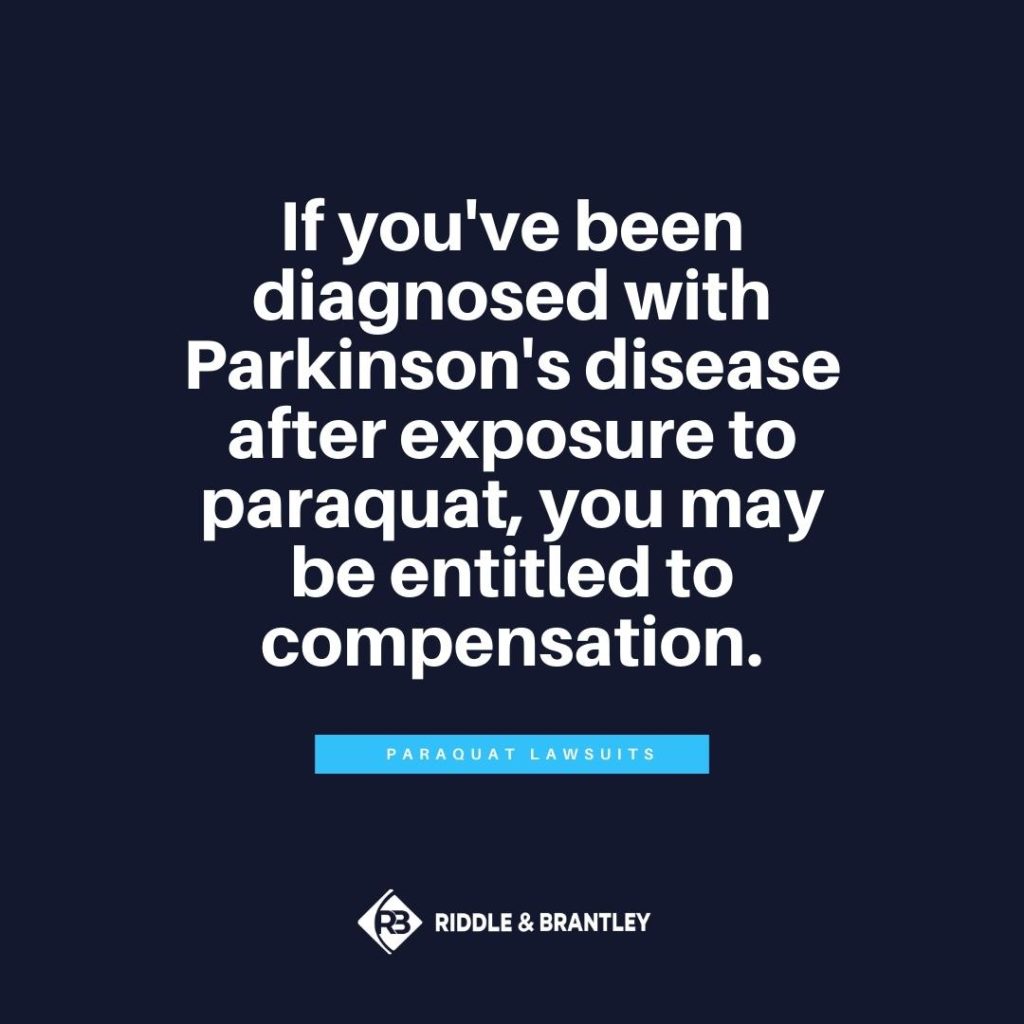 Ingesting paraquat even once can cause irreversible health issues and even death. Ongoing studies examine how other forms of exposure (through the skin and lungs) may also cause serious health issues and long-term damage.
These studies have revealed that paraquat can cause damage to the nervous system, kidneys, heart, and lungs, depending on the exposure method.
The most troubling health issues associated with paraquat exposure are long-term, irreversible neurodegeneration, including Parkinson's disease. Parkinson's disease is a rare but severe disease that affects about one million Americans. Symptoms include tremors, difficulty with movement, and difficulty sleeping.
As the disease progresses, it can make everyday tasks much more challenging, including walking and writing. Unfortunately, most patients die of complications from the disease 10 to 20 years after they first show symptoms.
Do You Have a Paraquat Parkinson's Disease Claim?
If you've been exposed to paraquat and later developed Parkinson's disease, you may qualify for compensation in a paraquat Parkinson's claim or lawsuit. Call 1-800-525-7111 today for a FREE, no-obligation case review.
We are ready to help however we can.