Paraquat Lawsuit MDL Status and Update
Paraquat Litigation Update – August 2022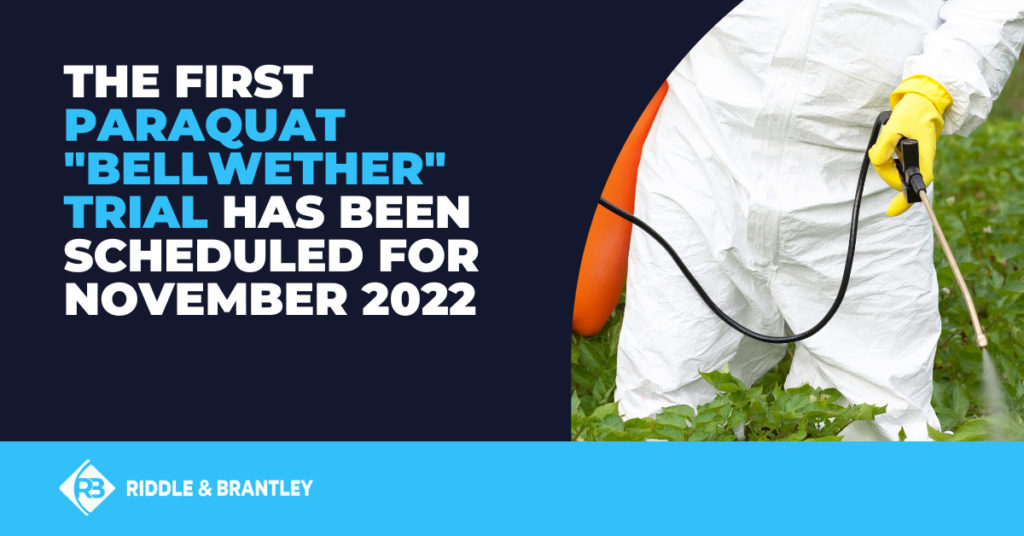 Manufacturers and distributors of Paraquat, a popular weed killer, are currently facing over 1000 lawsuits alleging they neglected to inform consumers of the dangers connected to paraquat herbicides. The Paraquat MDL (multi-district litigation) judge has allowed most of these claims to proceed, with the first Paraquat bellwether trial set for November 15, 2022, and three others for 2023.
These bellwether trials are being closely watched as claimants hope for a positive outcome that would bring them closer to holding manufacturers like Chevron and Syngenta accountable for the alleged Parkinson's disease risk associated with Paraquat.
At Riddle & Brantley, we actively represent clients who have suffered from Parkinson's disease after exposure to Paraquat in these claims and lawsuits. For a FREE, no-obligation consultation with an experienced trial attorney handling Paraquat lawsuits, please call 1-800-525-7111 or complete the convenient form below. 
When is the First Paraquat Trial?
An initial Paraquat "bellwether" trial for these cases has been scheduled for November 15, 2022, providing plaintiffs and defendants an opportunity to weigh the evidence and gauge juries' potential response. In June 2021, the Judicial Panel of Multidistrict Litigation in the Southern District of Illinois consolidated all claims against chemical manufacturer Syngenta regarding its Paraquat products into a multidistrict litigation (MDL).
A bellwether trial in an MDL is used to give an indication of how a jury will respond when presented with the case. After both plaintiffs and defendants see the outcome of the bellwether trials, they may either settle all remaining cases or continue to press on with trials.
Both plaintiffs and defendants will pay close attention to the outcome of this case, as it will shine some light on what kind of a verdict and potential Paraquat payouts they may expect in future trials.
Why Are Paraquat Manufacturers Being Sued?
Paraquat, a weed killer manufactured by Syngenta, Chevron, and other companies, is one of the more popular herbicides in the United States. Its use has increased as risks associated with Roundup have become more widely known. Now, however, researchers are raising alarms about the potential link between Paraquat exposure and Parkinson's disease.
Parkinson's disease is a serious degenerative neurological condition, and many people who have worked with Paraquat over the years have developed Parkinson's or similar neurological complications.
People have come forward with lawsuits against Paraquat manufacturers, asserting that these companies downplayed the risks associated with Paraquat and neglected to take adequate steps to safeguard people from harm.
Paraquat MDL Consolidation
Over 600 Paraquat cases were initially consolidated into an MDL and moved to the Southern District of Illinois.
A multidistrict litigation, or MDL, is formed when numerous lawsuits are filed against one company but in many different states. In an MDL, all of these claims are brought under a single "umbrella" of litigation, and bellwether trials may be scheduled to help everyone determine how to proceed with the remainder of the claims.
Paraquat Bans
Despite manufacturers downplaying the risks associated with Paraquat in the U.S., over 30 nations have banned the chemical entirely due to its known health risks.
In the U.S., paraquat is restricted by the Environmental Protection Agency (EPA) to "commercial use only," which prevents residential users from being directly exposed but leaves commercial agriculture workers, loaders, and handlers at increased risk. Others living adjacent to farms using Paraquat, or even rural schoolchildren, may be at increased risk, too.
What Are the Effects of Paraquat?
Many studies have linked Parkinson's disease with paraquat exposure. Even low-level exposure to Paraquat has been linked to Parkinson's disease-like cellular damage, according to researchers at the University of Guelph. The National Institute of Health also discovered that Paraquat's chemical structure was very similar to MPTP, a neurotoxin that causes neurodegeneration.
People who live or lived in a rural environment are at the greatest risk for Parkinson's disease associated with paraquat exposure, according to the American Parkinson's Disease Association, including:
Farmers
People who had contact with farm animals.
People were exposed to pesticides
People who drink well water
People outside of strictly rural environments may also be harmed by Paraquat, however. For example, individuals living near properties that use Paraquat to eradicate weeds may be harmed by chemical "drift" in which chemical particulates are dispersed through the air and deposited in places where they were not intended to be applied.
Do You Qualify for a Paraquat Lawsuit?
If you or a loved one has been exposed to paraquat and were later diagnosed with Parkinson's disease, you may have a claim for compensation in the Paraquat MDL. Please call 1-800-525-7111 or complete the fast and easy form below for a free consultation.
Justice Counts for victims of Paraquat, and we are ready to help however we can.