Sanofi Accused of Destroying Emails in Zantac Lawsuits
Missing Zantac Emails Raise Troubling Questions
Did one of the primary defendants in Zantac lawsuits destroy evidence on purpose?
Sanofi, one of the primary manufacturers of brand-name Zantac, announced that thousands of emails related to ongoing Zantac lawsuits were "not preserved as intended." The missing Zantac emails may significantly impact plaintiffs' ability to prove negligence or wrongdoing by Sanofi.
The deletion of the emails, many of which concerned the 2019 Zantac recall due to potential NDMA contamination, raises serious questions about potential wrongdoing by Sanofi.
Court filings reveal that Sanofi is investigating the issue and is due to deliver a report on its findings to a judge overseeing the Zantac multi-district litigation in August.
FEBRUARY 2023 UPDATE: Due to recent developments in the litigation, our firm is no longer accepting Zantac claims. Please stay tuned to our website for the latest information and updates.
Zantac Court Filings Allege "Widespread" Email Deletion by Sanofi
In court filings made by lawyers representing more than 70,000 potential Zantac victims, Sanofi was accused of "widespread" destruction of employee emails related to the 2019 Zantac recall.
The alleged destruction has resulted in the "delay and/or postponement of many key Sanofi depositions," the filings claim, and may delay the start of the first "bellwether" Zantac trials. Those first trials are scheduled to begin in 2022.
If Sanofi intentionally destroyed email evidence in Zantac lawsuits, the company may face criminal charges, however, no criminal investigation has been announced thus far.
Sanofi Denies Wrongdoing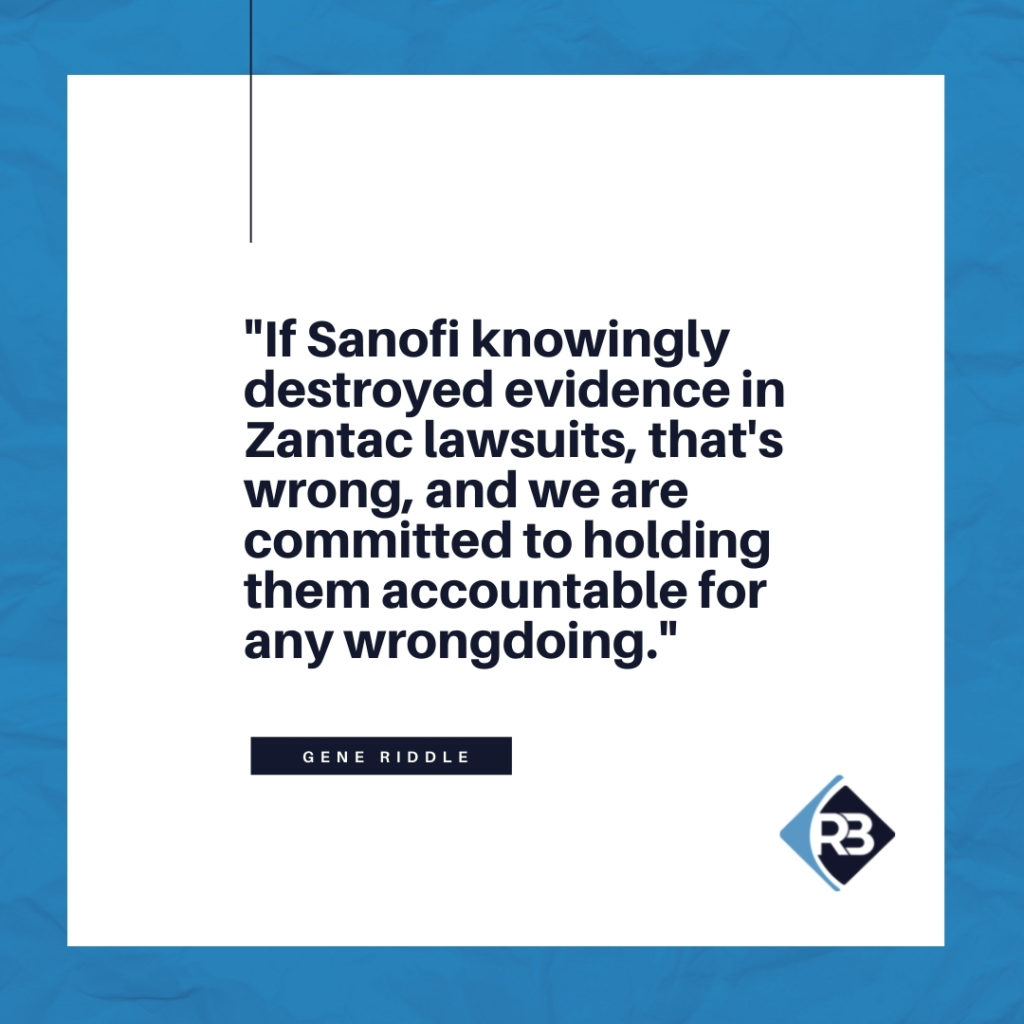 The company, however, insists the deletion was a mistake.
"There was no intentional destruction of data," said Ashleigh Koss, a Sanofi spokeswoman. "Sanofi is working to obtain as much of the data as possible from alternative sources."
Koss emphasized that the company continues to stand by the safety of Zantac.
Separately, Sanofi also faces a criminal investigation by the Department of Justice over possible violations of the False Claims Act tied to the Zantac recall.
There is Still Time to File a Zantac Claim
FEBRUARY 2023 UPDATE: Due to recent developments in the litigation, our firm is no longer accepting Zantac claims. Please stay tuned to our website for the latest information and updates.
Have you been diagnosed with cancer potentially caused by Zantac? If so, you may qualify for a Zantac lawsuit and be entitled to compensation. Legal analysts anticipate that Zantac litigation may result in potentially significant Zantac payouts, and our experienced Zantac lawyers are actively investigating these claims.
For help with how to file a Zantac claim, and to determine your eligibility, please call 1-800-525-7111 and let an experienced dangerous drugs lawyer review your case.
There are no upfront costs, and you won't pay any attorney fees unless we win your case and you receive compensation.
Call 1-800-525-7111 and let's review your claim. You can also complete the short form below if you prefer.
IMPORTANT: A federal judge recently ruled against lawsuits concerning generic Zantac. At this point, we can only accept cases concerning use of brand-name Zantac OR "mixed" use of brand-name Zantac and generic equivalents.
PLEASE NOTE: At this time, the federal MDL has limited the Zantac claims we can accept to bladder, esophageal, stomach, liver, and pancreatic cancers only. We understand that other cancers may be linked, but we are unfortunately unable to assist with these claims at this time due to evidence and recent court rulings.
Our Experience
Since 1985, our firm has recovered hundreds of millions of dollars in compensation for victims of others' negligence, and we are proud to help hold drug manufacturers accountable for potential negligence or wrongdoing.
If Sanofi intentionally destroyed evidence in Zantac lawsuits, we believe that is wrong and we are committed to fighting to hold them accountable.
Justice Counts for those potentially diagnosed with cancer as a result of taking Zantac, and we would love to help you and your loved ones if we can.
"This settlement changed me and my family's lives."
–Linda B., Riddle & Brantley client
Don't wait — the longer you wait to contact us, the harder it may be to prove that Zantac caused your cancer and recover the compensation you need and deserve.
Justice Counts.
---
***Disclaimer: No settlement agreement has been reached in any litigation regarding ranitidine (ZANTAC®), including in the Multidistrict Litigation in the United States District Court for the Southern District of Florida (case no. 20-MD-2924). 
*** Disclaimer: The results mentioned are intended to illustrate the type of cases handled by the firm. These results do not guarantee a similar outcome, and they should not be construed to constitute a promise or guarantee of a particular result in any particular case. Every case is different, and the outcome of any case depends upon a variety of factors unique to that case.