Zantac Esophageal Cancer Risk
Have you been diagnosed with esophageal cancer after taking Zantac or generic ranitidine medication for heartburn? There may be Zantac esophageal cancer risk. Here's what you need to know to protect yourself and your loved ones and see if you qualify for a Zantac cancer claim.
Background: NDMA Contamination in Zantac
The FDA has reported that Zantac and ranitidine medications are contaminated with elevated levels of NDMA. NDMA is a cancer-causing chemical that is naturally occurring in certain foods and water, but can be extremely dangerous at higher levels.
NDMA is actually used to cause cancer in laboratory animals, and there may be esophageal cancer and other cancer risk associated with contaminated Zantac.
Does Zantac cause esophageal cancer?
Many who have taken Zantac or ranitidine are concerned about the potential risk of esophageal cancer based on the FDA's report on NDMA contamination in these common medications. Many cancers have been tentatively linked to Zantac, including esophageal cancer and other digestive tract cancers.
Researchers are working to further identify potential cancers associated with NDMA-contaminated Zantac, but in the interim, here's what we know about Zantac esophageal cancer risk:
Scientific Evidence of Esophageal Cancer Risk from NDMA Exposure
In a 2016 study on digestive tract cancers' association with NDMA exposure, researchers determined that "NDMA had significant positive effect on the incidence of digestive tract cancers." Esophageal cancer is a digestive tract cancer and may be caused by NDMA contamination in Zantac.
Although the study did not find a statistically significant causal relationship between NDMA exposure and esophageal cancer specifically, growing evidence indicates that Zantac esophageal cancer risk may be real.
A separate study that examined rats' ingestion of NDMA also did not find statistically significant evidence of a casual relationship between the chemical and esophageal cancer, but more research must be done in order to rule out the relationship completely.
In the meantime, those who have taken Zantac or ranitidine should be aware that there may be Zantac esophageal cancer risk.
Have you taken Zantac and been diagnosed with esophageal cancer (or another type of cancer)?
Zantac NDMA contamination has been tentatively linked to many cancers, including esophageal cancer:
Esophageal cancer
Uterine cancer
Throat/nasal cancer
Leukemia
Non-Hodgkins lymphoma
Thyroid cancer
Colorectal cancer
Multiple myeloma
If you've taken brand-name Zantac and been diagnosed with esophageal cancer or another qualifying cancer, you may have a Zantac cancer claim and you may be entitled to compensation.
You may qualify for a Zantac lawsuit if you meet the following criteria:
Used brand-name Zantac only
Suffered from at least one of the following cancers:

Bladder cancer
Liver cancer
Stomach cancer
Esophageal cancer
Pancreatic cancer

Must have used brand-name Zantac after October 1984
Must have used brand-name Zantac for a minimum of one year
Must have used brand-name Zantac once per week for a minimum of six months
Must have been diagnosed with a qualifying cancer within 20 years of last dose
Must not have been a smoker in the past 20 years if diagnosed with lung cancer
Must be 64 years of age or younger at the time of diagnosis if diagnosed with prostate cancer
Certain other criteria may apply. For a FREE, no-obligation consultation with an experienced Zantac lawsuit attorney, please call 1-800-525-7111.
PLEASE NOTE: At this time, the federal MDL has limited the Zantac claims we can accept to bladder, esophageal, stomach, liver, and pancreatic cancers only. We understand that other cancers may be linked, but we are unfortunately unable to assist with these claims at this time due to evidence and recent court rulings.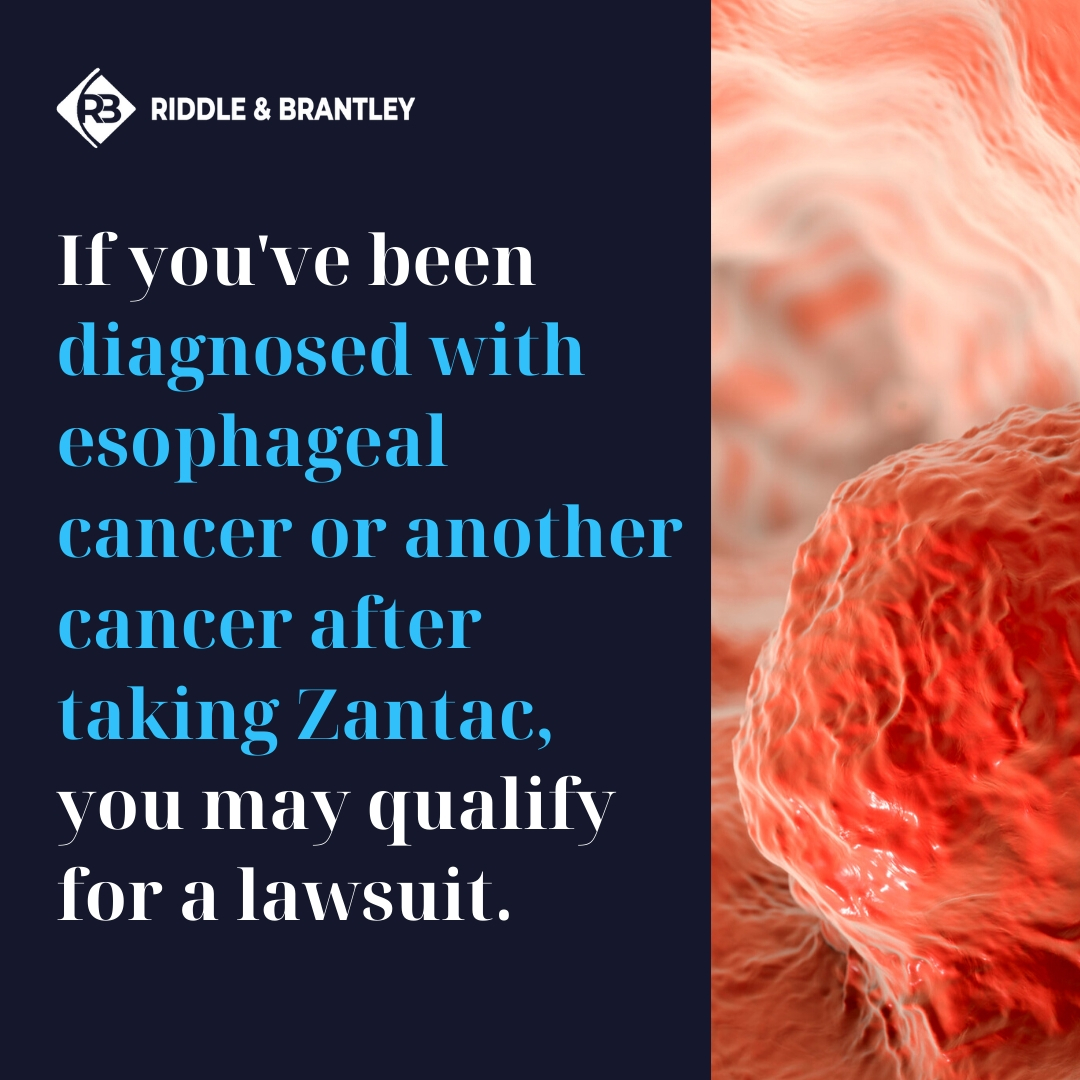 Our experienced Zantac cancer attorneys may be able to help.
For a FREE, no-obligation consultation with a Zantac lawsuit lawyer, please call 1-800-525-7111 or complete the short form below. There are no upfront costs and no attorney fees unless we win your case and you receive financial compensation.
IMPORTANT: A federal judge recently ruled against lawsuits concerning generic Zantac. At this point, we can only accept cases concerning use of brand-name Zantac OR "mixed" use of brand-name Zantac and generic equivalents.
At Riddle & Brantley, our attorneys have more than 220+ years of combined legal experience and have been fighting to hold drug companies accountable since 1985.
We're proud of the record of settlements and judgments we've secured on behalf of our clients, and are humbled by the words our clients use to describe working with us:
"I would recommend them to anyone. They fought hard for me."
-Christine W., Riddle & Brantley client
If you've taken brand-name Zantac and been diagnosed with esophageal cancer or any of the cancers listed above, please call 1-800-525-7111 for a FREE consultation.
You deserve justice and may be entitled to financial compensation.
"We believe Justice Counts for those injured potentially due to Zantac and are committed to holding drug companies accountable."
-Gene Riddle, managing partner and attorney, Riddle & Brantley
You don't have to do this alone. Our Zantac lawyers are ready to help. Please contact us today.
---
***Disclaimer: No settlement agreement has been reached in any litigation regarding ranitidine (ZANTAC®), including in the Multidistrict Litigation in the United States District Court for the Southern District of Florida (case no. 20-MD-2924). 
*** Disclaimer: The results mentioned are intended to illustrate the type of cases handled by the firm. These results do not guarantee a similar outcome, and they should not be construed to constitute a promise or guarantee of a particular result in any particular case. Every case is different, and the outcome of any case depends upon a variety of factors unique to that case.