Zantac NDMA Contamination: What's the Risk?
If you've taken Zantac, you should know that the FDA has warned that Zantac is contaminated with NDMA — a potentially cancer-causing chemical. Zantac NDMA contamination was first discovered by an independent lab in late 2019 and the FDA has since confirmed its findings. A full Zantac recall has been issued.
Zantac NDMA Contamination and Serious Cancer Risks
Is Zantac dangerous? What is the risk of Zantac NDMA contamination?
According to the FDA, lab tests have found "unacceptable" levels of NDMA in Zantac and generic ranitidine. In fact, the FDA's limit for NDMA levels in pharmaceuticals is 96 ng, but tests have revealed levels of NDMA in Zantac at more than 40,000 ng.
These Zantac NDMA contamination level are alarming to say the least.
NDMA contamination in Zantac presents a serious and potentially life-threatening risk for those taking Zantac or ranitidine either over the counter (OTC) or by prescription.
NDMA is a recognized "probable carcinogen," meaning that organizations like the Environmental Protection Agency (EPA) and World Health Organization (WHO) have determined that the chemical may cause cancer in humans.
The cancer risk posed by Zantac NDMA contamination was called "unacceptable" by the FDA in a recent warning issued to consumers.
NDMA contamination's cancer risk is well known. In fact, NDMA is used by researchers to cause cancer in rats in scientific studies.
>>For up-to-date information on Zantac cancer risks and lawsuits, please visit our Zantac FAQs page.
Zantac NDMA Contamination: Do You Have a Claim for Compensation?
Zantac compensation may be available for those who have been diagnosed with cancer after taking brand-name Zantac.
If you have taken brand-name Zantac and been diagnosed with any of the following Zantac NDMA contamination-related cancers, you may be entitled to significant financial compensation.
IMPORTANT: A federal judge recently ruled against lawsuits concerning generic Zantac. At this point, we can only accept cases concerning use of brand-name Zantac OR "mixed" use of brand-name Zantac and generic equivalents.
PLEASE NOTE: At this time, the federal MDL has limited the Zantac claims we can accept to bladder, esophageal, stomach, liver, and pancreatic cancers only. We understand that other cancers may be linked, but we are unfortunately unable to assist with these claims at this time due to evidence and recent court rulings.
The Zantac cancer lawyers at Riddle & Brantley are experienced holding drug companies accountable and may be able to help you get the justice and compensation you deserve.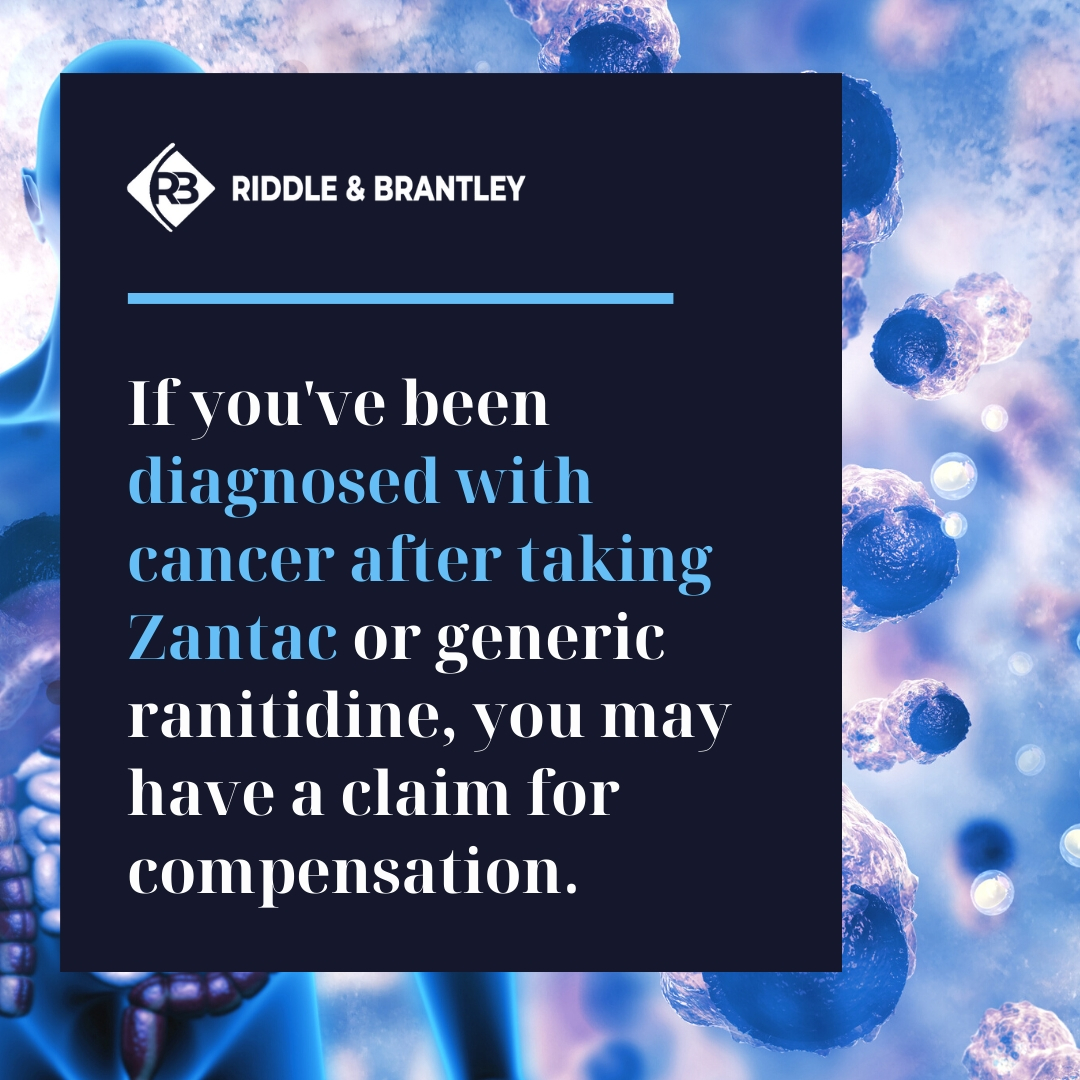 For a FREE consultation with a Zantac lawsuit attorney, please call 1-800-525-7111 or complete the short form below.
There is no obligation and you won't pay any attorney fees unless we win your case and you receive financial compensation.
Call 1-800-525-7111 today to speak with a Zantac lawsuit lawyer. The consultation is free and we will listen to you and advise you on your best legal options for filing or joining a Zantac lawsuit.
Riddle & Brantley has been representing clients in dangerous drug lawsuits for decades. Our firm is led by attorney Gene Riddle, who has won significant settlements and judgments on behalf of injury victims for more than 35 years (see disclaimer below).
Attorney Riddle is a member of Million Dollar Advocates Forum, Multi-Million Dollar Advocates Forum, Super Lawyers and The National Trial Lawyers Top 100. He is the recipient of the 2014 Litigator Award and is also recognized by Martindale-Hubbell with its prestigious AV Preeminent rating (see disclaimer below).
"This settlement changed me and my family's lives."
-Linda B., Riddle & Brantley client
If Zantac NDMA contamination resulted in your cancer, you deserve justice — and you may be entitled to significant compensation.
Please call 1-800-525-7111 today and let's review your case.
Justice Counts for those who have suffered cancer due to Zantac NDMA contamination. We would love to help if we can.
---
***Disclaimer: No settlement agreement has been reached in any litigation regarding ranitidine (ZANTAC®), including in the Multidistrict Litigation in the United States District Court for the Southern District of Florida (case no. 20-MD-2924).
*** Disclaimer: The results mentioned are intended to illustrate the type of cases handled by the firm. These results do not guarantee a similar outcome, and they should not be construed to constitute a promise or guarantee of a particular result in any particular case. Every case is different, and the outcome of any case depends upon a variety of factors unique to that case.
*** Disclaimer: An attorney must meet certain requirements to join these organizations or receive these awards. For more information on Membership Criteria for Million Dollar Advocates Forum, Multi-Million Dollar Advocates Forum, Super Lawyers, The National Trial Lawyers Top 100, AV Preeminent by Martindale-Hubbell, and the Litigator Award, please visit our Membership Criteria page. These awards and memberships should not be construed as a promise or guarantee of a similar result. Each case is different and must be evaluated separately.