Zantac Recall: Potential Zantac Cancer Risk from NDMA
The FDA has issued a blanket Zantac recall covering brand name Zantac and generic equivalents containing ranitidine. In October 2019, the FDA warned that Zantac (otherwise known by its generic name, ranitidine) may contain elevated levels of NDMA, a chemical that can potentially cause cancer.
***UPDATE: A Zantac recall has been issued for brand-name Zantac and generic equivalents after the FDA found "unacceptable" levels of the potentially cancer-causing chemical NDMA.
Emery Pharma, an independent testing lab in California, had filed a Citizen Petition urging the FDA to recall Zantac after it found that "NDMA accumulates in ranitidine-containing drug products on exposure to elevated temperatures."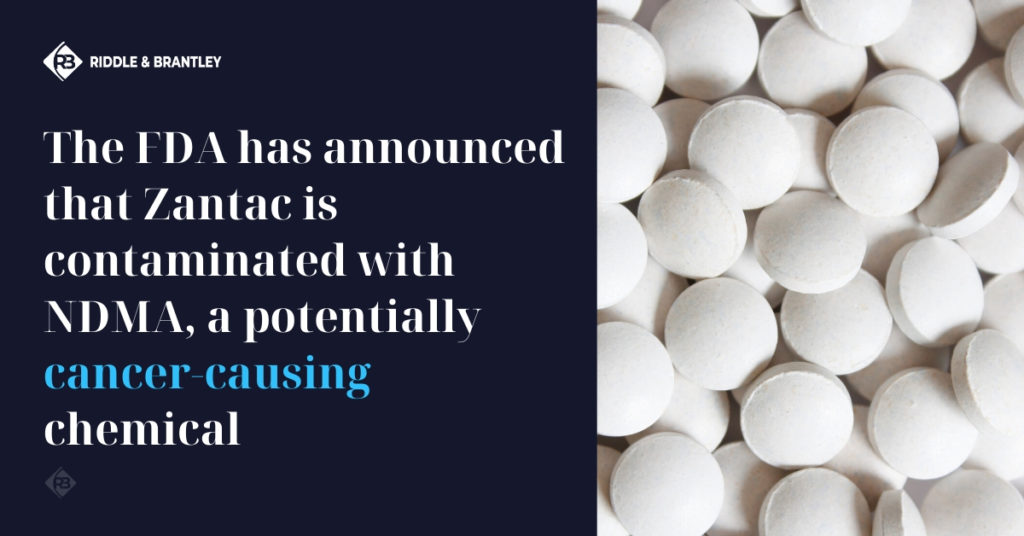 According to a statement from the lab, "While NDMA levels in ranitidine may be acceptable at the source, they may not be so when the drug is purchased and subsequently at the time of consumption by the consumer."
Following the FDA's initial announcement, several generic ranitidine manufacturers issued voluntary recalls of the popular medication, often used to treat heartburn and stomach ulcers.
Manufacturers affected by the Zantac recall include:
Sanofi-Aventis US
GlaxoSmithKline
Boehringer Ingelheim Pharmaceuticals Inc.
Pfizer
Riddle & Brantley's Zantac lawsuit attorneys have been investigating these claims. If you've taken brand-name Zantac and been diagnosed with cancer, call 1-800-525-7111 to speak with our legal team. The consultation is FREE and there are no attorney fees unless we win your case — and you receive financial compensation.
Zantac Recall: What to Know
In response to FDA reports, major pharmacies including Walgreen's, CVS and Rite Aid voluntarily pulled Zantac and other ranitidine drugs from their shelves in 2019.
***UPDATE: The FDA has issued a Zantac recall covering brand name Zantac and generic ranitidine-containing medications.
Zantac is sold over-the-counter (OTC) and according to the World Health Organization is one of the world's 50 most popular medicines.
Does Zantac cause cancer? What should I do if I take Zantac?
While tests have not established a direct causal link between Zantac and cancer, independent labs have found Zantac to be contaminated with high levels of  cancer-causing NDMA. NDMA, which stands for N-nitrosodimethylamine, is a known carcinogen, meaning it can cause cancer.
According to the FDA:
"NDMA is classified as a probable human carcinogen (a substance that could cause cancer) based on results from laboratory tests."
A 2016 study found that patients taking ranitidine excreted significant levels of NDMA in their urine over 24 hours after taking the drug.
If you're taking Zantac, we encourage you to talk with your doctor about potential cancer risk.
Have you taken Zantac and been diagnosed with cancer?
If you have taken brand-name Zantac and been diagnosed with one of the cancers below, Zantac may be responsible — and you may be entitled to financial compensation. Contact a Zantac lawsuit lawyer at Riddle & Brantley for a FREE consultation at 1-800-525-7111.
Potential cancers associated with Zantac that may qualify for a lawsuit include:
Please call us today at 1-800-525-7111 for a FREE consultation with a Zantac cancer lawyer who can help evaluate your case.
PLEASE NOTE: At this time, the federal MDL has limited the Zantac claims we can accept to bladder, esophageal, stomach, liver, and pancreatic cancers only. We understand that other cancers may be linked, but we are unfortunately unable to assist with these claims at this time due to evidence and recent court rulings.
IMPORTANT: A federal judge recently ruled against lawsuits concerning generic Zantac. At this point, we can only accept cases concerning use of brand-name Zantac OR "mixed" use of brand-name Zantac and generic equivalents.
There is no obligation and there are no upfront costs or attorney fees unless we win your case.
Call 1-800-525-7111 today and let's talk. You can also complete the fast and easy form below if you prefer.
If you've been diagnosed with cancer after taking Zantac, you may be entitled to financial compensation — and you deserve justice.
Justice Counts.
---
***Disclaimer: No settlement agreement has been reached in any litigation regarding ranitidine (ZANTAC®), including in the Multidistrict Litigation in the United States District Court for the Southern District of Florida (case no. 20-MD-2924).