Recall Alert: Allergan Breast Implants & Potential ALCL Cancer Risk
The Food and Drug Administration (FDA) has requested a total recall of Biocell textured breast implants manufactured by Allergan. The FDA advises that these implants have been linked to an unusual and potentially deadly form of cancer.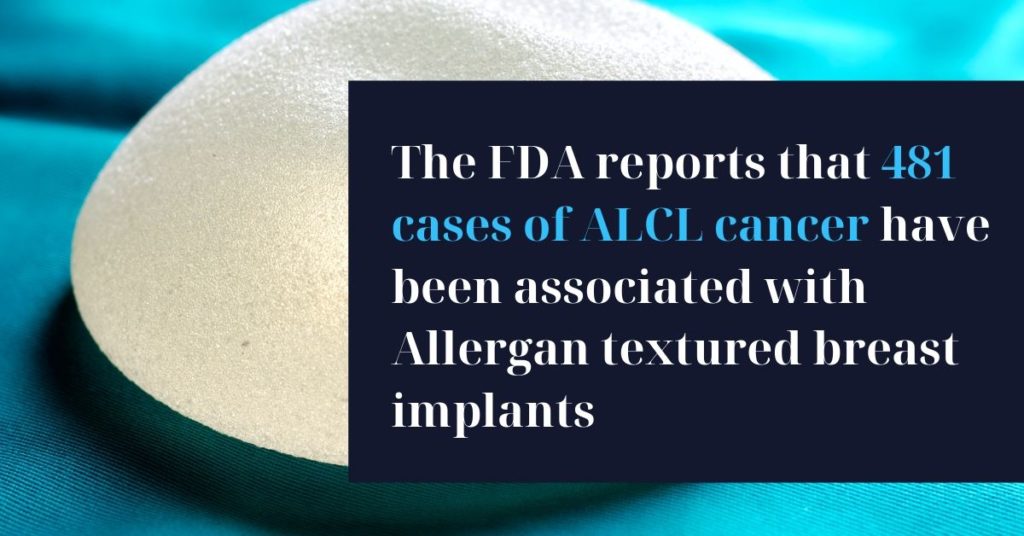 Allergan has agreed to comply with the request and all Allergan Biocell textured breast implants will be removed from the market worldwide.
The FDA's decision was based on an increasing number of deaths from cancer associated with textured breast implants.
Before the FDA decision, these implants were effectively banned in Europe in late 2018.
Worldwide, 573 overall cases and 33 deaths have been reported associated with this specific type of cancer.
Allergan Textured Breast Implants
481 of the reported cancer cases were clearly linked to Allergan implants, the FDA reported.
In 12 of 13 deaths where the manufacturer was known, Allergan breast implants were present at the time of diagnosis, according to the FDA.
The manufacturer remains unknown for the remaining 20 reported deaths.
BIA-ALCL Cancer Risk
The cancer at issue is anaplastic large-cell lymphoma (ALCL), and in these cases it is commonly referred to as breast implant-associated anaplastic large-cell lymphoma (BIA-ALCL).
ALCL is a rare cancer of the immune system.
In many cases removing the implants and the scar tissue around the implant will eliminate the cancer. However, BIA-ALCL must be detected early, or it can spread. Once it spreads, the cancer can be deadly.
The FDA first detected the link between breast implants and ALCL in 2011.
The cancer has been detected in implants used for breast enlargement as well as those used for reconstruction after mastectomy for breast cancer.
This lymphoma is rare.
Millions of women have breast implants and only a small number of people develop this cancer. Despite the low incidence rate, the FDA believes all individuals who are considering a breast implant of any kind be informed of the risk of developing the disease.
Moreover, the Allergan Biocell textured implants carry a risk that is about six times that of other textured implants sold in the United States.
"Our analysis demonstrates that the risk of BIA-ALCL with Allergan Biocell textured implants is approximately 6 times the risk of BIA-ALCL with textured implants from other manufacturers marketing in the U.S" – FDA Report
Symptoms of BIA-ALCL
Symptoms specific to breast implant-associated anaplastic large-cell lymphoma include:
swelling
fluid accumulation (seroma) around the implant
unexpected changes in breast shape (including asymmetry)
pain
lumps
Other symptoms may include:
fever
backache
swelling of lymph nodes
loss of appetite
fatigue
If you have these breast implants and experience these symptoms, talk with your doctor immediately.
The recall states that doctors and hospitals should no longer use this type of implant and should return any unused implants to Allergan.
IMPORTANT: All patients are advised to talk with their plastic surgeons about the risks and benefits of their implant type should they have any concerns.
The content of the implant — saline or silicone — is reported not to be a factor in this lymphoma.  However, the covering or "shell" of the implant, which may be smooth or textured, is allegedly connected to the health risk and problem.
A textured implant has a slightly roughened surface. This surface adheres to tissue and helps hold the device in place.  These rough textured implants have been singled out as a potential cause of BIA-ALCL.
The Textured Breast Implant-Cancer Connection
It is unknown why some textured implants cause cancer. Certain people may be genetically predisposed to have an inflammatory response to the texturing that may eventually lead to cancer. Some researchers believe that bacteria may become trapped in the crevices of the roughened surface and may somehow lead to lymphoma.
The Allergan textured breast implant recall will reduce the risk of this type of cancer but not eliminate it, because some women with other types of implants have also been diagnosed with this rare lymphoma.
Have you or a loved one had Allergan textured breast implants and been diagnosed with ALCL cancer?
The Allergan textured breast implant cancer attorneys at Riddle & Brantley law firm are here to help you and answer your questions.
The consultation is free, and we are ready to help you find answers. Please call us at (800) 525-7111 or fill out the form below. 
If you've been injured due to a defective or dangerous medical device, our firm will fight for your rights. We are determined to hold potentially negligent medical device companies accountable for dangerous products.
We help injured people get the justice and compensation they need to move forward with their lives. Let us help you.
You do not need to go through this alone.
Please call (800) 525-7111 for a free consultation and case review with our experienced legal team.
Justice Counts.