Exactech Recall Issued Over Defective Knee, Hip, and Ankle Inserts
Exactech Implants Recalled Due to Degradation and Potential Health Risks
Medical device manufacturer Exactech has issued an urgent recall for several knee, hip, and ankle implants / inserts based on potentially defective packaging that may result in health complications, sometimes resulting in revision surgery. On February 7, 2022, the company sent out an "Urgent Medical Device Correction" notice to surgeons, hospitals, and other healthcare professionals, informing them of the Exactech recall.
What Devices Are Covered in the Exactech Recall?
As of August 31st, 2022, the Exactech recall has been expanded to include "all knee and ankle arthroplasty polyethylene inserts packaged in non-conforming bags regardless of label or shelf life." This means the recall now affects around 147,732 inserts that have been ordered or implanted since 2004.
Exactech implants (or "inserts") covered by the recall include:
Knee implants
Hip implants
Ankle implants
Why are Exactech Inserts Being Recalled?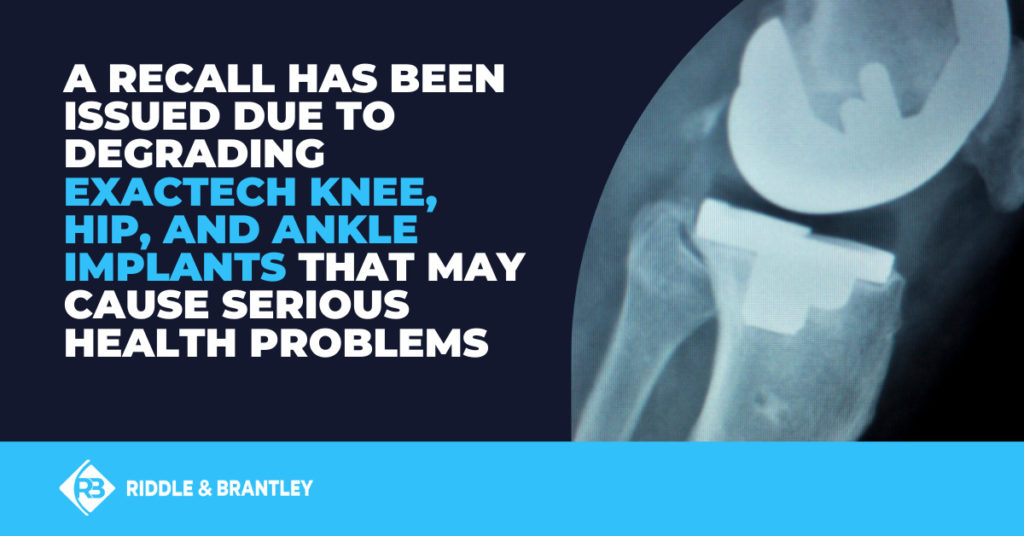 According to Exactech, certain inserts manufactured since 2004 were packaged in plastic vacuum bags later found to be "non-conforming." This means that while the bags are oxygen resistant, they do not feature a secondary layer of ethylene vinyl alcohol (EVOH), which boosts the bag's resistance to oxygen.
As a result, oxygen can diffuse to the insert / implant and, over time, cause the component to degrade. When a degraded Exactech insert is placed inside a patient, it can cause complications such as:
Bone loss
Lysis (disintegration of bone cells)
Loosening of the implant
Pain
Component cracking/fracturing
These complications may require a necessary corrective surgery to remove and replace the implant.
According to Exactech's Urgent Healthcare Professional Communication, "during the past ~24 months, Exactech has observed that in a small percentage of patients (.118%) who are between 3-6 years from index total hip arthroplasty, the Connexion GXL liner exhibits early linear and volumetric wear" and "in some of these patients, wear has led to proximal femoral and acetabular osteolysis."
According to Exactech, the insert / implant degradation is most common in:
Direct anterior (DA) hip approaches
Patients with higher activity levels
Patients who have been implanted with larger femoral heads (e.g. 36mm), and in which the thinnest available acetabular liner was used
However, the degradation of these implants can affect nearly all implant patients, which is what prompted the manufacturer to issue such a wide recall.
"Has My Exactech Implant / Insert Been Recalled?"
Exactech has created a recall information page where patients and healthcare providers can input the serial number of their implant and see if it is affected by the recall.
Affected patients are then urged to call the Exactech-Broadspire helpline to file a claim with the company.
Legal Action Due to the Exactech Recall
The hotline that Exactech has established sends claimants to the settlement adjusting company Broadspire. This firm is positioned to offer "out-of-pocket" expenses related to the replacement of defective implants.
Despite Exactech's offer, there are many other expenses that a potential settlement like this may not cover, and Riddle & Brantley urges those affected to call 1-800-525-7111 for a free, no-obligation consultation with an Exactech lawsuit attorney prior to filing a claim directly with Exactech.
Exactech Lawsuits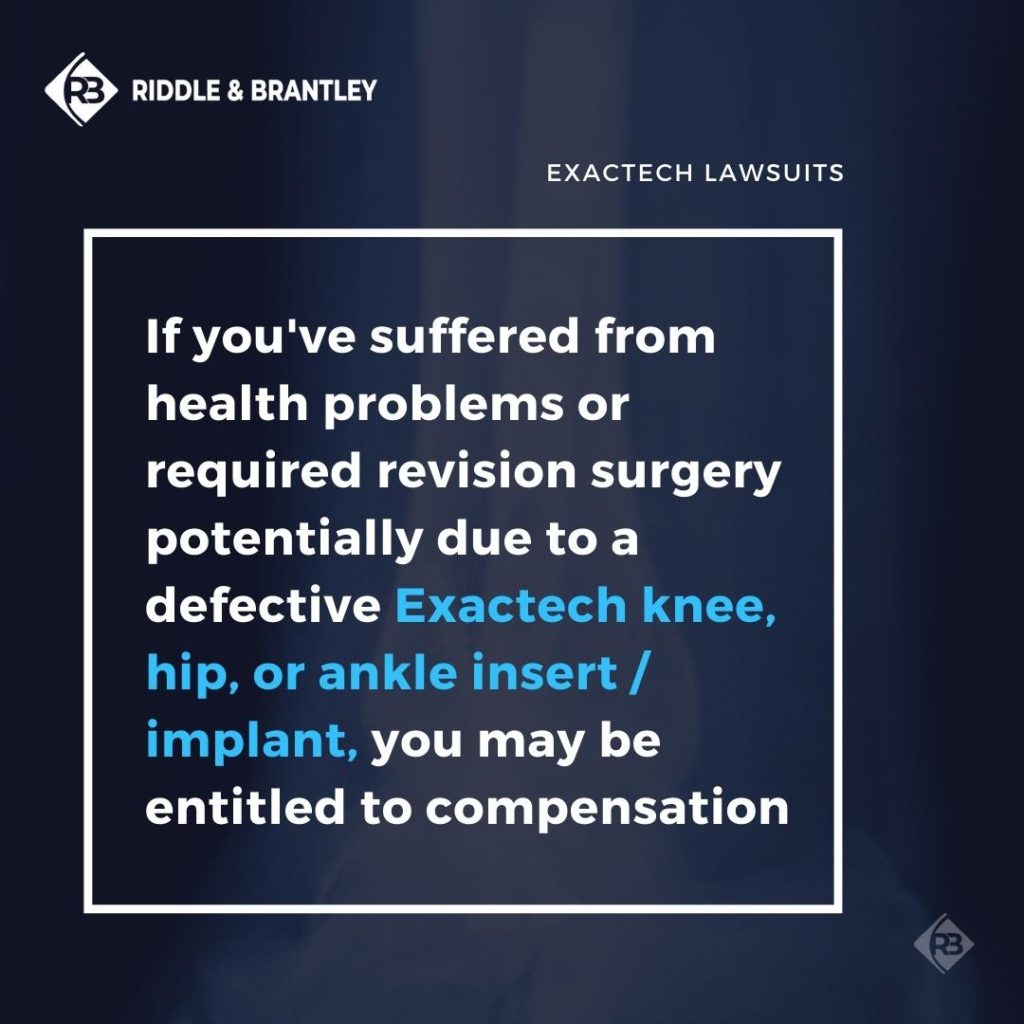 Prior to the Exactech insert recall, two separate claimants had already filed lawsuits against Exactech for claims related to allegedly faulty knee replacements. Since the recall was issued, another New York claimant has filed a product liability lawsuit against the company for distributing a defective liner that forced her to undergo early implant revision surgery.
More lawsuits are expected to be brought against the company as claimants find out about the recall or are forced to undergo potentially painful and expensive corrective surgeries with no guarantee of reimbursement from the company.
If you've suffered from complications, or been forced to undergo revision surgery, after being implanted with an Exactech knee, hip, or ankle insert, please call 1-800-525-7111 today for a free, no-obligation consultation concerning a potential Exactech lawsuit.
You may be entitled to compensation and our experienced defective medical device attorneys would love to help however they can. Call 1-800-525-7111 or complete the fast and easy form below for a free, no-obligation consultation and let's see how we can help.