Paragard MDL Update: What's Happening with Paragard Lawsuits?
Teva Pharmaceuticals, the manufacturer of the Paragard copper IUD, faces dozens of Paragard lawsuits alleging that its copper-bound IUD is prone to breaking up as it is removed from the uterus and can cause serious injury to women using the device. Many of our clients are wondering about the current status of Paragard lawsuits and the Paragard MDL.
Paragard Lawsuit Allegations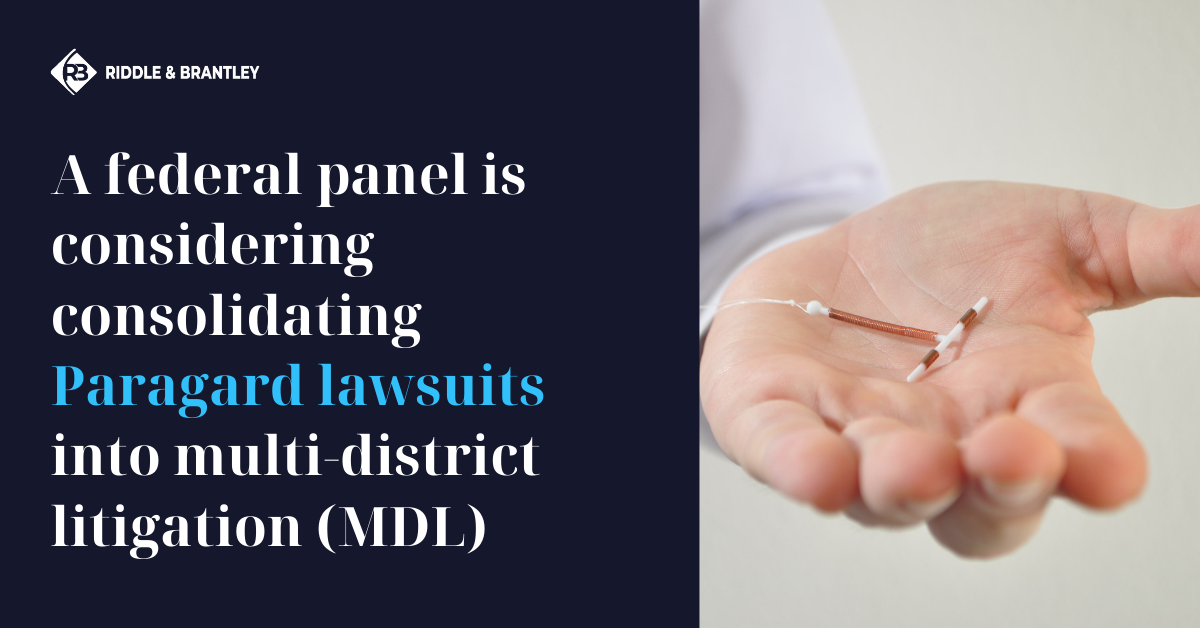 Plaintiffs in these lawsuits allege that their Paragard IUDs broke apart during removal, leaving pieces of the device embedded in their uterus, and that Teva Pharmaceuticals failed to warn them of this known risk. Although Paragard IUD manufacturers dispute the allegations that they did not adequately warn consumers of these risks, in 2019, the FDA issued a warning letter to a manufacturing subsidiary about misrepresenting the risks of the Paragard IUD in one of its TV ads. Now, Teva Pharmaceuticals is facing dozens of lawsuits alleging that the company failed to warn consumers that the birth control device is prone to breaking apart during removal.
IMPORTANT: If you've suffered injury associated with a broken Paragard IUD or Paragard removal, you may be entitled to compensation. For a FREE consultation with an experienced Paragard lawsuit attorney, please call 1-800-525-7111 or complete the fast and easy form below.
There is no obligation and you won't pay any attorney fees unless we win your case and you receive financial compensation.
Please call 1-800-525-7111 and let's review your claim.
Paragard Multi-District Litigation
In the last year, Paragard IUD injury lawsuits have been filed in district courts all over the United States. Several dozens of these lawsuits have been consolidated into multi-district litigation (MDL) in the Northern District of Georgia.
MDL is a legal mechanism for consolidating cases involving similar injuries in order to streamline litigation. While individual claimants in MDL retain their own attorneys, a court-appointed co-counsel team represents plaintiffs' interests in bringing cases to trial and negotiating a potential settlement.
Riddle & Brantley's Paragard lawsuit attorneys expect that hundreds more plaintiffs who have suffered serious injury during Paragard removal may file suit against Teva Pharmaceuticals and other Paragard manufacturers.
Current Status of Paragard MDL
In September 2020, the plaintiffs of numerous Paragard IUD lawsuits across the United States filed a motion to consolidate all of the pending cases into multi-district litigation (MDL) before a single District Court Judge in the Central District of California. On December 3, 2020, the U.S. Judicial Panel on Multi-district Litigation (JPML) heard oral arguments on whether to consolidate the more than 50 Paragard IUD cases filed throughout the federal court system into an MDL before one U.S. District Court judge.
UPDATE: On December 16, Paragard lawsuits were consolidated into MDL in the Northern District of Georgia before District Judge Leigh Martin.
As of December 2020, there are at least 55 complaints pending in 29 different district courts across the country. Each case claims nearly the same allegation: that Paragard's copper IUD is unreasonably dangerous and defective because it is prone to breaking during removal.
MDL is a commonly used procedure for complex product liability litigation in federal court in which a large number of claims involving similar injuries as a result of the same product are centralized before one district court for pretrial proceedings. Plaintiffs argued that consolidating the Paragard copper IUD cases into MDL before one district court judge would allow the plaintiffs to avoid conflicting pretrial rulings from different district courts, prevent duplicative discovery costs, and provide convenience for common witnesses, parties, and the judicial system.
Which Court Will Handle a Potential Paragard MDL?
UPDATE: The JPML has consolidated Paragard lawsuits into MDL in the Northern District of Georgia. District Judge Leigh Martin will oversee the litigation.
If the Paragard lawsuits are consolidated in an MDL, the parties dispute which federal court should oversee pretrial procedures. In its September 2020 motion to transfer, plaintiffs' lawyers requested an MDL in the Central District of California before District Judge John Kronstadt, who is overseeing four of the current Paragard cases. Plaintiffs' lawyers alternatively suggested District Judge Leigh Martin May, in the Northern District of Georgia, or District Judge Stephen Bough in the Western District of Missouri.
At the December 4th JPML hearing, an attorney representing one woman who claimed she was harmed by the Paragard IUD told the panel that cases should be consolidated before a federal judge in Atlanta because that judge is a female with experience overseeing litigation concerning women's products.
Teva Pharmaceuticals has opposed plaintiffs' requests to consolidate the cases into an MDL. The pharmaceutical company continues to dispute the allegations about a potential failure to warn consumers and instead contends that Paragard IUDs have a clear warning about the possibility that the device can break apart or embed itself in the uterus and require surgical removal.
Should the panel decide to consolidate the cases, however, lawyers representing Teva Pharmaceuticals asked the panel at the December 3 hearing to consider consolidating the cases before a judge in either the Southern District of New York, the Middle District of Florida, the Southern District of California, or the Northern District of Georgia.
If you've suffered from complications or injury due to a broken Paragard IUD or Paragard removal surgery, please call 1-800-525-7111 for a FREE, no-obligation case review.
You may be entitled to compensation and we would love to help however we can.
Please call 1-800-525-7111 today and let's review your claim.
Justice Counts for those who have suffered from complications due to IUD removal or a potentially defective Paragard IUD and we would love to help if we can.
What is Paragard?
Paragard is a long-term intrauterine birth control device (IUD) that uses copper, rather than hormones, to prevent pregnancy. Paragard was initially approved by the FDA in 1984 and was designed to provide long-term intrauterine contraception. The IUD consists of a t-shaped plastic device wrapped in copper wire that is inserted in a woman's uterus by a doctor. According to the manufacturer, Teva Pharmaceuticals, Paragard IUD is good for 10 years and has an alleged effectiveness of 99%.
The device prevents pregnancy by slowly releasing copper into the uterine cavity, where the metal's toxicity causes an inflammatory reaction that prevents fertilization of an egg by blocking sperm transportation after intercourse. Paragard is a popular alternative to hormone-based prescription birth control because it uses copper to produce an inflammatory reaction that acts as a spermicide within the uterus.   
Paragard Dangers & Injuries
Paragard copper IUDs have been linked to serious injury and even death. Women have been seriously injured during removal of the Paragard IUD because the device is prone to breaking during the removal process. This can cause extreme pain and significant internal damage requiring additional surgery after removal of the device.
In extreme cases, the damage caused by Paragard's fracturing can be so severe it requires a follow-up hysterectomy.
In addition to fracturing during removal, Paragard copper IUDs have been linked to a variety of other serious injuries, including:
The IUD becoming stuck in the uterus
Tears in the uterine lining (perforation)
IUD migration and displacement
Organ damage
Scarring
Ectopic pregnancy
"Do I qualify for a Paragard lawsuit?"
As the number of Paragard IUD lawsuits filed continues to increase, you may be wondering if you qualify for a Paragard IUD injury claim.
If you meet the following criteria, you may have a claim for compensation for your injuries:
You must currently have or previously have had a Paragard IUD inserted,
You must have already had or be scheduled to have IUD removal surgery, and
You must have had a complication during or after surgery
Riddle & Brantley's Paragard lawsuit attorneys are currently reviewing cases for damages arising from the manufacturer's alleged failure to adequately warn consumers of the risk of serious injury during the Paragard IUD removal process.
If you've had Paragard IUD removal surgery, you may qualify for an injury claim if you have experienced one of the following qualifying complications:
A broken or fractured Paragard IUD device
Broken pieces of the IUD were left embedded in the uterus
Severe menstrual pain and/or heavy bleeding
Spotting or bleeding between periods or after cramping
Had to have an invasive surgery to remove the Paragard IUD
Paragard removal required a hysterectomy
For a FREE consultation with an experienced defective medical device lawyer handling Paragard claims, please call 1-800-525-7111.
There are no upfront costs or attorney fees unless we win your case. We don't get paid unless we recover compensation for you.
Please call 1-800-525-7111 today and let's review your claim. You may be eligible for a Paragard lawsuit and we would love to help you fight for justice if we can.
What Compensation is Available?
If you've suffered serious injury due to a defective Paragard copper IUD or removal surgery, you may be eligible for compensation for your injuries. Riddle & Brantley's Paragard IUD lawsuit attorneys can help you review your claim for damages including:
Medical expenses and other costs associated with your Paragard IUD injury and treatment
Loss of income or earning capacity due to your Paragard IUD injury
Pain & suffering
Emotional trauma
At Riddle & Brantley, our medical device attorneys have spent decades fighting for the rights of consumers who have been injured due to dangerous products.
If you've experienced medical complications during your Paragard copper IUD removal, contact our Paragard lawsuit attorneys today at 1-800-525-7111 for a no-cost consultation today.
Let our experienced Paragard lawsuit lawyers evaluate your claim. If you decide to hire us, we will fight to get you the best possible compensation for your Paragard IUD injury so you can focus on what's most important – getting better.
Justice Counts.
---
*** Disclaimer: The results mentioned are intended to illustrate the type of cases handled by the firm. These results do not guarantee a similar outcome, and they should not be construed to constitute a promise or guarantee of a particular result in any particular case. Every case is different, and the outcome of any case depends upon a variety of factors unique to that case.
*** Disclaimer: An attorney must meet certain requirements to join these organizations or receive these awards. For more information on Membership Criteria for Million Dollar Advocates Forum, Multi-Million Dollar Advocates Forum, Super Lawyers, The National Trial Lawyers Top 100, The National Association of Distinguished Counsel, AV Preeminent by Martindale-Hubbell, the Litigator Award, and other memberships, awards, and accolades, please visit our Membership Criteria page. These awards and memberships should not be construed as a promise or guarantee of a similar result. Each case is different and must be evaluated separately.