"Can I File an Elmiron Lawsuit?"
Elmiron is the only FDA-approved drug for treating a rare and painful bladder condition called interstitial cystitis. Alarmingly, however, Elmiron has been linked to serious eye damage, including pigmentary maculopathy, which can cause vision loss and even blindness. Our firm is representing clients in Elmiron lawsuits and many potential clients ask us, "Can I file an Elmiron lawsuit?"
"Can I File an Elmiron Lawsuit?"
In order to qualify for an Elmiron lawsuit, you must meet the following criteria:
Must have been diagnosed with an eye disorder or vision problems
Must have taken Elmiron for at least one year
Qualifying injuries for an Elmiron lawsuit include:
Degenerative maculopathy / macular degeneration
Macular retinopathy
Macular / pattern dystrophy
Retinopathy
Retinal pigment epithelium atrophy
Vision impairment
Scotoma (area of loss of vision or blind spot)
Halo vision
Unilateral blindness (in one eye)
Bilateral blindness (in both eyes)
Metamorphopsia (distortion of linear objects or lines such that they appear curved)
Reduced night vision
If you've suffered an eye disorder or vision problems after taking Elmiron, you may be able to file an Elmiron lawsuit — call 1-800-525-7111 today for a FREE, no-obligation consultation with an experienced Elmiron lawyer.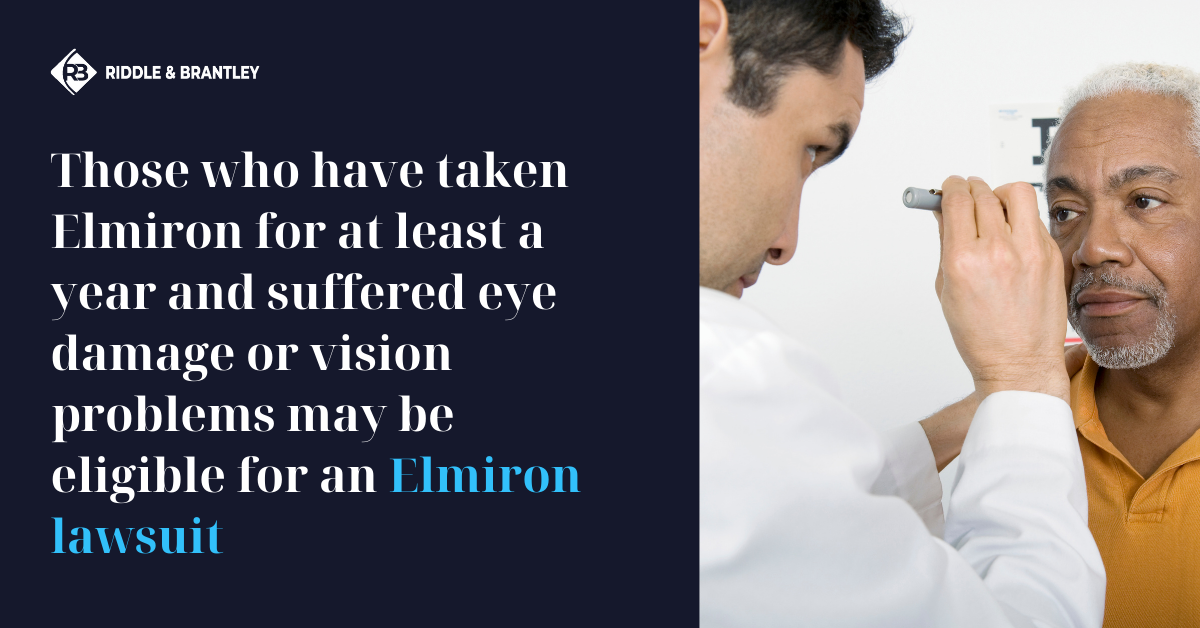 We will evaluate your claim for free and advise you on your best available legal options. You may be able to file an Elmiron lawsuit and you deserve justice.
Please call 1-800-525-7111 today and let's review your Elmiron eye damage claim.
Our firm has been fighting for victims of potentially dangerous drugs like Elmiron since 1985 and we've recovered millions of dollars in compensation (see disclaimer below) for our deserving clients.
Don't wait — the longer you wait to have your Elmiron claim investigated, the harder it may be to win your case and secure the compensation you need and deserve.
"Those who have suffered eye damage potentially due to Elmiron deserve justice and we would love to help however we can."
–Gene Riddle, founding partner and attorney, Riddle & Brantley 
Why Riddle & Brantley for Your Elmiron Claim? 
Our attorneys have more than 220+ years of combined legal experience fighting for victims of negligence. We believe Justice Counts and are committed to fighting relentlessly for our clients' right to justice and compensation.
Led by attorney Gene Riddle, our dangerous drug lawyers have been recognized for their experience and results by such prestigious organizations as:
Multi-Million Dollar Advocates Forum
Million Dollar Advocates Forum
The National Trial Lawyers Top 100
Super Lawyers
The Nation Association of Distinguished Counsel
Attorneys Gene Riddle and Adam Smith have also been recognized with the AV Preeminent rating from Martindale-Hubbell, the organization's highest rating for attorneys.
Elmiron Lawsuit Lawyers Fighting for You
When you hire a Riddle & Brantley Elmiron lawyer, you will be supported by an entire staff of paralagals, case managers, and investigators committed to your success.
For a FREE, no-obligation consultation with an experienced Elmiron lawsuit attorney, please call 1-800-525-7111.
There are no upfront costs and you won't pay any attorney fees unless we win your case and you receive compensation.
"This settlement changed me and my family's lives."
–Linda B., Riddle & Brantley client
Justice Counts. We would love to talk with you and see how we can help you and your loved ones.
Please call 1-800-525-7111 today and let's review your claim.
---
*** Disclaimer: The results mentioned are intended to illustrate the type of cases handled by the firm. These results do not guarantee a similar outcome, and they should not be construed to constitute a promise or guarantee of a particular result in any particular case. Every case is different, and the outcome of any case depends upon a variety of factors unique to that case.