How to File an Elmiron Lawsuit
If you've suffered pigmentary maculopathy after taking Elmiron, or another eye injury, you may qualify for an Elmiron lawsuit and be entitled to compensation. You may be wondering how to file an Elmiron lawsuit.
At Riddle & Brantley, we represent clients in lawsuits against Elmiron alleging that the bladder medication causes eye damage, including pigmentary maculopathy, retinopathy, and scotoma.
How to File an Elmiron Lawsuit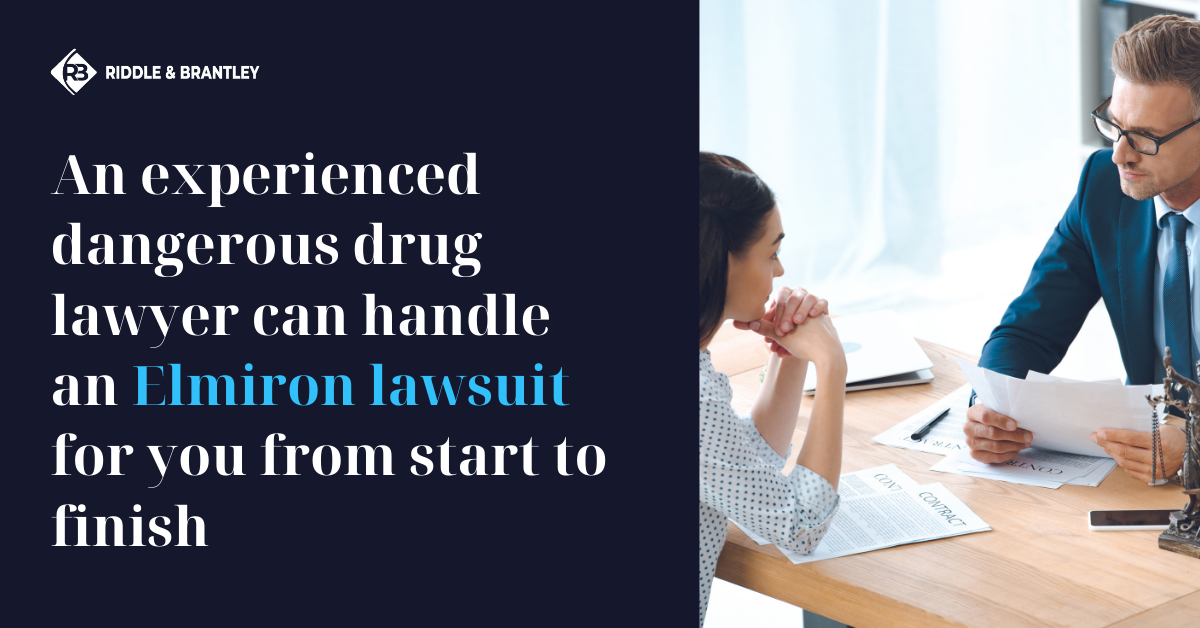 If you're wondering how to file an Elmiron lawsuit, you've come to the right place. Riddle & Brantley has been handling dangerous drug claims for more than three decades.
Our Elmiron lawyers can investigate your claim for free and help determine your eligibility for filing an Elmiron lawsuit to seek compensation. We can handle the entire process from beginning to end. Our priority is to get you the compensation you deserve, and make the process as easy, convenient, and stress-free as possible for you.
You may qualify for an Elmiron lawsuit if you meet the following criteria:
Must have been diagnosed with an eye disorder or vision problems
Must have taken Elmiron for at least one year
Qualifying injuries for an Elmiron lawsuit include:
Degenerative maculopathy / macular degeneration
Macular retinopathy
Macular / pattern dystrophy
Retinal pigment epithelium atrophy
Vision impairment
Scotoma (area of loss of vision or blind spot)
Halo vision
Unilateral blindness (in one eye)
Bilateral blindness (in both eyes)
Metamorphopsia (distortion of linear objects or lines such that they appear curved)
Reduced night vision
"If you've suffered eye damage after taking Elmiron, you deserve justice and we would love to help however we can."
–Gene Riddle, founding partner and attorney, Riddle & Brantley 
Results for Victims of Injury
Since 1985, our attorneys have been holding negligent parties accountable. We've obtained millions of dollars in compensation for our deserving clients (see disclaimer below), and we're proud of our record of settlements and judgments.
Contact us for a FREE, no-obligation consultation and see for yourself why our clients are describing their experience with words like this:
"Every time I've needed them, they were there for me." –Tyronnie T.
"They handled my case very professionally, with respect from beginning to end." –Joseph P.
"I would recommend them to anyone. They fought hard for me." –Christine W.
"This settlement changed me and my family's lives."
–Linda B., Riddle & Brantley client 
If you've taken Elmiron and suffered eye damage (see list of qualifying conditions above), you may be entitled to compensation — call 1-800-525-7111 for a FREE consultation today.
There is no obligation and we don't get paid unless you do — if we don't get you compensation, you won't pay any attorney fees. It's as simple as that.
We believe Justice Counts and are determined to hold manufacturers accountable for injuries potentially caused by Elmiron.
We can walk you step by step through how to file an Elmiron lawsuit and take the stress out of the process so you can focus on your recovery and well-being.
You don't have to go through this alone. We are here for you and your loved ones.
Call 1-800-525-7111 today and let's review your claim.
---
*** Disclaimer: The results mentioned are intended to illustrate the type of cases handled by the firm. These results do not guarantee a similar outcome, and they should not be construed to constitute a promise or guarantee of a particular result in any particular case. Every case is different, and the outcome of any case depends upon a variety of factors unique to that case.