Riddle & Brantley Named "Champion of Courage" by Truck Safety Coalition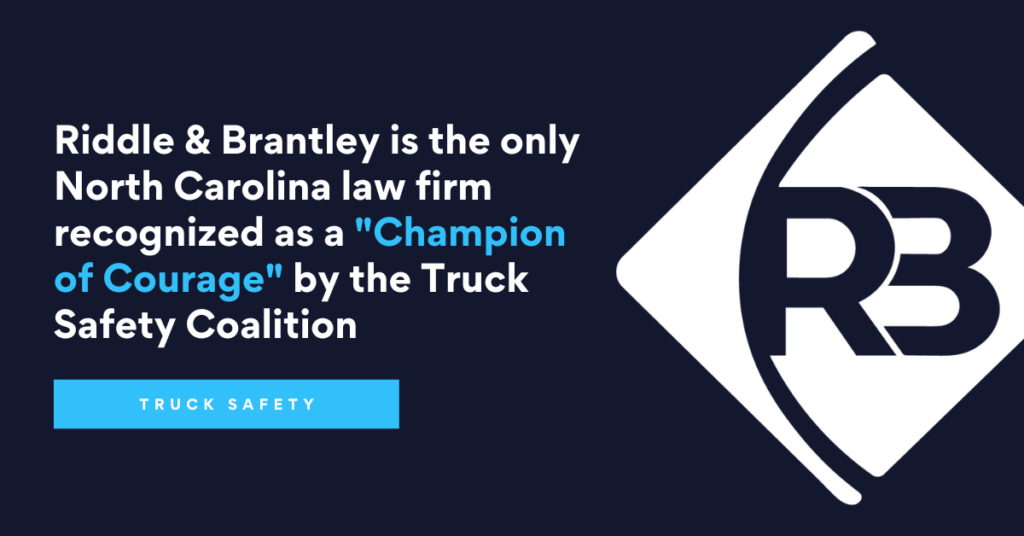 At Riddle & Brantley, we've seen firsthand the severe consequences of insufficient safety oversight in commercial trucking. We've helped victims of serious trucking accidents seek justice against negligent drivers and trucking companies for almost 40 years.
We're excited to announce our philanthropic partnership with the Truck Safety Coalition and are honored to receive a "Champion of Courage" designation from this exceptional organization. The Truck Safety Coalition is fighting hard to raise awareness of the dangers of the modern trucking industry. Riddle & Brantley fully supports the Truck Safety Coalition's efforts to improve oversight and regulations in the commercial trucking industry.
Riddle & Brantley is the only North Carolina law firm to be designated as a "Champion of Courage" by the Truck Safety Coalition. This designation does not constitute an endorsement of any business or services on behalf of the Truck Safety Coalition.
About the Truck Safety Coalition
The Truck Safety Coalition is committed to eliminating unnecessary and unacceptable fatalities on our roads through comprehensive solutions. Based in Washington, D.C., the national nonprofit organization provides compassionate, immediate support to victims and their families following a truck crash. The organization also emphasizes the need for more effective policies, regulations, and rules to reduce fatalities and injuries resulting from truck accidents.
Why Truck Safety Regulations Are So Important
The National Highway Traffic Safety Administration's (NHTSA) data reveals that approximately 5,000 people die annually from truck accidents in the United States, a 66% increase since 2009. According to the Insurance Institute for Highway Safety (IIHS), almost all fatalities in collisions between big trucks and passenger vehicles are car occupants (97%).
In addition to these fatalities, another 150,000 people are injured in truck collisions each year. In many cases, these injuries and fatalities are due to the negligence of either the truck driver or the dispatching company and a general lack of advanced safety features being installed into commercial trucks. We've previously written about the dangers of "rogue" trucking companies.
"Commonsense truck safety regulations can go a long way in making our roadways safer and we're proud to support the Truck Safety Coalition."
–Gene Riddle
The Truck Safety Coalition advocates for more comprehensive regulations to improve safety and safeguard victims' rights, including:
Automated emergency braking
Underride guards
Speed limiters
Higher minimum insurance coverage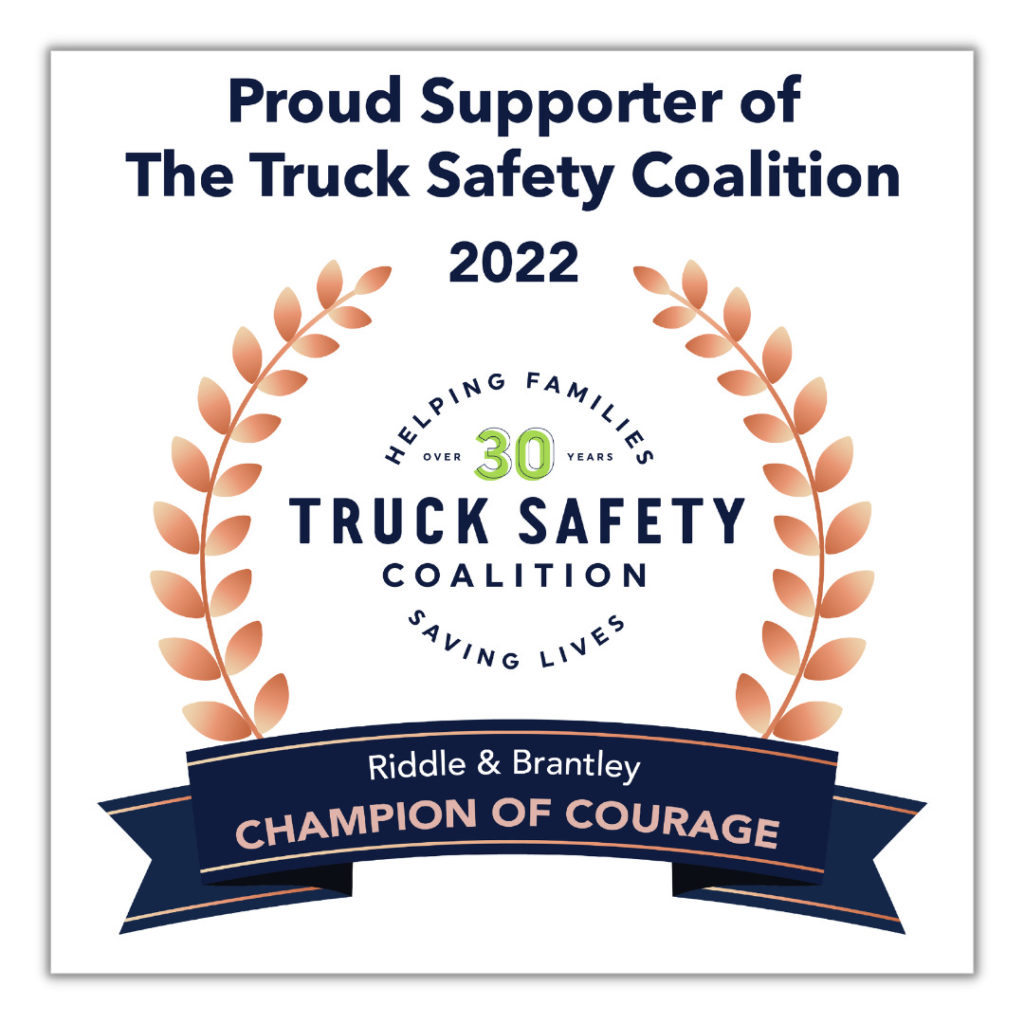 In late August, the Truck Safety Coalition filed a petition requesting that the National Highway Traffic Safety Administration (NHTSA) reconsider its final rule establishing standards for rear underride guards for all commercial motor vehicles (CMVs). According to the Truck Safety Coalition's press release, "Underride crashes involve a passenger vehicle passing under the front, side, or rear of a large truck. These crashes are nearly always fatal or result in lifelong, debilitating injuries because standard safety features of a passenger vehicle frequently do not deploy as the vehicle passes underneath the CMV."
Requiring that every truck on the road is equipped with advanced safety devices would make our roads significantly safer for everyone. In addition, higher insurance minimums would mean that victims won't have to fight with trucking companies to pay their medical bills when collisions occur.
Have You Been Injured in a Truck Accident?
We're excited to partner with the Truck Safety Coalition to help stop truck crashes before they start. However, accidents still happen, and we're here to help our clients get the best possible care and justice under the law.
North Carolina truck accident claims are often complicated, and victims' injuries can be severe. We want our clients to be able to focus on healing while our truck accident lawyers handle all the complicated legal work, working hard to get you the compensation you deserve.
If you or a loved one have been injured in a truck accident, please call 1-800-525-7111 for a FREE consultation with one of our North Carolina truck accident attorneys. We will listen to you and work with you to understand your unique case. At Riddle & Brantley, we work on a contingency basis, so you won't pay any attorney fees unless we secure compensation for you.
Justice Counts for victims of truck accidents in North Carolina and we're ready to help however we can. Please call 1-800-525-7111 and let's review your claim.