Hair Relaxer Uterine Fibroid Lawsuits
Hair Relaxer Uterine Fibroid Claims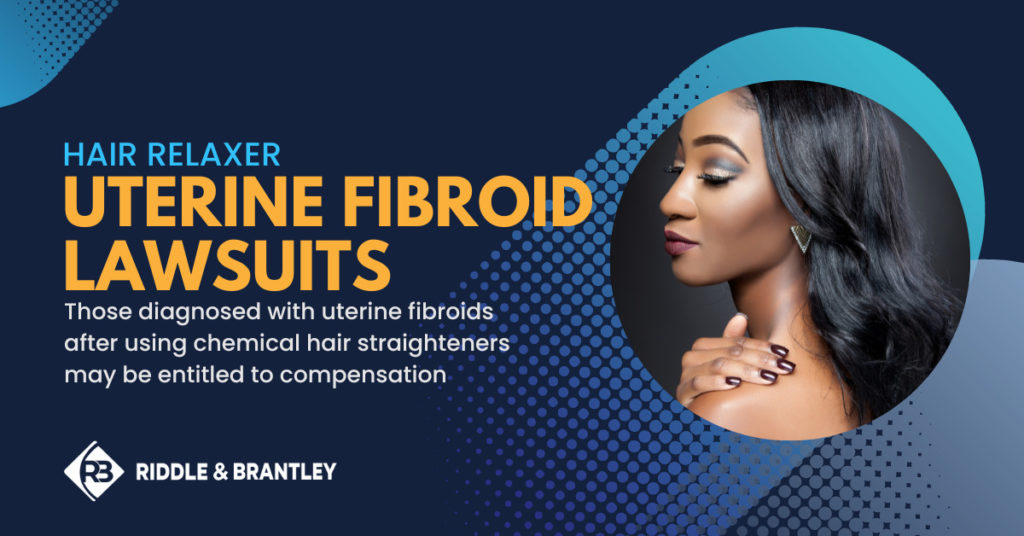 Thousands of women globally regularly use hair relaxers or chemical straighteners to soften and smooth their hair. However, recent studies have revealed that chemical hair relaxers may be connected to an elevated risk of uterine fibroids and various types of cancer. As more information about these risks is disclosed, consumers and experts are becoming seriously concerned about the health risks of using these products.
If you think you have developed uterine fibroids from using a chemical hair straightener, stop using it immediately and consult a physician about your next steps.
IMPORTANT: Riddle & Brantley is actively investigating these claims and representing victims in hair relaxer uterine fibroid lawsuits. For a FREE case review, please call 1-800-525-7111 and let's review your claim. There are no upfront costs, and you won't pay any attorney fees unless we win your hair relaxer lawsuit — and you receive compensation.
Do Hair Relaxers Cause Uterine Fibroids? 
Many hair relaxers contain a group of chemicals called phthalates, which can disrupt the endocrine system and lead to diseases of the reproductive system such as uterine cancer and uterine fibroids. Learn more about hair relaxer products that may cause uterine cancer, uterine fibroids, and other health problems.
Researchers are still working to establish if there is a direct link between hair relaxer use and the development of uterine fibroids. Still, current evidence suggests that the chemicals in hair relaxers have the potential to cause damage to women's reproductive system, which includes the development of uterine fibroids.
What are Phthalates?
Phthalates are synthetic chemicals used in many products, ranging from toys to vinyl flooring to cosmetics and personal care items. Unfortunately, they have been associated with many health problems, including an increased risk of uterine fibroids.
Phthalates cause these problems by interfering with the body's hormones and reproductive systems, and exposure over time can result in infertility, developmental delays, and even birth defects.
Certain phthalates are banned in cosmetics, toys, and other products in Europe due to these risks. However, the United States has taken a much more relaxed approach to the use of these chemicals, which is why so many consumers are demanding more research be done to understand their risks fully.
Phthalates and Uterine Fibroids
Recent research has suggested a link between phthalates and uterine fibroids. Phthalates have been shown to disrupt the endocrine system. Significant hormonal changes within this system can cause diseases of organs and soft tissues like the uterus, ovaries, and breasts.
What Are Uterine Fibroids?
Uterine fibroids are benign uterine tumors that can cause pain, bleeding, and other symptoms. Studies have found that women with higher levels of phthalates (such as those found in certain hair relaxer products) in their bodies are more likely to have uterine fibroids.
While the exact amount of exposure that may cause uterine fibroids is still unknown, it's clear that phthalate exposure may play a role in the increased instances of breast cancer, uterine cancer, and uterine fibroids in women.   
What Are the Other Chemicals in Hair Relaxers?
The precise chemical makeups of relaxers vary between brands and products, but most contain sodium hydroxide, also known as lye. This chemical alters the hair's cortex structure and removes natural hair oils so the hair can be straightened or reshaped.
Since lye can be so caustic, excessive use can cause skin irritation, chemical burns, and other surface-level reactions.
Other chemicals commonly found in relaxer formulas include:
Methyl hydrate
Calcium hydroxide
Guanidine hydroxide
Thioglycolic acid
Many women have recently opted for lye-free hair relaxers, seeing them as a safer and healthier option. However, due to the inclusion of phthalates and other chemicals with inconclusive health effects, even lye-free formulas of hair relaxers may pose a risk to women who use them.
Evidence for Hair Relaxers and Uterine Fibroids Risk
Women who use hair relaxers may have a higher risk of uterine cancer, according to the "Sister Study," a nationwide survery of women from ages 35-74. In fact, the risk of uterine cancer may double when hair relaxer products are used frequently. While uterine cancer was the most prominent issue, these new findings raise additional concerns about the overall  impact of these products on women's health, including the potential development of uterine fibroids.
Since uterine cancer is typically traced to hormone disruptions or imbalances, the same endocrine-disrupting chemicals that put women at an increased risk for uterine cancer may also increase their risk for uterine fibroids. While these tend to be less life-threatening than uterine cancer, they are still a severe issue for many women and can lead to infertility and other problems if left untreated.
Uterine Fibroid Hair Relaxer Lawsuits
In October 2022, Jenny Mitchell filed the first lawsuit against cosmetic firms, arguing that the toxic phthalates and other hormone-disrupting substances in their chemical hair relaxers jeopardized women's lives. The defendants in the case are L'Oréal, Namaste Laboratories LLC, Dabur International Ltd., and Godrej Consumer Products, each of which manufactures popular chemical hair relaxers.
The lawsuit claims that Mitchell developed uterine cancer after long-term exposure to phthalates and other hormone-disrupting chemicals in the hair relaxers she used. Legal experts are now watching this case closely to see what, if any, responsibility these manufacturers will take for the potential risks their products pose. To be clear, as of early December 2022, these defendants have strongly denied any potential negligence and/or wrongdoing.
Since then, at least three other women have filed lawsuits against one or more of these companies, alleging that their cancer or other serious health conditions like uterine fibroids were caused by their frequent use of chemical hair relaxers.
If you were diagnosed with uterine fibroids after using chemical hair straighteners, you may be eligible for a lawsuit. Call Riddle & Brantley at 1-800-525-7111 for a FREE case evaluation with one of our experienced hair relaxer uterine fibroid lawyers.
How to Qualify for a Hair Relaxer Lawsuit
You may qualify for compensation in a hair relaxer claim or lawsuit if you meet the following criteria:
Must have had exposure to one or more of the following products:

Just for Me
Dark & Lovely
Soft & Beautiful
Motions
Olive Oil Girls
Any lye or no-lye hair relaxers (multiple products)
Must have been diagnosed with one of the following conditions:

Uterine fibroids
Ovarian cancer
At Riddle & Brantley, we can remove all legal guesswork and work hard to get the maximum compensation for you if you've suffered from uterine fibroids (or another health problem) after using hair relaxer or chemical straightener products. And because we want you to focus on healing and not on mounting bills, you'll never pay attorney fees unless we win compensation for you.
Call 1-800-525-7111 or complete the fast and easy form below for a FREE case review.
Why Riddle & Brantley for Your Chemical Hair Straightener Uterine Fibroid Lawsuit?
At Riddle & Brantley, we're proud to have recovered over $665 million in compensation for our clients since 2000 alone (see disclaimer below), but we're also honored by the testimonials of our clients:
"You'll walk in the front door as a client but leave as family. They're the absolute best."
–Susan S., Riddle & Brantley client
Our attorneys have been honored with numerous awards and memberships in recognition of their experience and results (see disclaimer below), including:
The National Trial Lawyers Top 100
The National Trial Lawyers Top 40 Under 40
Super Lawyers
Multi-Million Dollar Advocates Forum
The National Association of Distinguished Counsel
The Litigator Award
Call Riddle & Brantley at 1-800-525-7111 for a FREE case review with one of our hair straightener uterine fibroid attorneys so we can show you that at our firm, Justice Counts.
---
*** Disclaimer: The results mentioned are intended to illustrate the type of cases handled by the firm. These results do not guarantee a similar outcome, and they should not be construed to constitute a promise or guarantee of a particular result in any particular case. Every case is different, and the outcome of any case depends upon a variety of factors unique to that case.
*** Disclaimer: An attorney must meet certain requirements to join these organizations or receive these awards. For more information on Membership Criteria for Million Dollar Advocates Forum, Multi-Million Dollar Advocates Forum, Super Lawyers, Super Lawyers "Rising Star" designation, The National Trial Lawyers Top 100, The National Trial Lawyers Top 40 Under 40, The National Association of Distinguished Counsel, AV Preeminent designation by Martindale-Hubbell, the Litigator Award, and other memberships, awards, and accolades, please visit our Membership Criteria page. These awards and memberships should not be construed as a promise or guarantee of a similar result. Each case is different and must be evaluated separately.