What Hair Relaxers Can Cause Cancer?
Hair Relaxers That May Cause Cancer
Recently, researchers and medical professionals have expressed concern about the potential carcinogenic effects of chemical hair straighteners and relaxers. In addition, uterine cancer rates are particularly elevated among women who regularly use chemical hair straighteners and relaxers, especially Black women. In addition to uterine cancer, hair relaxers may also cause breast cancer, endometriosis, uterine fibroids, and pre-term birth.
After a recent study was published demonstrating the link between chemical hair relaxers and elevated cancer risk, many consumers are asking, "Which hair relaxers can cause cancer?"
If you have ever used hair straighteners or relaxers and subsequently developed uterine cancer, breast cancer, or another qualifying health problem, you may be eligible for compensation. Riddle & Brantley offers FREE case reviews to evaluate your case. Call 1-800-525-7111 today to speak with one of our experienced hair relaxer lawsuit attorneys, who will listen to your unique situation and can advise you on your legal options.
What Brands of Hair Relaxers Can Cause Cancer?
Currently, four major manufacturers of hair relaxing products are being sued with regard to claims of increased risk of uterine cancer and other health problems in the women who use them. These companies are:
L'Oréal
Namaste Laboratories LLC
Dabur International Ltd.
Godrej Consumer Products
These manufacturers produce some of the most popular brands of hair relaxers and chemical straighteners, including:
Just for Me
Dark & Lovely
Soft & Beautiful
Motions
Olive Oil Girls
These hair straightener brands contain one or more chemicals that are potentially carcinogenic and may be linked to an increased risk for certain cancers, including uterine cancer and breast cancer, and other health problems like endometriosis and uterine fibroids.
Consumer groups are warning against the use of lye-based hair straighteners and relaxers as there seems to be a strong correlation between their use and an increased risk for several cancers.
What Chemicals in Hair Straighteners and Relaxers Cause Cancer?
There has been growing concern about the safety of hair relaxers and straighteners over the last few years, fueled by firsthand accounts of burns, rashes, and hair breakage. Although these are troubling, there have also been reports linking these products to an increased risk of cancer and other health problems.
While studies are ongoing to uncover exactly what chemicals or combinations of chemicals contained in hair relaxers may cause increased cancer rates, certain relaxers contain a chemicals that have been independently linked to cancer. These chemicals include:
Formaldehyde
Many hair relaxers and straighteners can off-gas formaldehyde, which the CDC has classified as a known human carcinogen, meaning it can cause cancer. Formaldehyde in hair relaxers may cause various health issues, including respiratory problems, nervous system issues, skin irritation, and even cancer.
Propylene Glycol
Initially, the CDC did not consider propylene glycol carcinogenic, and the chemical is found in many products, from hair relaxers to nicotine vaporizers. However, recent studies on mice and rats have shown the potential for increased risks of cancer development after long-term exposure to propylene glycol. With so many hair relaxers containing propylene glycol, there's potential for this chemical to be linked to causing increased instances of cancer in the people who use these products.
Lye (Sodium Hydroxide)
Sodium hydroxide, commonly known as lye, is the most controversial chemical in hair relaxer products. The dangers of lye as a skin irritant are well known, and too much lye applied to the hair or skin can cause breakage, burns, rashes, and other injuries. The IARC and the CDC have not classified lye as a carcinogenic chemical. Still, with so many women found to develop uterine cancer in a recent study using lye-based hair relaxers, there is public outcry for more research into a possible link between lye and uterine cancer and other cancers.
Evidence that Hair Relaxers and Straighteners Cause Uterine Cancer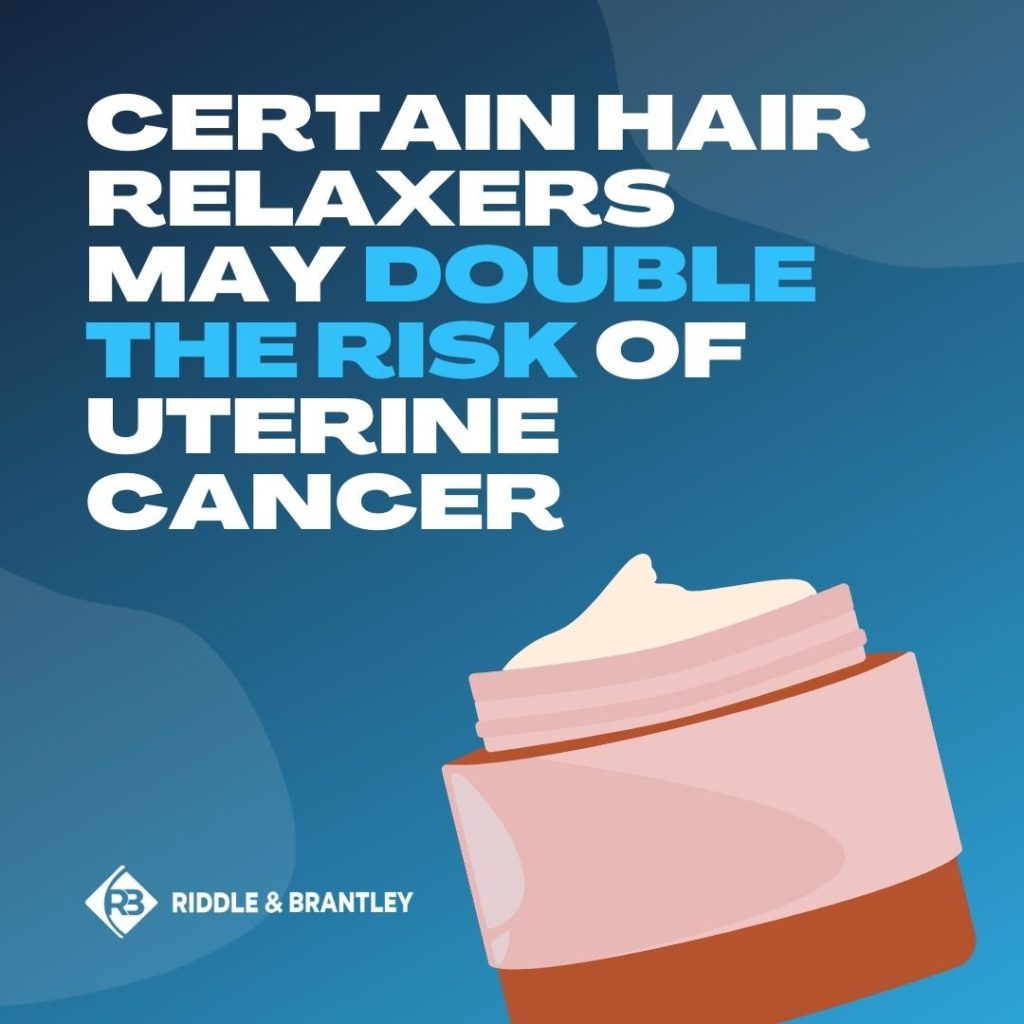 Uterine cancer has one of the strongest links to chemical hair relaxers. A study titled the "Sister Study" was conducted by the National Institute of Environmental Health Sciences and surveyed over 33,497 U.S. women ages 35-74 from 2003-2009. This study looked at many factors that impact women's health, but one thing they weren't looking for was a link between uterine cancer and permanent hair relaxers.
However, this study found that women who used permanent hair straighteners, hair relaxers, or hair dyes every six months or more often had a greater risk of uterine cancer than women who used these products less frequently.
The study ultimately revealed that women who used these products more than four times in the previous year "were more than twice as likely to go on to develop uterine cancer compared to those who did not use the products."
"I Used Hair Relaxers and Developed Cancer. What Can I Do?" 
If you believe you've been injured or developed cancer after using chemical hair straightening products, you should discontinue use immediately, consult with your doctor, and get in touch with an attorney to discuss your options.
At Riddle & Brantley, we are committed to helping our clients get the justice they deserve from potentially negligent companies that may put profits before people. When you contact us, you will meet with one of our experienced hair straightener attorneys for a FREE consultation to learn more about your situation.
We will apply our attorney's collective 225+ years of legal experience to help determine a recommended course of action to secure the compensation you deserve.
Please call 1-800-525-7111 to speak with one of our experienced trial attorneys right away. You'll never pay attorney's fees unless we win compensation for you because at Riddle & Brantley, we believe Justice Counts.