Hickory Personal Injury Lawyer
Have you been injured in an accident? Do you believe someone else may be responsible?
You may be thinking about hiring a Hickory personal injury lawyer.
And you may want to consider Riddle & Brantley.
The North Carolina personal injury lawyers at Riddle & Brantley have been serving clients in Hickory and throughout the state since 1985. Our 12 attorneys have more than 225 years of collective legal experience and fight tirelessly for justice for all North Carolinians.
For a FREE consultation and case review, please call us at 1-800-525-7111 or complete the form below.
Justice for Hickory and North Carolina
With a population of just over 40,000 people, Hickory is the largest city in the Hickory-Lenoir-Morganton metropolitan statistical area. Incorporated in 1870, Hickory was once best known for its textile and furniture industries but more recently has developed a reputation for fiberoptic cable manufacturing and technology. Today Hickory is home to some of Apple and Google's largest data centers.
Lenoir-Rhyne University is also located in Hickory. Founded in 1891, Lenoir-Rhyne is a nationally recognized liberal arts institution serving more than 3,000 students.
Hickory is also located just off I-40, one of North Carolina's busiest interstates. All that traffic and construction associated with the region's growing economy mean that injuries are unfortunately common. 13 people were involved in fatal car, truck, and motorcycle accidents in Hickory in 2017 alone.
"We've been representing clients in Hickory and surrounding North Carolina for decades and fight tirelessly for justice." -Gene Riddle
If you've been injured in Hickory or elsewhere in North Carolina, call 1-800-525-7111 for a FREE, no-obligation consultation.
We will evaluate your case and determine if we can help you fight for justice. If for any reason we can't take the case, we'll do our best to connect you with another attorney or resource that can help.
That's our promise to you.
Our Personal Injury Experience
Riddle & Brantley represents victims of all sorts of accidents and injuries in Hickory NC and the surrounding area, including:
Car accidents
Truck accidents
Motorcycle accidents
Pedestrian and bicycle accidents
Wrongful death cases
Premises liability and slip & fall accidents
Consumer product injuries
Defective medical device injuries
Dangerous drug injuries
Nursing home neglect and abuse
Mesothelioma and asbestos-related disease
In addition we represent clients in mass tort claims, including lawsuits involving defective 3M earplugs for the US military, potentially cancer-causing Roundup herbicide, contaminated baby powder and talcum powder, valsartan-containing prescription drugs, and more.
What Can a Personal Injury Lawyer Do for You?
A personal injury lawyer with experience in Hickory can help with a lot more than just trial (although a trial may be necessary depending on the circumstances of your case).
Personal injury cases can be complex, and an experienced attorney can help navigate all aspects of your claim or lawsuit, including but not limited to:
Accident scene investigation and, if necessary, reconstruction
Helping you find appropriate medical care and set up medical bill payment plans
Gathering witness statements
Hiring expert witnesses
Preparing you for statements to the insurance company and law enforcement
Negotiation with the insurance company
Mediation and/or arbitration proceedings
Court filings and legal briefs
Litigation
Settlement negotiations
Setting up trusts and funds for long-term care
Trial
For a no-obligation, 100% free consultation with an attorney experienced handling Hickory-area personal injury cases, please call 1-800-525-7111 or complete the form below.
If we can help and you decide to hire us, there is no upfront cost and no attorney fee unless we win your case and you receive financial compensation.
Why Riddle & Brantley?
Our North Carolina personal injury attorneys know the legal system and what it takes to get justice for our clients.
When you hire Riddle & Brantley, you'll not only be represented by a lawyer with experience representing clients in the Hickory area, but you'll be supported by an entire staff of paralegals, case managers, and investigators dedicated to your success.
Here are just a few of the recent settlements and judgments we've won for our clients. For more information, please visit our Riddle & Brantley case results page.
Wrongful Death | $3,000,000 — Attorney Donald Dunn represented the family of an assisted living resident who died after contracting Hepatitis B as a result of staff mishandling medical equipment. The case was litigated in Wayne County Superior Court resulting in a judgment of $3,000,000 on behalf of the victim's family.
Auto Accident | $2,250,000 ­— Managing partner Gene Riddle represented the family of a woman tragically killed in a head-on accident involving a negligent truck driver. Riddle knew the family personally and quickly organized a complete crash scene investigation, including accident scene reconstruction. After informing the insurance company of his intent to file suit, the case entered mediation, where Riddle won a $2,250,000 settlement for the victim's family.
Motorcycle Accident | $1,000,000 — When a passenger on a motorcycle suffered traumatic brain injury, memory loss, and multiple fractures after the driver lost control on an S-curve, attorney Gene Riddle took the case. Prior to suit being filed, Riddle negotiated a $1,000,000 settlement with the insurance company — the limits of the policy in question.
Our case results aren't just measured in financial settlements and judgments, however. We're also proud of our Riddle & Brantley reviews and the way our clients speak of our firm:
"Thank you for everything that you have done, not just for me, but for my family as well. Thank you for going above and beyond" -E. Hamilton
"Your talent and expertise proved to be an invaluable asset to my case. Thank you!" -C. Keel
"All the staff are nice and treat me as if I'm family. Every time I've needed them, they were there for me. Thank you, Riddle & Brantley!" -Tyronnie T.
Looking for a Hickory personal injury lawyer?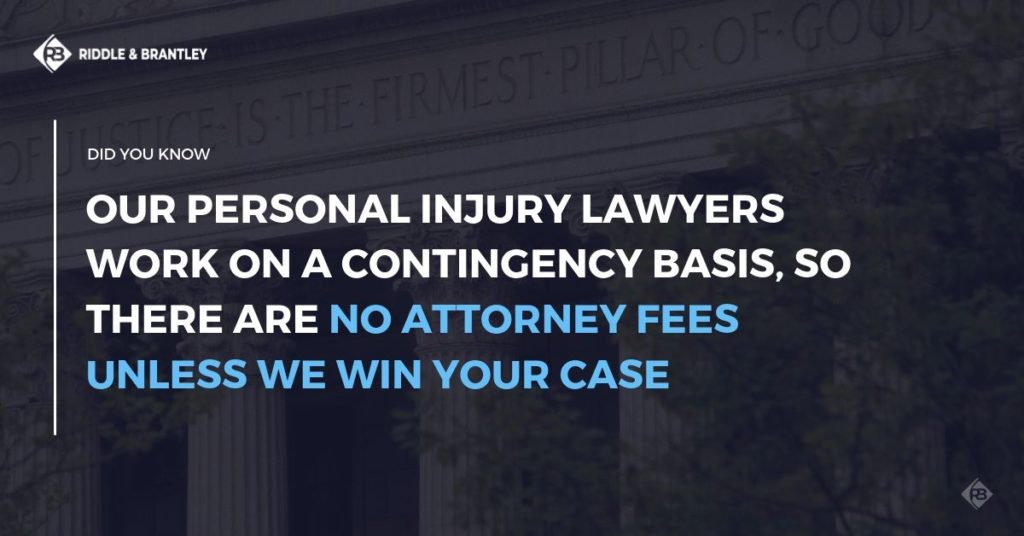 If you're looking for an attorney with experience in Hickory, you may want to consider Riddle & Brantley. Our personal injury lawyers have almost 200 years of combined legal experience and have been fighting for justice for North Carolinians since 1985.
Please call us today at 1-800-525-7111 or complete the form below.
The consultation is free, and there is never any attorney fee unless we win your case and recover financial compensation for you.
Our motto is Justice Counts and we mean it.
Please contact us today at 1-800-525-7111. We would love to help if we can.