Indian Trail Personal Injury Lawyer
Have you been injured in an accident? Do you believe someone else is responsible? If so, you may be searching for an Indian Trail personal injury lawyer.
Riddle & Brantley's personal injury lawyers are experienced representing clients across North Carolina, including Indian Trail, and we would love to help you get the justice you deserve.
Depending on the details of your case, you may be entitled to compensation.
For a FREE consultation and case review, please call 1-800-525-7111 or complete the quick and easy form below. There is no obligation, no upfront cost and no attorney fee unless we win your case and get you financial compensation.
Our injury attorneys have almost 200 years of collective legal experience. We know the law in North Carolina and fight relentlessly for justice.
At Riddle & Brantley, we say Justice Counts and we mean it.
Take a look at what our clients have to say about our work on their behalf:
Accidents and Injuries in Indian Trail NC
Indian Trail is one of North Carolina's fastest growing towns and is located approximately 10 miles from Charlotte. As of 2017, almost 40,000 people called Indian Trail home, and Union County is reportedly one of the 10 fastest growing counties in the United States.
All that growth and Indian Trail's proximity to I-485 and US-74 mean that accidents and injuries are unfortunately common in Indian Trail and the surrounding area.
Managing partner Gene Riddle has family ties to greater Charlotte and has been serving clients in the Indian Trail area since graduating from Wake Forest Law School in 1985.
We represent victims who have suffered serious injuries in all kinds of accidents, including:
Car accidents
Truck accidents
Motorcycle accidents
Bicycle accidents
Pedestrian accidents
Workplace accidents and workers' compensation claims
Slip and fall accidents (premises liability cases)
Accidents resulting in wrongful death
Defective medical device accidents
Accidents resulting from use of dangerous or mislabeled consumer products
Dangerous drug injuries
Asbestos exposure
Nursing home and assisted living facility accidents
and many, many more…
Riddle & Brantley also represents clients in a number of mass tort cases, many of which involve defective products or dangerous drugs. We are currently investigating claims of injury resulting from 3M Combat Arms earplugs, exposure to Roundup weed killer, Johnson & Johnson talcum powder exposure, and use of drugs containing valsartan.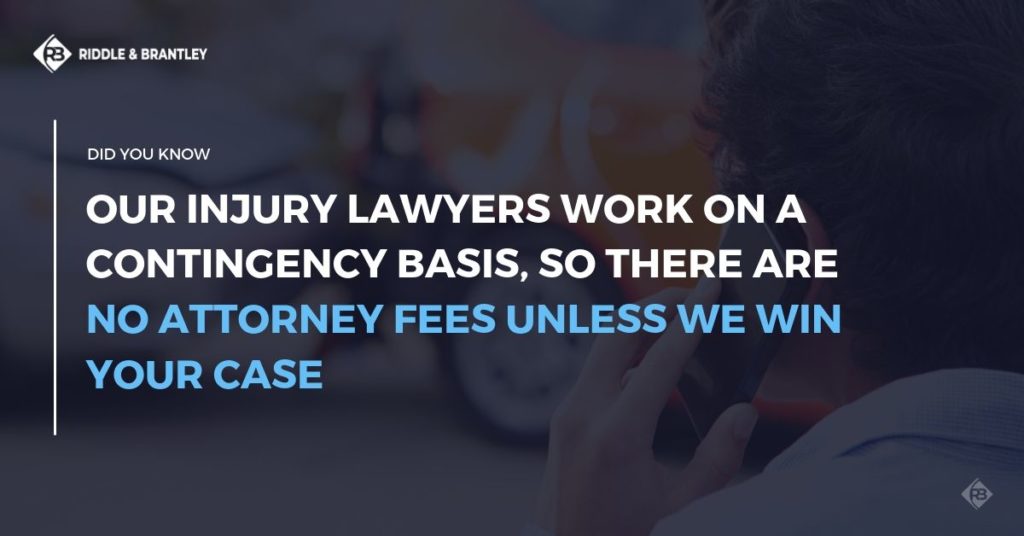 If you would like to speak with a personal injury lawyer familiar with Indian Trail and greater Charlotte, please call 1-800-525-7111. You can also complete the quick and easy form below if you prefer.
We would be happy to advise you on your legal options.
There is no obligation, no upfront cost, and no attorney fee unless you receive financial compensation in your case.
We're proud of our personal injury lawyers' work fighting for justice for injured North Carolinians and invite you to review Riddle & Brantley case results and client reviews, including:
$5,000,000 | Constitutional Rights Violation — Attorney Gene Riddle tirelessly fought for justice for five women who were sexually assaulted by Wayne County sheriff's deputy while incarcerated in a local jail. Riddle filed suit against the sheriff's deputy in federal court, ultimately winning a judgment of $1.5 million in actual damages and an additional $3.5 million in punitive damages.
$2,750,000 | Car Accident — Our client was seriously injured in a head-on motor vehicle accident that left him with multiple fractures to the neck, leg and arms. Attorney Donald Dunn fought for justice, ultimately obtaining $2,750,000 in compensation through arbitration and a $1,000,000 declaratory judgment awarded afterward against the insurance company.
$1,800,000 | Work Injury / Workers' Compensation — Our clients was driving a truck for his employer when another truck crossed the center line and hit him head-on. He suffered serious, disabling injuries including eventual loss of his left leg below the knee. Attorney Gene Riddle represented the client in extensive negotiations with his employers' Workers Comp carrier and the insurance company for the other truck involved, and obtained $1,800,000 in total compensation.
*** Disclaimer: The results mentioned are intended to illustrate the type of cases handled by the firm. These results do not guarantee a similar outcome, and they should not be construed to constitute a promise or guarantee of a particular result in any particular case. Every case is different, and the outcome of any case depends upon a variety of factors unique to that case.
"I cannot thank you all enough for the care and concern you've given my case. You've been responsive to my questions and handled the case with the utmost expertise and professionalism." -Gloria Faress
Do You Need an Indian Trail Personal Injury Lawyer?
If you're considering an Indian Trail injury attorney, you may want to consider one of the experienced personal injury lawyers at Riddle & Brantley. Our nine injury, workers' comp, and wrongful death attorney are deeply familiar with Indian Trail and greater Charlotte, and we're committed to justice for all North Carolinians.
"Our connection to Indian Trail and greater Charlotte is personal. We have a special place in our hearts for the area and its residents, and will fight tirelessly for justice for all injured North Carolinians." -Gene Riddle
Call us today for a FREE consultation at 1-800-525-7111. You can also fill out the quick and easy form below if you prefer.
The initial consultation is free, and if you decide to hire us to represent you there is no upfront cost and no attorney fees unless we win your case and you receive financial compensation.
You deserve justice — and you may be entitled to compensation.
Call now for a free case review: 1-800-525-7111.
Justice Counts. We would love to help if we can.