IRS Gives Low-Income, Disabled Individuals More Time to Claim $500 Payments
The Internal Revenue Service (IRS) has backtracked on a previous decision and will now allow low-income, disabled individuals until September 30 to file for $500 payments for dependents. The payments are part of the economic stimulus packages passed by Congress to address the impact of the coronavirus pandemic.
IMPORTANT: If you are dependent on public assistance programs such as Social Security disability, you may qualify for the $500 payments for dependents. For more more information on how to file a claim for your Economic Impact Payment, please visit the IRS online. The new deadline to file for your $500 payment(s) is September 30, 2020.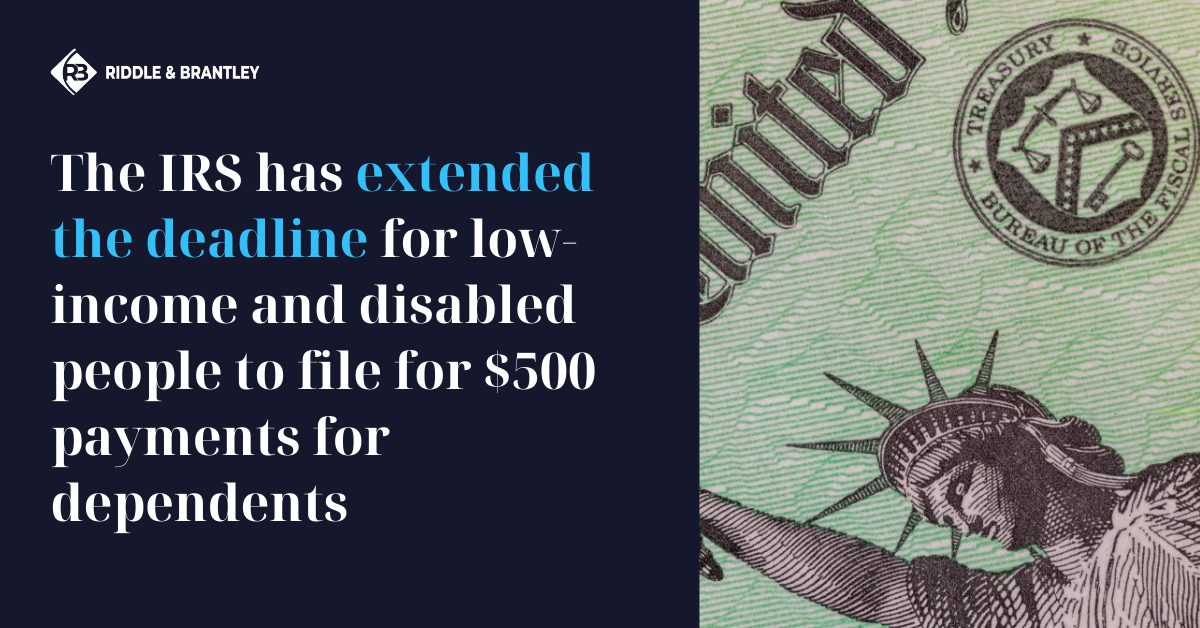 The IRS had previously shut down the application window for the $500 payments for those who do not file tax returns due to their dependence on government programs such as Social Security disability. In a recent lawsuit prompting the change, plaintiffs argued that their due process rights had been violated by the shortened window.
An online portal set up for low-income and disabled individuals to claim the $500 payments was only announced 48 hours before the filing deadline. According to an estimate, 250,000 to 450,000 people missed the filing deadline or encountered problems with the online portal.
A Government Accountability Office (GAO) report stated that as many as 450,000 people who signed up for the $500 payments through the IRS online portal never received their checks.
---
PLEASE NOTE: Riddle & Brantley is providing this information as a public service only and cannot assist clients in obtaining their Economic Impact Payments. We can, however, assist North Carolina residents in claims and appeals for Social Security disability benefits and would be happy to help however we can. Please call 1-800-525-7111 today for a FREE, no-obligation consultation with a North Carolina disability lawyer.