Supreme Court Considers Ending Affirmative Action
Will the Supreme Court Strike Down Affirmative Action?
On October 31st, the Supreme Court heard oral arguments in two cases, both brought by the Students for Fair Admissions, against the University of North Carolina and Harvard University challenging the use of affirmative action in the universities' admissions processes as unconstitutional differential treatment based on race. Students for Fair Admissions (SFA) is a nonprofit group that opposes considering race and ethnicity in the admissions process.
What is Affirmative Action?
Affirmative action, first introduced by President John F. Kennedy in 1961, is a set of procedures designed to ensure particular groups — based on race, gender, sexuality, creed, or nationality — are included and to right past discrimination against said groups.
What's Different This Time?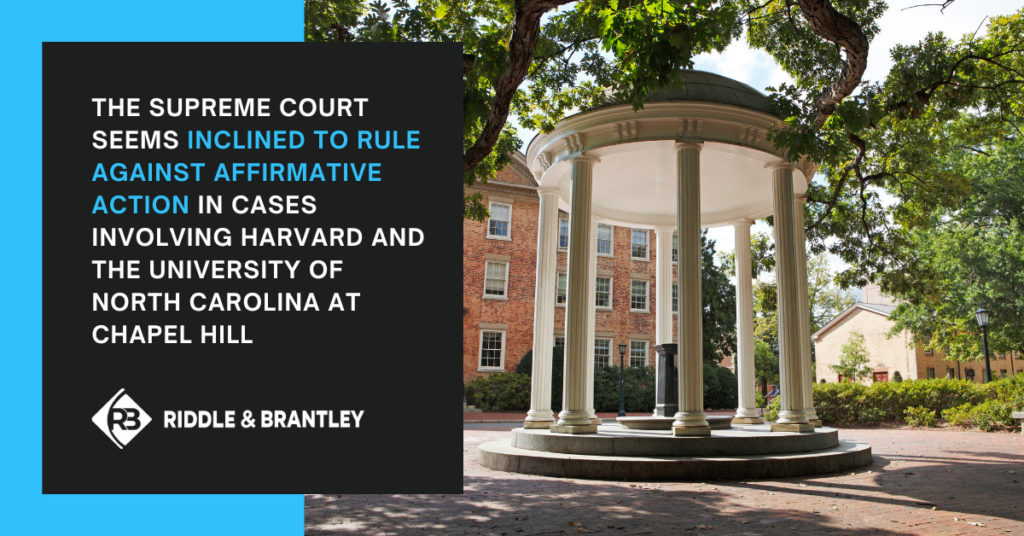 While affirmative action has been challenged before the Supreme Court in the past, it has never been before such a predominantly conservative Court, with multiple justices having expressed discontent over the policy in prior opinions. Chief Justice John Roberts previously criticized affirmative action, writing "the way to stop discrimination on the basis of race is to stop discriminating on the basis of race."
What is the Case Against Affirmative Action Before the Court?
SFA argued before the Court that the admissions process of considering race unfairly gives significant preference to minority applicants to the detriment of white and Asian-American applications. Attorneys for the universities argued that race is just one of many factors considered in admissions and emphasized the importance of racial diversity in higher education.
The conservative justices on the Court – Chief Justice John Roberts, Justice Amy Coney Barrett, Justice Neil Gorsuch, Justice Brett Kavanaugh, Justice Clarence Thomas, and Justice Samuel Alito – referenced prior decisions holding that affirmative action was not supposed to be an indefinite practice when challenging the universities on when the goals of affirmative action would be satisfied so as to suspend the use of the program.
Chief Justice Roberts questioned how the universities could say that the program would ever end when their arguments are "that race matters because it's necessary for diversity, which is necessary for the sort of education you want. It's not going to stop mattering at some particular point."
Meanwhile, the three liberal justices on the court — Justice Elena Kagan, Justice Sonia Sotomayor and newly appointed Justice Ketanji Brown Jackson[1] — pointed out that certain races are more likely to have gone to under-resourced schools, been taught by teachers with lesser qualifications, and viewed as having less academic potential. Justice Brown Jackson questioned how else the universities should consider applicants from diverse socioeconomic backgrounds without considering race. Justice Brown Jackson further pointed out that admissions officers consider whether applicants are parents, veterans, or disabled and it would be odd not to consider race.
The Court considered the current system of allowing schools to "check a box" as opposed to a personal statement a student might write detailing what challenges he or she may have overcome as a member of a racial minority. Representatives for SFA stated that a statement of that nature would be permitted "[b]ecause the preference in that case is not being based upon the race, but upon the cultural experiences."
While Riddle & Brantley takes no position on the matter, we do recognize the importance of these cases, and wish to shed light on their consideration before the Supreme Court.  These cases challenge the admissions processes in two of the most historic and well recognized universities in the country, and specifically our home state university, where approximately 80% of the University of North Carolina student body are in-state students. While the cases are focused on higher education, a decision against affirmative action would likely have an impact that reaches beyond higher education.
A decision from the Court is expected in June.
---
NOTE: Justice Brown Jackson only heard oral arguments for the University of North Carolina case.  Justice Brown Jackson recused herself because she served on the Harvard Board of Overseers until this past spring.