What's New in 2022 for Personal Injury Law?
New Year, New Laws, and New Trends in Personal Injury Cases
As we ring in the new year, it's important to be aware of legal and societal changes that may affect you and your loved ones. There are several local, state, and federal laws that will affect civil litigation in North Carolina in 2022, as well as some trends that may change the way that personal injury cases are handled.
At Riddle & Brantley, we are proud to represent individuals and their families throughout North Carolina who have been injured or killed as a result of another person's negligence. We fight hard to get every client the justice they deserve. If you were injured in an accident or lost a loved one due to someone else's negligence, contact our office at 1-800-525-7111 for a free, no-obligation consultation.
Technology in the Courtroom and Beyond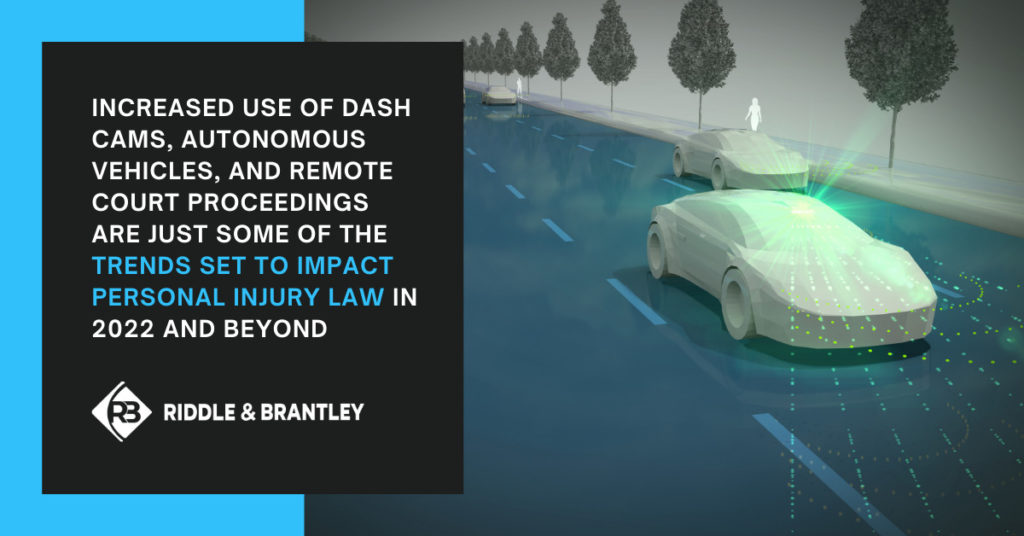 The pandemic forced attorneys and courts to embrace a virtual environment unlike ever before. From jury trials over Zoom to virtual depositions, attorneys, clients, and judicial officers all adapted quickly. Some of the adaptations that resulted from the pandemic will likely carry over throughout the new year and well into the future. 
Technology makes many things more accessible and can expedite processes. The most significant trend in and out of the courtroom in 2022 is undoubtedly the increased use of technology.
Dashboard Cameras
Technology is not just impacting the office — it's also making its way to the road. Dashboard cameras are becoming increasingly popular among drivers across the country. In what is now a multi-billion dollar industry, dash cams are affecting how car and truck accidents are litigated. Some cars, such as those manufactured by Tesla, have surveillance cameras built into the vehicle. Footage from dash cams and vehicle surveillance cameras can prove significant when trying to prove liability in a personal injury case.
Autonomous Vehicles
Autonomous delivery vehicles will also be making their way through North Carolina neighborhoods this year and beyond. House Bill 814 authorized the operation of neighborhood occupantless vehicles in the state. The vehicles may only operate on streets where the posted speed limit is 45 miles per hour or less and do not require a driver to make a delivery of food or groceries.
Consumer Protection Laws
North Carolina passed several consumer protection laws that go into effect in 2022, covering a wide range of topics, including mental health facilities, modified vehicles, and building code modifications.
Unlicensed Operation of Mental Health Facilities
House Bill 734 protects North Carolinians from the unlicensed operation of mental health facilities or programs in the state. The law establishes a statewide database to show which programs are licensed and whether they have had any actions taken against them by the Division of Health Services Regulation. 
Prohibiting Certain Modifications to Passenger Vehicles
House Bill 692 prohibits passenger vehicles that have been altered to have a front fender 4 or more inches greater than the height of the rear fender. The law is aimed at banning a popular vehicle modification known as the "Carolina Squat," where drivers end up positioned high above the front of the vehicle, limiting the scope of vision.
Building Code Reforms
House Bill 489 provides several building code and development regulatory reforms. In accordance with this law, general contractors seeking licensure in the state must consent to a criminal background check and comply with additional record-keeping requirements. Additional changes include amendments to building setback lines erosion and sedimentation control, and new compliance requirements for subdivision streets.
COVID-19 Ripple Effect
Even as may COVID-19-related restrictions have been removed from everyday life, there is still a ripple effect from previous shutdowns. Courts across the country (and in North Carolina) have been significantly backlogged, which has made it difficult to predict how long cases will take to complete. 
Now, courts, attorneys, and clients are highly motivated to get things moving again. With courtrooms reopened and law firms fully operational it is expected that 2022 will be a year filled with trials. Many attorneys have cases that are ready to be tried and now the climate is ripe to get these matters heard in front of a judge or jury.
How We Can Help
2022 will likely be an important year in personal injury law as the country continues to move forward. At Riddle & Brantley, our legal team is here to help in any way we can. With over 220+ years of combined experience, our North Carolina injury attorneys know what it takes to fight and win even the most difficult cases. We are happy to meet in-person or virtually and offer 100% free, no-obligation consultations.
Our dedicated lawyers will help you understand your rights and your responsibilities after an accident. We are committed to getting injured victims the compensation and justice they deserve. If you have suffered an injury due to someone else's negligence, contact our office today.
Here When You Need It Most
Were you or a loved one injured in an accident? Was another person or company at fault? Contact our office at 1-800-525-7111 for a free consultation. Our lawyers work on a contingency fee basis, meaning that there are no upfront costs and no attorneys fees unless we win your case. Call now to discuss your legal options with an award-winning attorney (see disclaimer below).
---
*** Disclaimer: An attorney must meet certain requirements to join these organizations or receive these awards. For more information on Membership Criteria for Million Dollar Advocates Forum, Multi-Million Dollar Advocates Forum, Super Lawyers, The National Trial Lawyers Top 100, The National Trial Lawyers Top 40 Under 40, The National Association of Distinguished Counsel, AV Preeminent by Martindale-Hubbell, the Litigator Award, and other memberships, awards, and accolades, please visit our Membership Criteria page. These awards and memberships should not be construed as a promise or guarantee of a similar result. Each case is different and must be evaluated separately.