Philips CPAP Lawsuit Potential Compensation
Thousands of lawsuits have been filed against sleep apnea CPAP manufacturer Philips after the company recalled 3-4 million machines due to a breakdown of foam that may potentially cause cancer, organ damage, respiratory illness, or a host of other adverse health effects. Filing a civil CPAP lawsuit is a logical next step for people whose lives have been turned upside-down by this news, through absolutely no fault of their own.
You are invited to contact our North Carolina product liability lawyers at Riddle & Brantley for a free consultation. Justice Counts. Call 1-800-525-7111 to explore your full set of legal options.
IMPORTANT: Due to developments in the multi-district litigation, we can no longer accept kidney or liver cancer claims related to Philips CPAP machines. Other cancers and health problems may still qualify. Please call 1-800-525-7111 for a free case review.
Many prospective plaintiffs who call us are inquiring about what Philips CPAP lawsuit potential compensation might be. There are a number of unknowns about a potential final settlement or jury award at this point, as we are still in the earliest stages of litigation — and Philips strongly denies any alleged negligence or wrongdoing. However, we can give you a general idea of what can realistically and reasonably be expected with a Philips CPAP lawsuit in the event these claims resolve in plaintiffs' favor (remember, however, there are absolutely no guarantees — and no settlement has been made, and no verdicts have been decided as of late 2020).
What Philips CPAP Damages Are Included in a Lawsuit?
Every product liability lawsuit is unique, but generally speaking, the goal of a civil lawsuit is to "make the plaintiff whole again" – to financially compensate the individual so that it's as if the misfortune never occurred. 
Economic Damages: Product liability plaintiffs can expect to be compensated for any actual amounts paid or lost.
Medical Costs: All medical bills related to the CPAP injury will be paid in a potential fair settlement or jury award. This may include doctor copays, diagnostic testing, surgeon's fees, surgeries, hospital expenses, ambulance rides, medications, therapies or treatments, rehabilitation, assistive devices, visiting nurse care, and almost anything you can imagine.
Lost Wages: The court examines what you were paid prior to your diagnosis or injury to estimate your losses during recovery. Every day you missed work during recovery, you can expect to receive a full day's pay. Any vacation, paid leave, bonuses, or promotions will also be factored in.
Property Damages: Many CPAP customers receive free equipment through the VA or Medicaid, but those who paid out-of-pocket for the equipment, or a replacement can expect to receive reimbursement.
Future Expenses: Lawyers often rely on the assistance of economic experts to help forecast how much it may reasonably cost you to pay for ongoing treatment or how much you may have lost due to a diminished capacity to earn a living.
Non-Economic Damages: Product liability plaintiffs also typically receive an estimated amount for intangible losses. Usually, this is done by tallying up the total amount of economic damages and multiplying this figure by 1-5x, depending on the severity and permanence of the injuries. In milder cases where a plaintiff suffered illness or injury but recovered after a certain amount of days, the attorney may collect a "per diem" amount for every day the plaintiff was recovering.
Pain and Suffering: "Pain and suffering" is a blanket term covering physical pain, discomfort, and emotional injuries. It can help to maintain a diary of pain and limitations, describing how your day-to-day life has been affected by your CPAP injuries. 
Mental Anguish: Specifically, mental anguish may arise if you suffer from grief, anxiety, depression, loss of sleep, or PTSD. It falls under the "pain and suffering" umbrella but more specifically describes a set of mental, emotional, and psychosomatic symptoms arising from the injury.
Loss of Consortium or Guidance: Individuals diagnosed with cancer or other serious illness are often no longer able to fulfill their conjugal duties to a spouse or significant other. They may be unable to assist with child care or devote sufficient attention to their children's upbringing. These claims can be satisfied in product liability or wrongful death lawsuits.
Permanent Scarring or Disfigurement: Chemotherapy can cause one's hair to fall out, one's skin to become brittle and dry, among other noticeable issues. CPAP cancer cases leading to some form of physical disfigurement may potentially be compensated.
Loss of Enjoyment in Life: Fatigue, appetite loss, and the inability to enjoy hobbies can be associated with alleged Philips CPAP injuries, particularly cancer. Plaintiffs who take the stand and expound on what life was like before the illness or injury versus afterward can make a compelling case as to why they deserve substantial compensation. 
Punitive Damages: Though rare, punitive damages are designed to punish the defendant for egregious conduct and gross negligence. The amount would be based on Philips' potential awareness that the product was defective and the profitability for the company to knowingly continue selling the defective product. In addition, it would also include any proven attempts to hide their misconduct, the length that the misconduct occurred, and actions taken to mitigate the damage done once the problem was made apparent. If granted, punitive damages can be a much greater sum than compensatory damages.
Wrongful Death: If you are a spouse, child, or eligible estate heir who lost a loved one to a Philips CPAP injury, you may be eligible to receive compensation for any unpaid medical bills, funeral and burial expenses, and an estimated amount for your loss of financial support, guidance, or companionship.
We seek justice for anyone diagnosed with cancer or a serious illness potentially due to defective Philips CPAP machines. No question is too big or too small for our experienced team. Call 1-800-525-7111 for answers.  We believe that Justice Counts.
Which Type of Claim Results in the Highest Philips CPAP Lawsuit Potential Compensation?
Class Action – Class action lawsuits are associated with the lowest amount of money per claimant. However, they also require the least amount of evidence. In this scenario, Philips could potentially offer a set amount per person, like reimbursement for the cost of the CPAP machine, to everyone who purchased one, whether they can prove injury or not.
MDL – Multi-District Litigation is an expedient way of streamlining similar claims, falling between a class action and an individual lawsuit. Once a class of plaintiffs gets certified, early discovery investigations and proceedings go before the same judge to establish the central facts of the case. An early series of bellwether trials expose the common strengths and weaknesses. After these court appearances, flimsy cases can be dismissed, or strong cases can result in a mass tort settlement offer from the defendant. Often, the individual cases proceed in the courts where they were filed following the bellwether trials. The Philips CPAP MDL hearing is tentatively scheduled for September 30th, 2021. If MDL status is granted, the likelihood of a settlement offer increases significantly.
Individual Lawsuit – Filing independently of MDL proceedings is also possible, but plaintiffs can miss out on the benefits of early, streamlined, cost-effective discovery. They may also suffer from inconsistent rulings from a judge who may not be as familiar with the case. Going it alone may yield the greatest Philips CPAP lawsuit potential compensation in the event the case resolves in the plaintiff's favor (not at all guaranteed). Still, you may be advised to get involved in the MDL if there is one available, as you may always opt-out of that settlement and pursue your individual claim in court as well.
Here at Riddle & Brantley, we are no strangers to mass torts and high-value personal injury lawsuits. For example, we recently secured $725,000 and $850,000 for two railroad workers diagnosed with mesothelioma due to asbestos exposure (see disclaimer below).
"How Much Money Can I Expect in A Philips CPAP Potential Payout?"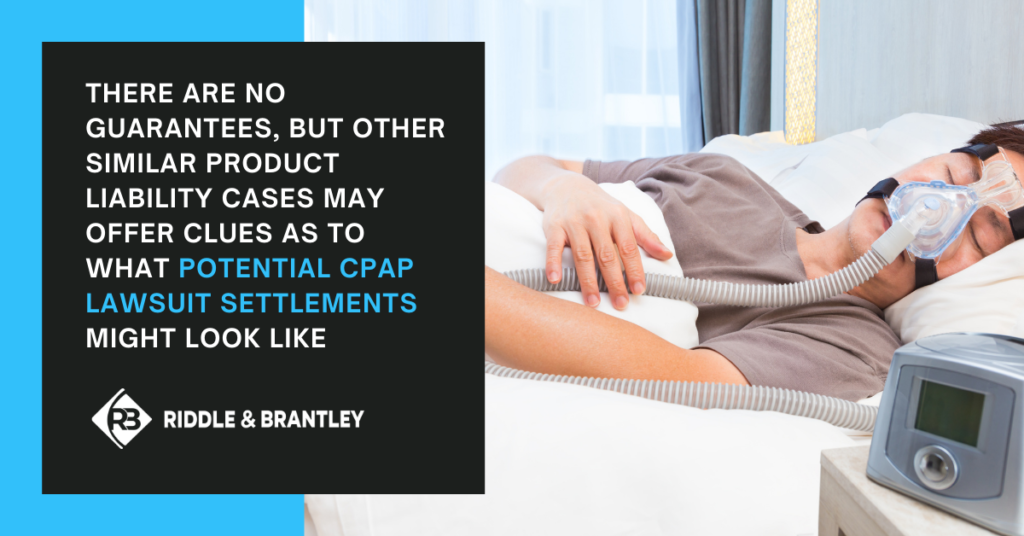 Speculation about a Philips CPAP potential payout at this point is premature, as the types of injuries vary wildly – from cancer to organ damage to respiratory dysfunction. And, to be clear, no CPAP settlements or verdicts have yet been awarded. For CPAP cancer lawsuits and based on similar product liability cancer lawsuits (such as Roundup cancer lawsuits), a realistic ballpark estimate may fall somewhere between $100,000 to $500,000 per person in a potential settlement — with trial values potentially significantly higher if liability is clearly established. However, there are absolutely no guarantees, no settlements or verdicts have been made in CPAP lawsuits as of late 2020, and any potential CPAP compensation depends on the unique facts and circumstances of each case.
Call 1-800-525-7111 to explore your full set of legal options.
Are You Within the Statute Of Limitations For Your State? It's possible you may not be eligible to receive any compensation at all, even if you were harmed by a Philips CPAP machine. Each state has a deadline for filing a lawsuit. However, there are exceptions to the rule, especially if you only recently found out about the connection between degraded PE-PUR foam and your injuries. For example, North Carolina allows you up to three years from the time you knew about the loss to file a valid claim for compensation. 
Does Your State Have Limits on Damages? Some states place limits on punitive or non-economic damages. North Carolina caps punitive damages at 3x the amount of the compensatory damages, or $250,000, whichever amount is higher.
Were You at Fault? Some states do not allow plaintiffs to collect compensation if they are partially at fault. One of the issues that has come up is the use of ozone cleaners, as it was found to increase the risk of foam degradation. However, CPAP users were not warned of this risk, so even if it is determined you bear some responsibility for causing your own injuries, your compensation will not likely be affected by fault.
Do You Have Enough Evidence? Obtaining maximum compensation isn't easy, but maintaining meticulous medical records, calendars of doctor's visits, pay stubs, receipts, journals, and other documents can go a long way. Working with an experienced attorney at Riddle & Brantley will ensure you build a substantial case.
"Are Your Attorneys Experienced in Nationwide Product Liability Lawsuits?"
So much depends upon a lawyer's expertise and networking capabilities. The best results typically occur when a law firm draws upon expert witnesses– like doctors and vocational specialists– who can testify on your behalf, quantifying your past losses and accurately estimating your future losses. These are people who can compellingly show cause and effect between the defective CPAP machine foam and the manifestation of injury or illness beyond a reasonable doubt.
Contact Riddle & Brantley for A Free Consultation
Since 2000 alone, our North Carolina product liability lawyers at Riddle & Brantley have recovered well over $600 million while earning recognition from prestigious organizations such as the Multi-Million Dollar Advocates Forum, the National Trial Lawyers Top 100, Super Lawyers, and Martindale-Hubbell's AV Preeminent. Contact our knowledgeable, well-connected team for a free consultation (see disclaimer below).
No attorney fees are due unless we win your case and receive compensation. Call 1-800-525-7111 for more information on what to expect when you file a Philips CPAP lawsuit.   
"They turned a heartbreaking situation completely around."
-Tonya Taylor, Riddle & Brantley client
---
 ***Disclaimer: The results mentioned are intended to illustrate the type of cases handled by the firm. These results do not guarantee a similar outcome, and they should not be construed to constitute a promise or guarantee of a particular result in any particular case. Every case is different, and the outcome of any case depends upon a variety of factors unique to that case.
***Disclaimer: An attorney must meet certain requirements to join these organizations or receive these awards. For more information on Membership Criteria for Million Dollar Advocates Forum, Multi-Million Dollar Advocates Forum, Super Lawyers, The National Trial Lawyers Top 100, The National Association of Distinguished Counsel, AV Preeminent by Martindale-Hubbell, the Litigator Award, and other memberships, awards, and accolades, please visit our Membership Criteria page. These awards and memberships should not be construed as a promise or guarantee of a similar result. Each case is different and must be evaluated separately.