Leland Truck Accident Lawyer
Have you been hurt in a truck crash? You may be looking for a Leland truck accident lawyer to assist with your claim or lawsuit, and the experienced North Carolina truck accident lawyers at Riddle & Brantley may be able to help. We've been helping clients in the Leland area for decades and know what it takes to win these difficult cases.
For a FREE consultation with an experienced truck accident lawyer serving Leland NC, please call 1-800-525-7111 or complete the fast and easy form below.
There is no obligation and you won't pay any attorney fees unless we win your case and you receive compensation.
Please call 1-800-525-7111 today and let an experienced truck accident attorney handling cases in Leland review your claim. You may be entitled to significant financial compensation and we would love to help you get the justice you deserve.
Remember, because we work on a contingency basis, there is never any upfront cost and we don't get paid unless we win your case and you receive compensation.
Justice for Leland NC
Leland is a fast-growing city in southeast North Carolina, home to roughly 22,000 people. It is located along one of the busiest interstates in the state, I-440, and is also served by nearby US-74, US-17 and US-421.
With a growing population and many highly trafficked highways and roads, trucks and tractor-trailers pass through Leland all the time, and accidents are unfortunately common. 203 accidents in Leland resulted in injury in 2019, according to the North Carolina Department of Transportation (NCDOT), and 6 accidents were fatal.
Our truck accident lawyers have served victims in the Leland area and eastern North Carolina for decades. Many of our attorneys and staff have close ties to the area and we are proud to fight for justice for the people of Leland.
If you've been injured in a Leland truck accident, please call our truck accident injury lawyers today at 1-800-525-7111 for a FREE, no-obligation consultation.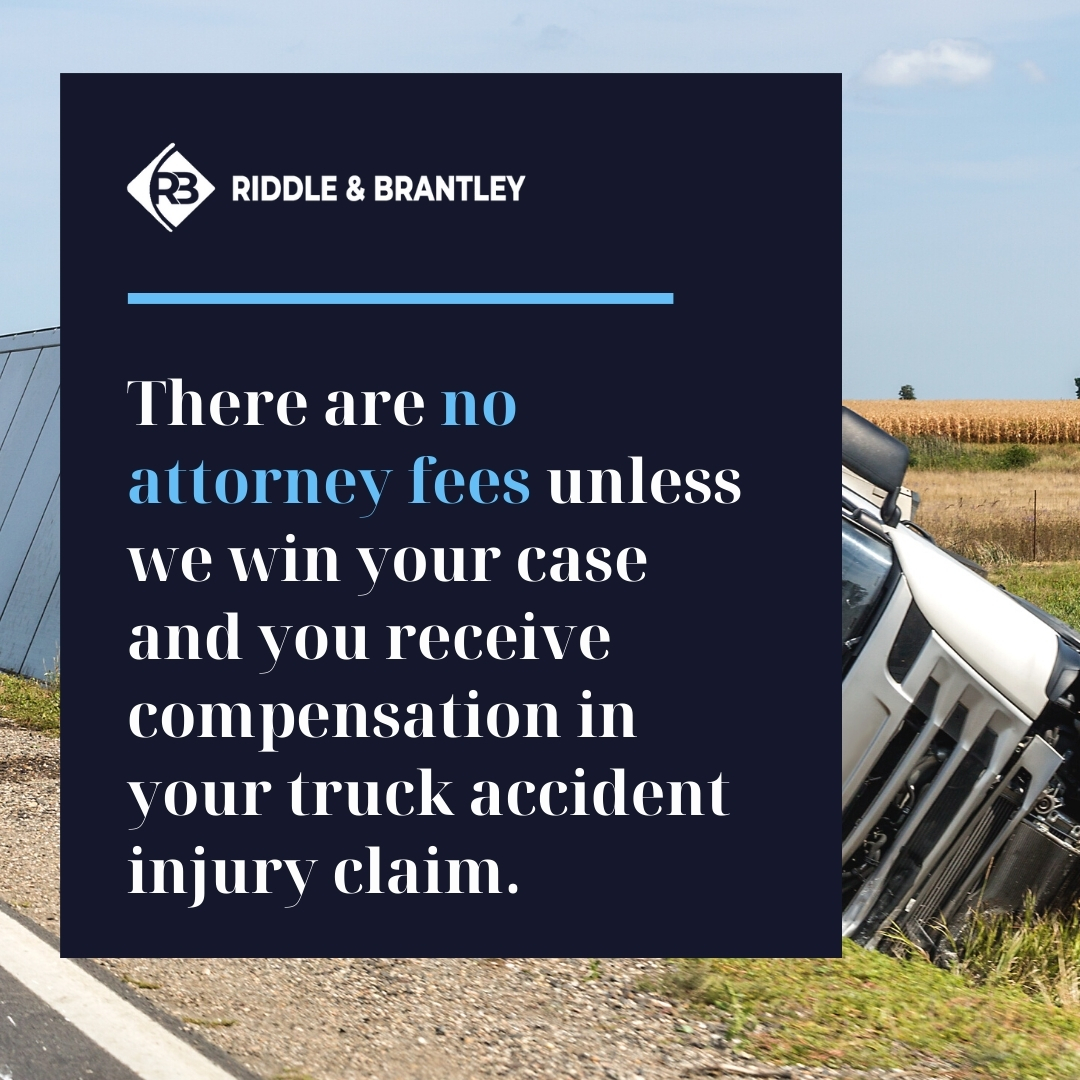 We will review your case, advise you on your legal options, and if you decide to hire us, we will quickly work to investigate the accident and build your case for compensation.
Please call 1-800-525-7111 today and let's discuss your legal options in your truck accident case.
In addition to serving truck accident victims in Leland, we also handle cases in nearby Wilmington, Jacksonville, Lumberton and Fayetteville.
IMPORTANT: Truck accident cases — especially those involving large trucks like tractor-trailers — can be extremely complicated. It is important that you contact a truck accident lawyer serving Leland NC as soon as possible in order to begin investigating the accident. Liability is often contested in these cases and we have the capabilities to thoroughly investigate the truck accident and prove fault. Don't wait. Call 1-800-525-7111 today for a FREE consultation. 
"Every time I've needed them, they were there for me."
–Tyronnie T., Riddle & Brantley client 
Results for North Carolina Truck Accident Victims 
In more than three decades fighting for justice for injured North Carolinians, our truck accident lawyers with experience in Leland have won many significant settlements and verdicts on behalf of our deserving clients (see disclaimer below), including:
$2,000,000 | Truck Accident & Wrongful Death — When a tractor-trailer hit an elderly woman's vehicle, she suffered serious injuries that ultimately led to her death. We represented her surviving sons in a wrongful death case, in which we were able to secure a $2 million settlement through extensive mediations. We brought in outside experts to prove liability in the case.
$1,800,000 | Truck Accident — Our client suffered the loss of his leg below the knee as a result of a head-on truck accident while driving another truck for work. Attorney Gene Riddle handled the matter, filing claims against the truck accident insurance company as well as the workers' compensation carrier. Through mediation Gene negotiated a $1.8 million total settlement with both carriers.
$9,450,000 | Tractor-Trailer Accident & Wrongful Death — A family of four died in a terrible tractor-trailer accident involving multiple trucks on a busy highway outside Fayetteville. We fought for justice in the case, hiring expert accident reconstructionists and even subpoenaing traffic data from Google Maps in order to prove liability. Attorneys Kurt Dixon and Gene Riddle handled the matter, negotiating $9.45 million in total compensation in separate settlements.
*** Disclaimer: The results mentioned are intended to illustrate the type of cases handled by the firm. These results do not guarantee a similar outcome, and they should not be construed to constitute a promise or guarantee of a particular result in any particular case. Every case is different, and the outcome of any case depends upon a variety of factors unique to that case.
"It was nice to see Riddle & Brantley put me and my needs first."
–R. Colley, Riddle & Brantley client 
If you've been injured in a truck accident, please call 1-800-525-7111 today to speak with an experienced truck accident injury lawyer serving Leland and eastern NC. 
We will evaluate your claim and advise you on your best legal options. We understand what you're going through and you don't have to do this alone.
Please call 1-800-525-7111 today and let's review your case.
Justice Counts for victims of truck accidents due to others' negligence and we would love to help you seek justice and compensation however we can.