Rear-End Collision Lawyers in Charlotte, NC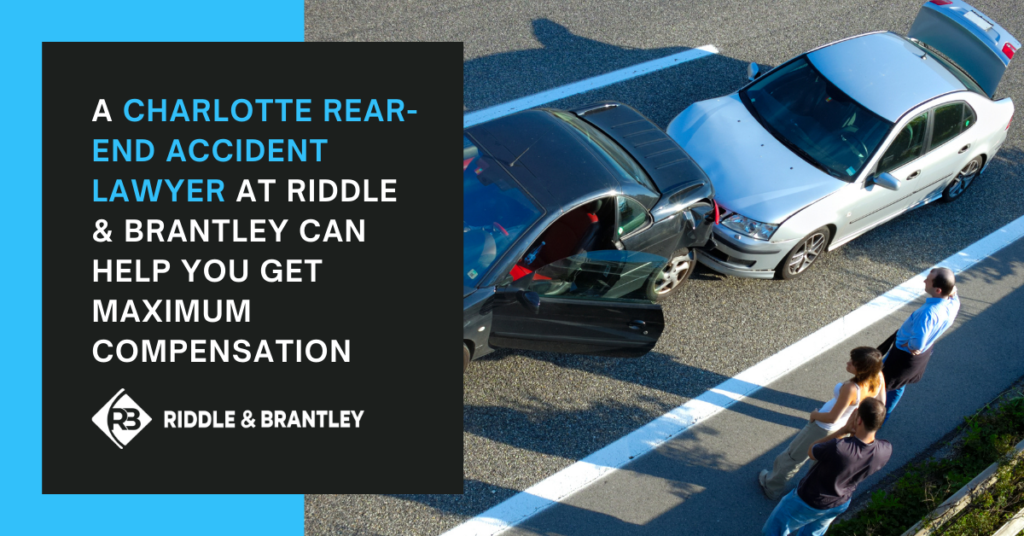 Rear-end collisions are some of the most common car accidents — and there are thousands each year in Charlotte, North Carolina. These accidents can range in seriousness, and result in no injury, mild injuries, or serious and even life-threatening injuries. If you've been injured in a rear-end accident, a Charlotte rear-end accident lawyer can help you fight for the compensation you deserve.
At Riddle & Brantley, our Charlotte rear-end accident lawyers have been handling these types of accidents since 1985. We've recovered hundreds of millions of dollars in compensation for our deserving clients (see disclaimer below), and we'd love to see how we can help you. Call (704) 486-5824 for a free, no-obligation consultation. There are no attorney fees unless we recover compensation for you.
A Charlotte car accident attorney handling rear-end accidents can consult with you in-person at our convenient Charlotte office by appointment only, or we can consult with you for free anytime, anywhere by phone, email, text or video conference.
Rear-End Collisions in Charlotte, NC
It's difficult to say exactly how many rear-end car accidents there are in Charlotte each year, because the North Carolina Department of Transportation (NCDOT) does not report that data specifically. However, we can reasonably estimate the number of rear-end crashes in Charlotte based on other statewide and city-specific data that NCDOT reports.
Various circumstances are often involved in rear-end collisions, including:
"Failure to Reduce Speed" — involved in 76,736 auto accidents or 27 percent of all auto accidents in North Carolina in 2019
"Followed Too Closely" — involved in 5,610 auto accidents or 2 percent of all auto accidents in North Carolina in 2019
Driver distraction was involved in roughly 18 percent of all auto accidents in the state in 2019, as well, according to NCDOT. Distracted driving accidents can be especially dangerous and often leads to rear-end accidents.
Based on these statistics alone, we can reasonably estimate that roughly 9,542 or more auto accidents in Charlotte in 2019 were rear-end crashes.
Rear-end car accidents in Charlotte are very common.
Common Injuries in Rear-End Car Accidents
Rear-end car accidents can result in a wide range of injuries, based on factors such as speed, vehicle size and weight, and road conditions. In more than three decades handling these types of auto accidents, our Charlotte personal injury attorneys have represented clients who have suffered all types of injuries in rear-end accidents, including:
Broken Bones
Neck injuries (including whiplash)
Head injuries, including traumatic brain injury (TBI)
Cuts, scrapes, and contusions
Back injuries
Shoulder injuries
Injury resulting from ejection from the vehicle
Internal bleeding and organ damage
Loss of limbs (amputations)
Paralysis or semi-parlysis
"Who is At Fault in a Rear-End Accident?"
In most cases, the driver of the vehicle that collides with the rear of the vehicle in front is at fault for the accident. However, that's not the case in every situation, and every rear-end accident should be thoroughly investigated in order to determine liability.
Evidence that may be used to prove fault in a rear-end car accident includes:
Eyewitness testimony
The official accident report from law enforcement
Expert testimony by accident reconstructionists
Surveillance camera footage or dash cam video
Crash scene evidence, including debris, skid marks, vehicle damage, etc.
Vehicle maintenance records
In some cases, defective or incorrectly installed auto parts may contribute to a rear-end accident, and in these situations, it is sometimes possible to hold the parts manufacturer or maintenance provider accountable for damages.
Consult with a Charlotte Rear-End Collision Lawyer for Free Today
If you've been hurt in a rear-end crash due to someone else's negligence, you may have a claim for compensation and we would love to help you if we can.
For a FREE, no-obligation consultation with an experienced Charlotte rear-end accident lawyer, call (704) 486-5824 or complete the short form below.
The consultation is absolutely free, and there are no attorney fees unless we win your case and you receive compensation. It's as simple as that.
"I am completely satisfied with the result of my case."
–Lakeisha D., Riddle & Brantley client
Call (704) 486-5824 and let an experienced Riddle & Brantley injury attorney review your claim and advise you on your options for seeking compensation in your rear-end car accident claim. Since 2000 alone, we've recovered more than $600 million in total compensation for our deserving clients (see disclaimer below).
We believe Justice Counts and we would love to help you and your loved ones however we can.
---
*** Disclaimer: The results mentioned are intended to illustrate the type of cases handled by the firm. These results do not guarantee a similar outcome, and they should not be construed to constitute a promise or guarantee of a particular result in any particular case. Every case is different, and the outcome of any case depends upon a variety of factors unique to that case.