Greensboro Head On Accident Lawyer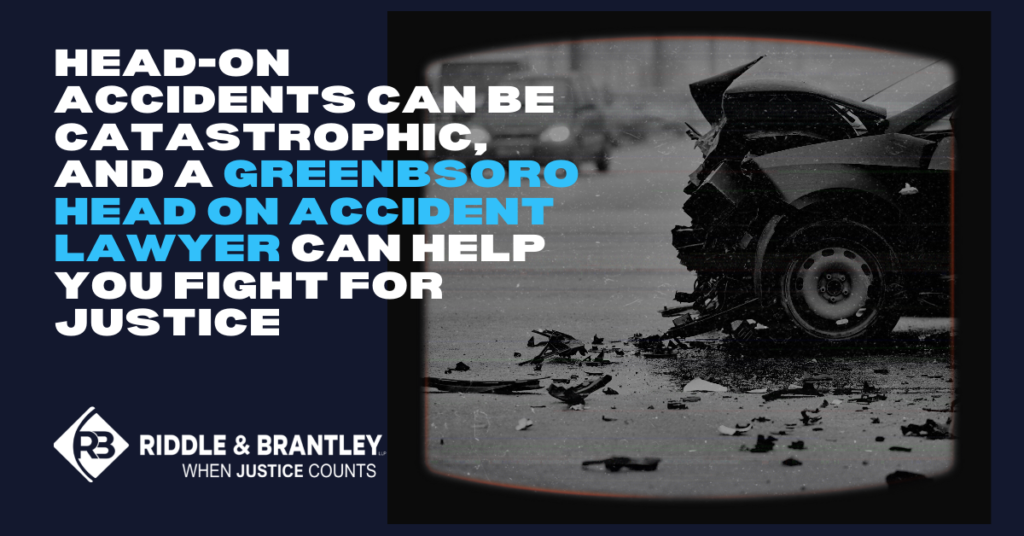 The consequences of head on accidents are often serious and even deadly. According to research, head-on accidents represent just 2 percent of all auto accidents, but over 10 percent of all fatalities. A head-on accident can result in catastrophic physical injuries, financial hardship, and emotional trauma.
Contact an experienced Greensboro personal injury lawyer to handle your head-on accident case. There are no upfront costs, and you won't pay any attorney fees unless we win your case and you receive financial compensation.
A head on accident can change your life forever. You don't have to fight for justice alone. The compassionate head-on accident lawyers at Riddle & Brantley are here to help however we can.
Injuries Caused by Head-On Accidents
Our Greensboro car accident attorneys have handled thousands of cases across the state of North Carolina, and head-on accident cases are often some of the most serious. Head-on accidents often result in serious or catastrophic injuries, including:
Broken bones
Contusions, cuts, and scrapes
Head injuries (including traumatic brain injury or TBI)
Neck injuries and whiplash
Spinal cord injuries
Paralysis and semi-paralysis
Should injuries
Loss of limbs (amputations)
Internal bleeding and organ damage
Coma
Airbag-related injury
Seatbelt-related injury
Burns
Death
In the most heartbreaking head-on accidents resulting in death, our wrongful death attorneys can help surviving family members fight for justice on behalf of lost loved ones.
In some cases, a head-on accident results in long-term disability, and in these cases, our Social Security disability lawyers can help victims seek the benefits they need and deserve.

Head On Accidents and Drunk Driving
Drunk driving is a frequent cause of head-on accidents. A driver under the influence of alcohol may drift into the opposing lane, often without warning. These accidents can be catastrophic and are especially heartbreaking because drunk driving is preventable.
If you or a loved one has been injured in a head on accident in caused by a drunk driver, a Greensboro drunk driving accident lawyer at Riddle & Brantley can help.
"What Can a Greensboro Head On Accident Lawyer Do For Me?"
The aftermath of a head-on accident can be physically challenging, financially burdensome, and emotionally draining. You don't have to go through this alone. A head-on car accident lawyer at Riddle & Brantley can handle all aspects of your personal injury case from start to finish, including:
Investigating the cause of the accident and proving liability
Identifying and interviewing potential witnesses
Locating surveillance footage and dash cam video
Obtaining the official accident report
Preparing you for recorded statements to the insurance company
Hiring expert witnesses like accident reconstructionists to prove fault
Negotiating with the insurance company and defense counsel
Calculating damages
Filing a lawsuit if necessary
Drafting and filing legal briefs and court documents
Negotiating on your behalf in mediation and/or arbitration proceedings
Representing you in hearings and at trial
Helping negotiate potential reductions in your medical liens
Setting up guardianships and trusts to ensure long-term care
Contributory Negligence
In North Carolina, the law of contributory negligence is often used by insurance companies to try and bar plaintiffs from compensation. Under the doctrine of contributory negligence, you may be barred from recovery if you're found even partially responsible for the accident. This is yet another reason why we strongly encourage you contact a head-on collision lawyer to help prove liability and defeat a potential contributory negligence defense by the defendant.
Head On Car Accident Attorneys in Greensboro
If you've been injured in a head on accident in Greensboro, NC, our personal injury lawyers are ready to help however we can. Since 2000 alone, we've recovered over $600 million in compensation for victims of others' negligence (see disclaimer below).
Our Results
In one recent head-on accident case, we secured $1.8 million in total compensation for our client, who was hit head-on by a truck (see disclaimer below). The accident eventually cost our client his left leg below the knee. In another head-on accident wrongful death case, we secured $2.25 million for the surviving family members of a young woman who tragically lost her life when a truck crossed the center line and hit her vehicle head-on (see disclaimer below).
Nothing can ever make up for serious injuries or the loss of a loved one caused by a head-on accident, but we can help you fight for the justice you deserve.
"They made a hard time in my life easier to endure."
–Melissa C., Riddle & Brantley client
The consultation is free, and you won't pay any attorney fees unless we win your case and you receive compensation.
---
*** Disclaimer: The results mentioned are intended to illustrate the type of cases handled by the firm. These results do not guarantee a similar outcome, and they should not be construed to constitute a promise or guarantee of a particular result in any particular case. Every case is different, and the outcome of any case depends upon a variety of factors unique to that case.