Greenville, NC Head-On Accident Lawyers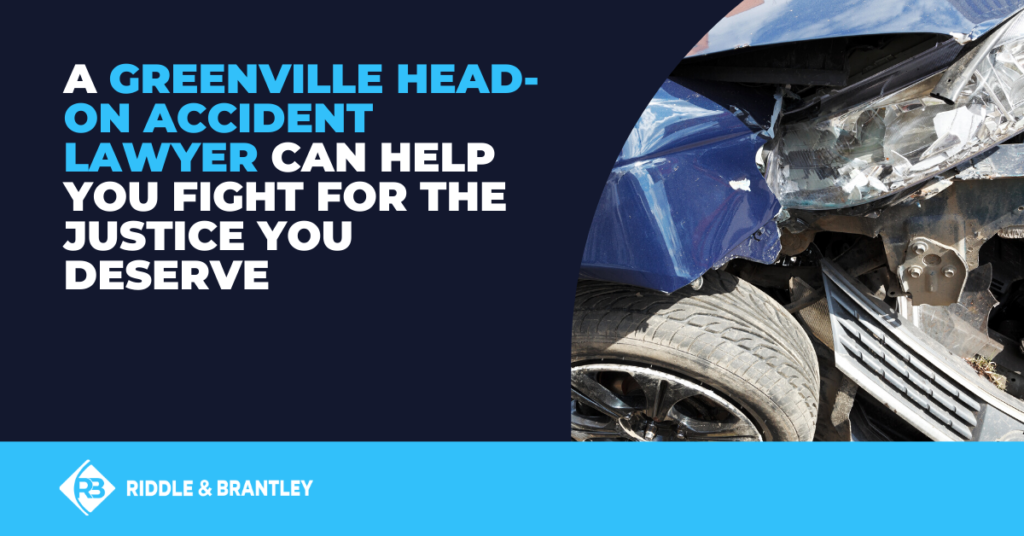 Head-on collisions are some of the most serious auto accidents. The aftermath of a head-on collision can involve physical injury, emotional trauma, and financial hardship. In the most tragic cases, head on collisions can result in death. A Greenville head on collision lawyer can help you and your loved ones get the justice you deserve.
At Riddle & Brantley, our Greenville head-on collision lawyers are ready to help however we can. A Greenville personal injury lawyer can meet with you at our convenient Greenville location by appointment, or by phone, email, text, or video conference from anywhere. We can even come directly to you if you prefer.
"How Common Are Head-On Car Accidents?"
Head on car accidents can be devastating and even deadly, and they are surprisingly common in Greenville NC and elsewhere across North Carolina and the United States.
According to data reported by the National Highway Traffic Safety Administration (NHTSA), roughly 18 percent of all auto accidents are head-on collisions. If we apply this percentage to the number of accidents reported in Greenville NC by the North Carolina Department of Transportation (NCDOT) in 2019, there were approximately 584 head-on auto accidents in Greenville in 2019.
In 2019, 1,753 auto accidents were reported that resulted in injury. Many of these may have involved head-on collisions.
Proving Fault in a Head-On Accident
If you've been injured in a head on car accident (or other motor vehicle accident), a Greenville head-on accident lawyer can help prove liability and get you the compensation you deserve. There are many factors that should be considered when attempting to prove fault in an auto accident.
Evidence that we often use to prove liability includes:
Eyewitness testimony
The official accident report from law enforcement
Video footage, including from surveillance and dash cams
Crash scene evidence, including debris, skid marks, property damage, road markings, etc.
Medical records and doctors' notes
Truck "black box" data
At Riddle & Brantley, we have an experienced team of accident investigators, made up of retired law enforcement officers. These investigators know the ins and outs of accident investigation and can help strengthen your Greenville head-on accident case.
Common Injuries in Head On Accidents
Head-on accidents can be especially catastrophic. Injuries range from mild to life-threatening or even deadly. In more than 35 years serving the people of Greenville and greater North Carolina, our Greenville head on accident lawyers have handled cases involving all types of injuries, including:
Traumatic brain injury (TBI), including concussions
Whiplash and other neck injuries
Spinal cord injuries
Paralysis and semi-paralysis
Shoulder injuries
Back injuries
Loss of limbs (amputations)
Injuries caused by ejection from the vehicle
This is an incomplete list, and the injuries caused by head on car accidents are wide-ranging.
Award-Winning Head-On Accident Lawyers in Greenville, NC
At Riddle & Brantley, our Greenville head-on accident attorneys are backed by more than 220+ years of legal experience. We've recovered hundreds of millions of dollars in compensation for victims of others' negligence, including $2.25 million recovered for the surviving relatives of a young woman who lost her life when she was hit by a truck that crossed the center line (see disclaimer below).
We pride ourselves on treating our clients with compassion and dignity, and always strive to go the extra mile.
We believe Justice Counts for victims of head-on accidents and we'd love to help you fight for the justice and compensation you deserve however we can.
Justice Counts.
---
*** Disclaimer: The results mentioned are intended to illustrate the type of cases handled by the firm. These results do not guarantee a similar outcome, and they should not be construed to constitute a promise or guarantee of a particular result in any particular case. Every case is different, and the outcome of any case depends upon a variety of factors unique to that case.