Jacksonville Car Accident Lawyers
Jacksonville Car Accident Lawyer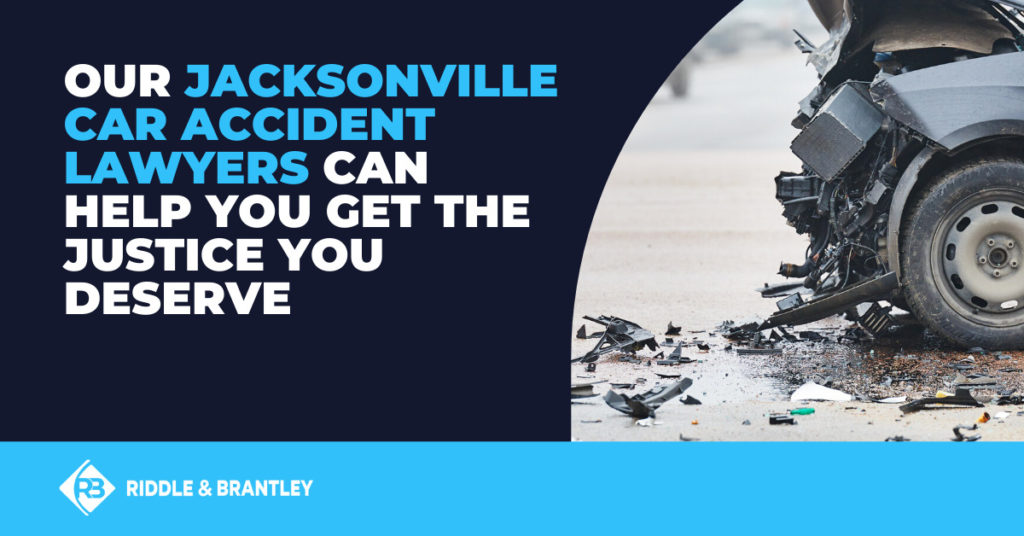 Have you been injured due to someone else's negligence in the Jacksonville, NC area? You may be entitled to financial compensation and a Jacksonville car accident lawyer at Riddle & Brantley may be able to help. Since 2000 alone, we've recovered more than $600 million in total compensation for victims (see disclaimer below) and we would love to help you however we can.
If you or someone you love has been hurt in a car accident that was the result of someone else's negligence, now is the time to speak with a Jacksonville personal injury lawyer handling car accidents about the compensation you may deserve. Riddle & Brantley's North Carolina car accident attorneys are ready to work for you.
"Riddle & Brantly found me all the available money from the insurance companies."
–David H., Riddle & Brantley client
Types of Cases Handled by Our Car Accident Attorneys in Jacksonville, NC
Since 1985, Riddle & Brantley's Jacksonville car accident injury attorneys have helped thousands of North Carolinians get the justice they deserve. We offer strong legal representation for Jacksonville clients injured in all types of car accidents, including:
Side-swipe accidents
T-bone accidents
Construction zone accidents
We also handle all types of other motor vehicle accidents, including truck accidents, tractor-trailer accidents, motorcycle accidents, bicycle accidents, boat accidents, Uber and Lyft accidents, and more. In the most serious cases, we have disability attorneys on staff who can help with appeals for Social Security disability benefits. If you've been injured in a car accident while on the job, our workers' comp lawyers can help with those claims, as well.
In the most heartbreaking cases, a wrongful death lawyer at Riddle & Brantley can help surviving family members fight for justice for their lost loved one.
What to Do After a Car Accident
To increase your chances of receiving full compensation after a car accident, follow these helpful tips and consult with a Riddle & Brantley Jacksonville car accident lawyer as soon as possible. There are also several things you can and should do in order to protect your legal rights and start building a potential injury case.
See a doctor after a car accident if necessary — your health and safety are most important and your medical records will play an important role in any potential Jacksonville car accident claim or lawsuit
Gather the other driver's information — get contact and insurance information, but do NOT apologize or admit fault for the accident (this can impact the outcome of any potential injury claim or lawsuit)
Identify potential witnesses and get their contact info — witness testimony can play a key role in proving liability
Take photographs of the crash scene — include any injuries, vehicle damage, debris, skid marks, other property damage, road signage and markings (videos are also helpful)
Make a list of damages — "damages" may be physical and/or emotional injuries, economic losses like lost wages, or other "non-economic" losses like pain and suffering (a car accident lawyer in Jacksonville can help you calculate damages, as well)
Get a copy of the police report — the official accident report will generally be important in proving fault in a car accident
Keep records — document your medical treatments and expenses and keep notes on your daily pain/physical limitations
Talk with an attorney — consult with an experienced Jacksonville NC car accident attorney right away; call 1-800-525-7111 for a FREE, no-obligation consultation with an experienced auto accident lawyer at Riddle & Brantley
Statute of Limitations for Car Accident Claims in North Carolina
If you've been injured in a Jacksonville car accident, you must act quickly in order to seek compensation. Personal injury claims in North Carolina are subject to the Statute of Limitations, which is essentially a deadline by which your claim or lawsuit must be filed. In general, in North Carolina, you must file a car accident claim within:
3 years of the date of injury in personal injury claims
 2 years of the date of death in wrongful death claims
A Jacksonville car accident lawyer at Riddle & Brantley can review your case and determine the relevant statute of limitations that applies. We can handle all aspects of your case, including making sure that you don't lose out on your chance at justice by missing important deadlines. Let us help — call 1-800-525-7111 for a free, no-obligation consultation with an experienced car accident attorney in Jacksonville, North Carolina.
"What Do I Have to Prove in an Auto Accident Injury Claim?"
There are four key elements that must be proven in any personal injury claim. A Jacksonville car accident lawyer can help build a case that proves all of them, including:
Duty of care — All drivers owe other drivers, bicyclists, and pedestrians on the roadway duties of care. In general, drivers must take reasonable care not to cause accidents and injuries.
Breach of duty — The driver (or another party) must have acted negligently in some way, such as texting and driving, drunk driving, speeding, or breaking a traffic law.
Injury — The driver's breach of duty must have caused your car accident and related damages.
Causation — must have suffered damages because of the accident. Damages may include physical injuries, property damages, and emotional distress.
Car accident cases in Jacksonville and elsewhere in North Carolina are a little bit more complicated, however, because the state is one of just a few in the United States with "contributory negligence." This is a law that essentially requires a plaintiff to prove that the defendant was 100% responsible for the accident. If the plaintiff is found to be even just 1% responsible, the law of contributory negligence may bar him or her from recovering compensation.
Fortunately, the Jacksonville NC car accident lawyers at Riddle & Brantley have plenty of experience successfully defeating the contributory negligence defense, which is often used by defendants and insurance companies to deny liability and avoid paying damages.
"How Do I Deal with the Insurance Company?"
Remember, insurance companies are incentivized to pay as little on your claim as possible, so do NOT give a recorded statement to an insurance company or claims adjuster without first speaking with an experienced Jacksonville car accident attorney. Insurance companies have high-powered attorneys who will often fight hard to deny you fair compensation.
Your car accident lawyer can help handle all aspects of engagement with the insurance company, including:
Preparing you for recorded statements
Collecting medical records
Calculating damages
Obtaining a life care plan if necessary
Negotiating with the insurance company and/or their attorneys
Filing a lawsuit if necessary
Representing you at trial
Representing you in mediation and/or arbitration proceedings
You do NOT have to take on the insurance company alone. At Riddle & Brantley, our Jacksonville car accident lawyers have more than 220+ years of combined legal experience handling injury cases. We know the law in North Carolina and are aggressive in holding insurance companies and at-fault parties accountable. If our clients do not receive a fair offer from the insurance company, we do not hesitate to take cases trial. We've won many significant verdicts on behalf of our deserving clients (see disclaimer below).
If the insurance company is pressuring you to accept a low-ball offer, or you're having difficulty with your claim, talk with an attorney at Riddle & Brantley handling Jacksonville car accident claims. We would love to help you get the compensation you deserve however we can.
Jacksonville, North Carolina Car Accident Statistics
Demographically, Jacksonville, North Carolina, is the youngest city in the United States. Younger, inexperienced drivers may contribute to the large number of car accidents the city reports each year. According to the North Carolina Department of Transportation, 1,779 auto crashes were reported in Jacksonville in 2020, including 521 that resulted in injury. 4 of those crashes were fatal. NCDOT estimates that roughly 18% of auto accidents in North Carolina involve distracted driving, meaning that an estimated 320 Jacksonville car accidents involved a distracted driver.
Case Results
We are proud to have secured more than $600 million in total compensation for victims since 2000 alone (see disclaimer below). Recent wins include:
$3,600,000 | Car Accident — Our client was hit in a serious rear-end accident and ultimately died of his injuries. Riddle & Brantley brought lawsuits against the at-fault driver and a construction company we also alleged was liable. The claim was settled at mediation with both defendants, resulting in a $3.6 million settlement for surviving relatives.
$9,450,000 | Truck Accident — Our attorneys recovered more than $9 million in separate settlements for surviving loved ones when a family of four was killed instantly in a horrific accident on a busy North Carolina highway. Nothing can make up for the loss of loved ones, but we were pleased to help the family secure justice in this case.
$2,750,000 | Car Accident — Attorney Donald "Donny" Dunn recovered $2.75 million for a car accident victim who suffered debilitating injuries in a terrible crash.
$1,250,000 | Car Accident — Attorney Gene Riddle fought for justice for the surviving family of a young woman who was killed when her car was hit by a speeding and erratic truck that crossed the center line. We prepared to file suit and negotiated a total settlement of $1.25 million from the insurance company involved.
*** Disclaimer: The results mentioned are intended to illustrate the type of cases handled by the firm. These results do not guarantee a similar outcome, and they should not be construed to constitute a promise or guarantee of a particular result in any particular case. Every case is different, and the outcome of any case depends upon a variety of factors unique to that case.
Talk with a Jacksonville Car Accident Lawyer for Free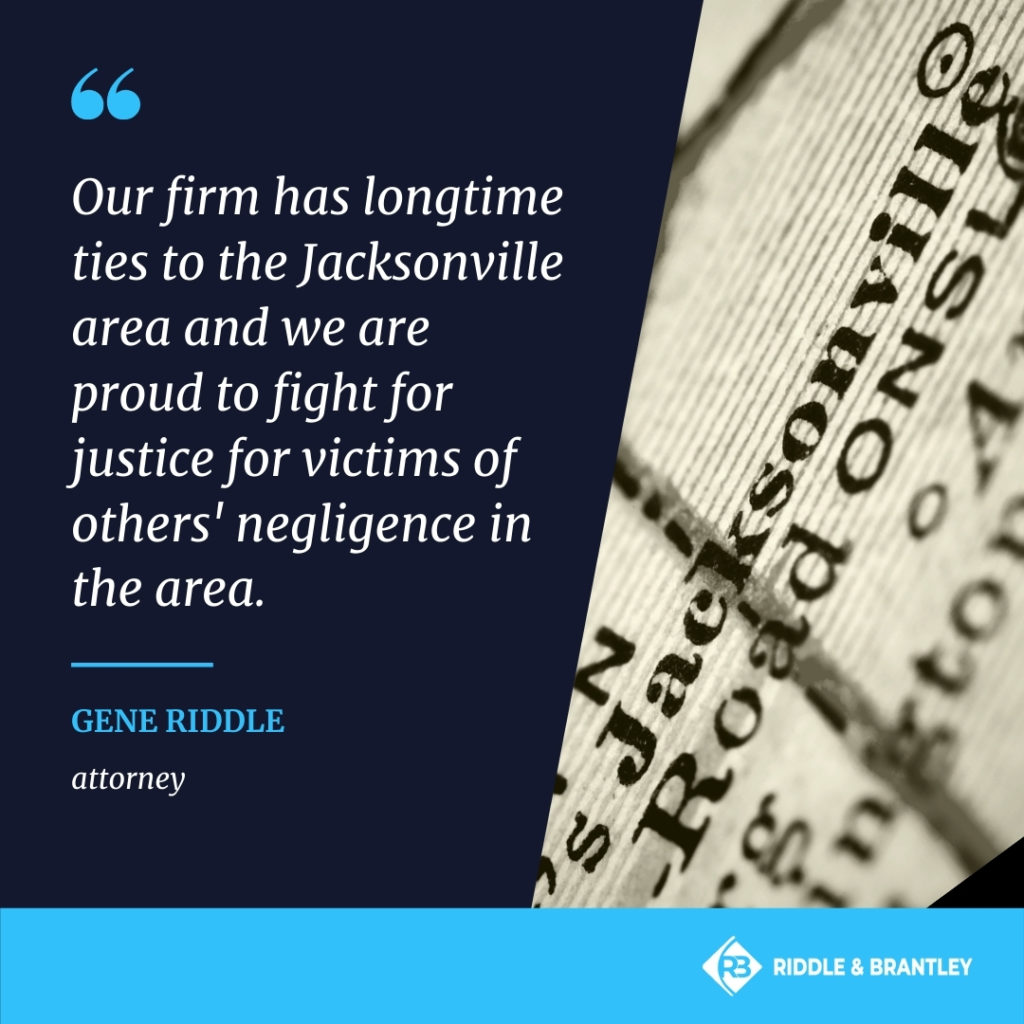 If you or a loved one was recently involved in a car accident in Jacksonville, our auto accident lawyers are here for you and your family in this time of need. We'll meet with you or discuss your case over the phone at no cost or obligation to retain our firm. We simply want to help you explore your rights and legal opportunities after suffering any type of injury.
Contact us to request your FREE consultation with a Jacksonville NC car accident lawyer by calling (910) 455-5599 or fill out the short form below.
Justice Counts — and you don't have to go through this alone.
In addition to our convenient office in Jacksonville, we serve clients from offices throughout North Carolina. However, no in-person meeting is required to get started on your case. We can consult with you by phone, email, text, or even video chat — whatever is most convenient for you.
Call (910) 455-5599 and let's review your car accident case.
For a FREE, no-obligation consultation with an experienced Jacksonville NC car accident lawyer, please call (910) 455-5599 or fill out the short form below.
We will listen to your account of the accident, review your claim and advise you on your best legal options. If you decide to hire our Jacksonville car accident lawyers, we will fight tirelessly to get you the justice and compensation you deserve.
Please call (910) 455-5599 today and let's review your case.
"I would recommend them to anyone. They fought hard for me."
–Christine W., Riddle & Brantley client