Raleigh Drunk Driving Accident Lawyer
Raleigh Drunk Driving Lawyer
Raleigh is home to some of the busiest roads and highways in North Carolina and, unfortunately, drunk driving is relatively common, putting drivers and passengers at serious risk.
Those injured or killed due to drunk drivers in Raleigh deserve justice.
At Riddle & Brantley, our Raleigh drunk driving accident lawyers have been fighting to hold drunk drivers and insurance companies accountable since 1985. For a FREE, no-obligation consultation with a Raleigh drunk driving attorney, please call (919) 876-3020.
Raleigh Drunk Driving Statistics
In 2019, the North Carolina Department of Transportation (NCDOT) reported 562 auto crashes involving alcohol in Raleigh. 399 of those crashes resulted in injury, and there were 7 fatalities.
In the greater State of North Carolina, there were 11,492 crashes involving alcohol in 2019, resulting in 7,665 injuries and 348 deaths.
23.7 percent of traffic deaths in North Carolina in 2019 were the result of drunk driving.
Common Injuries in Drunk Driving Accidents
Given the drunk driver's inability to control the vehicle, drunk driving accidents can result in serious and even life-threatening injuries.
Common injuries in drunk driving accidents include:
Broken bones
Cuts, scrapes, and contusions
Neck injuries
Back injuries
Shoulder injuries
Paralysis and semi-paralysis
Loss of limbs (amputations)
Internal bleeding and organ injuries
In the most heartbreaking situations, drunk driving accidents can result in death. In these cases, a Raleigh wrongful death lawyer may be able to help surviving loved ones fight for justice.
Proving Fault in Drunk Driving Cases
In drunk driving accident cases, proving fault is relatively straightforward. The plaintiff must prove that the defendant was driving under the influence of alcohol at the time of the accident, and that his or her negligence caused the accident.
In personal injury cases (including claims for drunk driving accidents), you must prove four important things:
The defendant had a "duty of care" to avoid injuring the plaintiff
The defendant violated this duty of care
The defendant's negligence resulted in injury to the plaintiff
The plaintiff suffered damages (injury, property damage, emotional trauma, etc.)
Contributory Negligence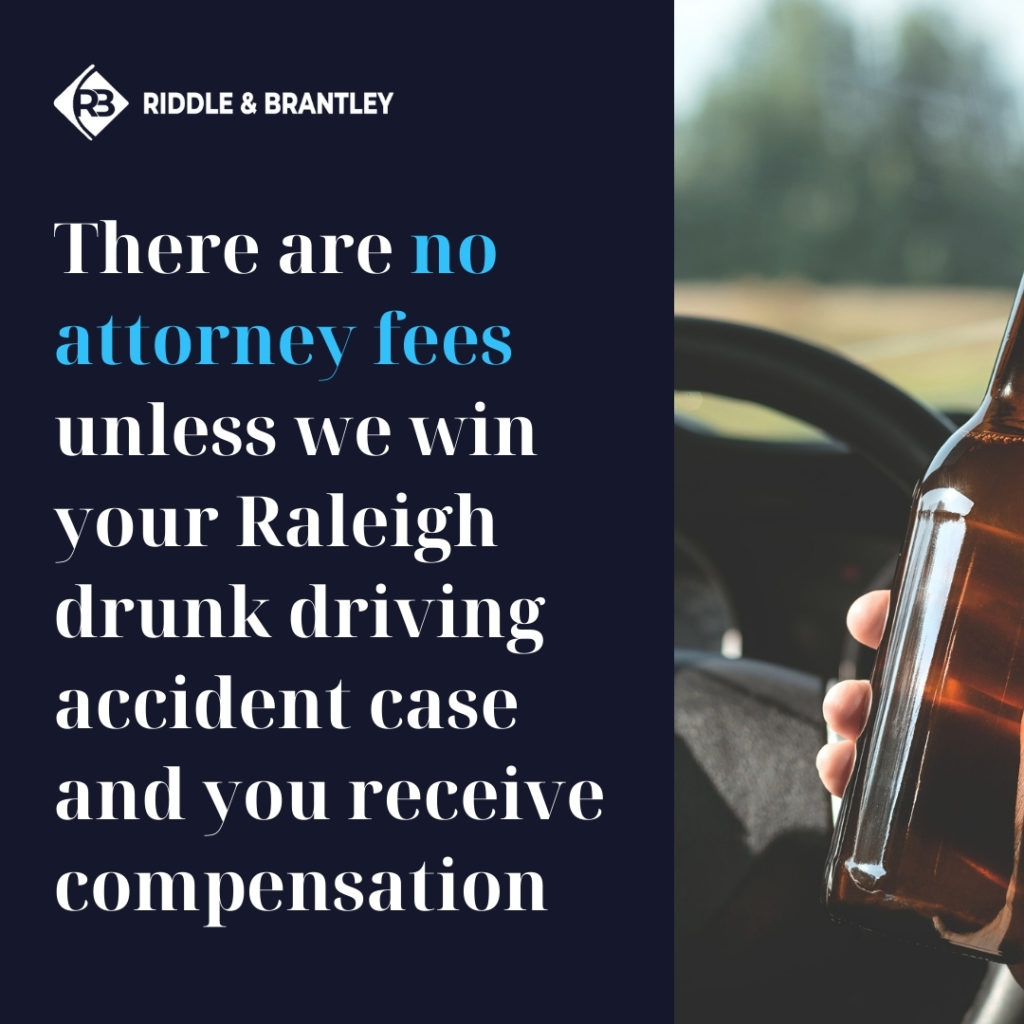 In North Carolina, the doctrine of contributory negligence means that a plaintiff can be barred from recovery if he or she partially contributed to the accident. Many defendants and insurance companies will use the contributory negligence defense to try and avoid liability.
However, in drunk driving cases, it can typically be proven that the drunk driver's action constitute "willful and wanton" gross negligence that deliberately put the plaintiff at risk of injury. Our Raleigh drunk driving accident lawyers have used this tactic to defeat the contributory negligence defense in many personal injury cases.
Damages Available in Drunk Driving Accident Injury Cases
If you've been injured in a Raleigh drunk driving accident, you may be entitled to damages for your injuries and other losses, including:
Medical Expenses — Compensation is available to pay for medical treatments, necessary home medical equipment, and future care.
Lost Wages — A settlement or verdict may include compensation to make up for lost wages if you've been forced to miss work as a result of the drunk driving accident.
Loss of Future Income — You may also be able to recover compensation to make up for lost future earning potential if you are unable to return to your previous job as a result of your injuries.
Pain and Suffering — Emotional injury can also be compensated in personal injury cases. This may also include compensation for loss of consortium (loss of companionship or sexual relations with a spouse) or permanent scarring and disfigurement.
Punitive Damages — In some drunk driving accident cases, a judge or jury may choose to impose punitive damages in addition to the "compensatory" damages listed above. Punitive damages are designed to "punish" the defendant for recklessness and gross negligence.
Injured in a Drunk Driving Accident in Raleigh NC?
If you've been hurt in a drunk driving accident, you may be entitled to compensation and our experienced Raleigh personal injury lawyers can help.
For a FREE consultation with an experienced Raleigh car accident attorney handling drunk driving cases, please call (919) 876-3020 or complete the fast and easy form below.
The consultation is free, and you won't pay any attorney fees unless we win your case and you receive compensation. Call (919) 876-3020 and let's review your claim.
Why a Raleigh DWI Accident Lawyer at Riddle & Brantley?
A Raleigh drunk driving accident lawyer or distracted driving accident lawyer at Riddle & Brantley can help you seek the justice and compensation you deserve.
Since 1985, we've helped thousands of injured North Carolinians recover the compensation they deserve, including more than $600 million in compensation recovered for victims since 2000 alone (see disclaimer below).
Our attorneys have more than 220+ years of combined legal experience, and we've been recognized with many prestigious memberships and awards, including The National Trial Lawyers Top 100, The National Trial Lawyers Top 40 Under 40, Super Lawyers, Multi-Million Dollar Advocates Forum, and The Litigator Award (see disclaimer below).
Don't wait, though — the longer you wait to contact us, the harder it may be to prove liability and win your case.
"They turned a heartbreaking situation completely around."
–Tonya T., Riddle & Brantley client 
Justice Counts for those injured due to drunk driving in Raleigh and across North Carolina. Call a Raleigh drunk driving accident attorney at Riddle & Brantley today at (919) 876-3020 and let's talk.
---
*** Disclaimer: The results mentioned are intended to illustrate the type of cases handled by the firm. These results do not guarantee a similar outcome, and they should not be construed to constitute a promise or guarantee of a particular result in any particular case. Every case is different, and the outcome of any case depends upon a variety of factors unique to that case.
*** Disclaimer: An attorney must meet certain requirements to join these organizations or receive these awards. For more information on Membership Criteria for Million Dollar Advocates Forum, Multi-Million Dollar Advocates Forum, Super Lawyers, The National Trial Lawyers Top 100, The National Trial Lawyers Top 40 Under 40, The National Association of Distinguished Counsel, AV Preeminent by Martindale-Hubbell, the Litigator Award, and other memberships, awards, and accolades, please visit our Membership Criteria page. These awards and memberships should not be construed as a promise or guarantee of a similar result. Each case is different and must be evaluated separately.